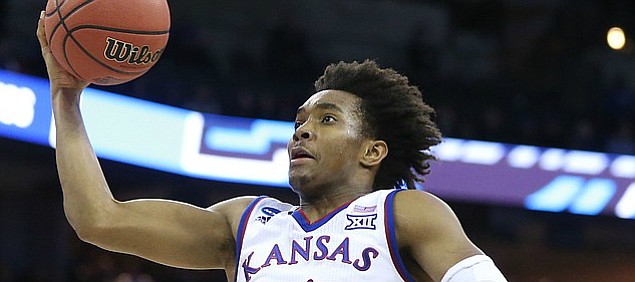 Omaha, Neb. — After delivering a 1-of-7 shooting performance in last weekend's second-round victory over Seton Hall, the expectation was that Kansas senior Devonte' Graham would come out in Friday's Sweet 16 game against Clemson ready to bounce back big time.
And then Graham opened Friday's 80-76 KU victory over Clemson by missing the first five shots he took and finishing 4 of 12 for the game for 16 points — six coming at the free-throw line — in 35 minutes.
"He obviously hasn't shot the ball well in the tournament yet," said Kansas coach Bill Self of his point guard, who is 14 of 43 (33 percent) from the floor and 5 of 17 from 3-point range (29 percent) in KU's three NCAA Tournament victories. "He made two 3s the second half and a little floater, but we haven't seen the real Devonte' yet, in my opinion."
Part of the reason for that on Friday was foul trouble. Sure, Graham struggled to find his shot early on — his first bucket of the night came on a driving layup with 5:20 to play — but foul trouble also kept him from finding any kind of second-half rhythm after the first few minutes.
It was in that stretch when Graham buried one of those two 3-pointers, a dagger of sorts from the corner that put Kansas up 49-29. His only other triple came with around nine minutes remaining, and his reaction to that make, from just in front of the KU bench, was one of relief rather than his typical overflowing personality.
Regardless, all of it led Graham to this point, where he gets one final crack at breaking through to the Final Four on Sunday.
Asked how much losses to Villanova and Oregon in the last two Elite Eights would weigh on his mind during the next 24-48 hours, Graham, as always, delivered brutal honesty.
"I think about it all the time," Graham said. "I just told the guys in the locker room, 'I've been here the last two years and this year we have to get over that hump.'"
Photo Gallery
Kansas v. Clemson (Sweet 16)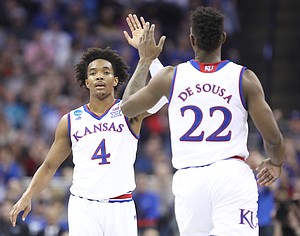 View a gallery of images from Friday night's Sweet 16 game between the Kansas Jayhawks and Clemson Tigers in Omaha, Nebraska.
Knee update
Asked how his injured left knee felt after delivering his sixth double-double of the season in Friday's victory over Clemson, sophomore center Udoka Azubuike provided a fairly detailed answer.
"It definitely felt better," said Azubuike, who returned to his spot in the starting lineup.
When asked how he measured the amount of improvement he felt in the left knee, which suffered a Grade 1 sprain of the MCL on March 6, Azubuike pointed to getting up and down the floor.
"Pretty much my running," he said. "When I'm running, I kind of feel it. It just keeps moving, a little more movement in my knee. But today, it felt more stable and I felt good out there."
That was big news for Kansas because the Tigers clearly had no one capable of matching up with Azubuike's size.
"He makes everything easier for us," Graham said of Azubuike. "You know, we get to play off of him. We always say throw the ball inside, play around Dok because it's hard to guard him inside and he can get angles easily."
Added sophomore guard Malik Newman: "When we're able to throw it in and the defense collapses on him, he is able to kick it out and find an open shooter. It just opens up the whole game for us."
Flagrant foul
Late in Friday's first half, Clemson's Elijah Thomas was hit with a Flagrant 1 foul after getting mixed up with KU freshman Silvio De Sousa.
At first, it appeared like the official would just warn Thomas to clean things up. But after Self called timeout, things changed.
"I called timeout to go two-for-one and I told (the ref), 'My guy got hit in the head,'" Self recalled. "They were mauling each other. But there was a swing there. I saw it. Nobody else saw it on my bench. I'm glad they went to look at it. I told (the ref) and he said, 'No, no, no, that was just two guys tangled up.' And I said, 'No, he hit him in the head.' Fortunately, they looked at it and Silvio made two free throws so it turned out to be pretty big."
Elite Eight history
KU's Sunday showdown with No. 2 seed Duke will mark the eighth trip to the regional finals in Self's 15 season at Kansas.
Self's Jayhawks are 2-5 in those previous seven appearances, including losses in each of the last two seasons.
Self also guided Kansas to an Elite Eight appearance in his first season in charge (2003-04), got back in 2007, went again in 2008, when the Jayhawks won it all, and returned in both 2011 and 2012, when KU lost to Kentucky in the national title game.
Hello, zone
Speaking before Duke's victory over Syracuse in Friday's other Sweet 16 game had gone final, Self said the Jayhawks already had one early advantage in Sunday's Elite Eight matchup.
"Whoever we're playing, we know we're going to have to shoot 30 3s because they're going to play zone," Self said. "It'll be a fun game. And we know, whoever we play, we'll probably see a zone so we know what to work on (Saturday)."
Both Duke and Syracuse have played zone defense almost exclusively during the last couple of months, with Syracuse having done it for nearly all of Jim Boeheim's 42-year career.
Kansas has seen its share of zone this season and had varying degrees of success.
"We were able to practice against the zone — it's hard to simulate theirs — but practice against a spread-wide, relatively long zone on Tuesday this past week," Self said. "But whoever it is, we know that we're going to have to execute a heck of a lot better against the zone than what we did when Clemson went zone tonight."
---
More news and notes from Kansas vs. Clemson
---