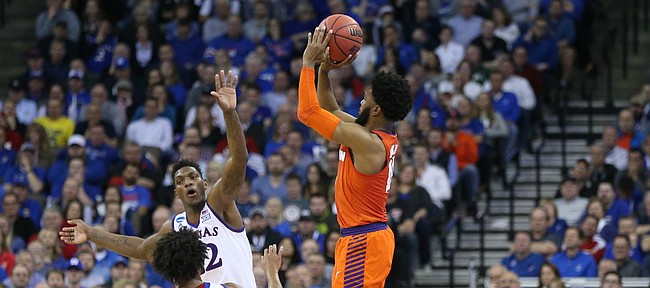 Omaha, Neb. — No one in Clemson basketball history ever scored more points in an NCAA Tournament game than senior guard Gabe DeVoe did Friday night in the Sweet 16.
The Kansas players who couldn't stop the 6-foot-4 DeVoe were just glad his teammates weren't as successful.
After escaping CenturyLink Center with an 80-76 victory, the Jayhawks admitted they struggled to contain DeVoe, who scored a career-high 31 points and hit 10 of 17 field goals.
"He's a good shooter, created his own shot off the bounce," junior Lagerald Vick began. "He was able to get other guys open and make plays for other guys. I feel like he played a pretty good game. But we was able to take the other guys out of the game with our assignments."
Photo Gallery
Kansas v. Clemson (Sweet 16)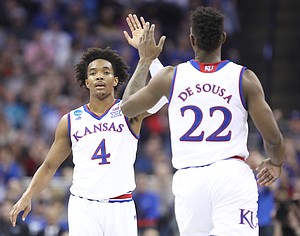 View a gallery of images from Friday night's Sweet 16 game between the Kansas Jayhawks and Clemson Tigers in Omaha, Nebraska.
DeVoe helped Clemson (25-10) trim a 20-point Kansas lead down to four in the second half, scoring 19 after halftime. Had the Jayhawks not limited the Tigers' other two starting guards, juniors Marcquise Reed (13 points, 6 of 15 from the floor) and Shelton Mitchell (12 points, 3-of-13 shooting), the No. 1 seed might not have moved on to the Elite Eight.
"We knew they had three big guards," KU freshman Marcus Garrett said, "and when you can stop two out of the three you can win. That's how we felt. We couldn't let all three of them get off or we basically had no chance of winning."
After topping the previous Clemson record for points scored in a tournament game (Dale Davis went for 26 versus LaSalle in 1990), DeVoe's college career ended with him feeling as if he did all he could to keep the Tigers alive.
"I just tried in any way possible to give my team a chance to win at the end. Really tried to rally the guys in the first half when we got down, just continued to fight," said DeVoe, who hit 3 of 9 from 3-point range in the loss. "Made some big stops down the stretch, gave us a chance but we just weren't able to get over the hump."
DeVoe's teammates appreciated how he helped them turn a potential blowout into a tight game down the stretch.
"He's everything," junior center Elijah Thomas said. "He's a great player. I love him to death. He had a really great season as a senior."
Shutting down the 6-9 Thomas inside proved just as critical for KU. The Tigers' big man converted just 2 of 7 shots, accounting for only four points in 27 minutes.
"I know he's a big dude," Kansas sophomore center Udoka Azubuike said of Thomas, who averaged 10.9 points a game entering the matchup. "He's a physical dude and he's going to try to pound the ball inside the paint. We just tried to not let him catch it in the paint and do the best we can to prevent him from getting the ball."
How did the Jayhawks (30-7) make things so difficult for the four leading members of DeVoe's supporting cast, who combined to shoot 11 of 35 from the floor (31.4 percent)?
"I think they were just being Kansas," Thomas said. "I think, overall, we beat ourselves."
Nevertheless, eighth-year Clemson coach Brad Brownell stated during his postgame press conference the pride he took in seeing his players compete with the Midwest's No. 1 seed.
"We didn't have our best game and sometimes that's not easy to keep fighting like that," Brownell said. "But our guys took it to the wire. And if we just made one or two more plays we might have had a chance to tie this thing. So couldn't be more proud of our guys, the way they competed today. But just been an unbelievable pleasure to coach these guys. They've been tremendous all season."
DeVoe finished his career as the only Clemson player to ever score 20 or more points in three consecutive tournament games. Though the Jayhawks couldn't stop him, they thought they did just enough defensively to survive and advance to their third consecutive regional final.
"It didn't matter because it was one guy," Mykhailiuk said of DeVoe lighting them up. "And one guy can't beat five. We'd rather have one guy score 30 than two guys score 30."
---
More news and notes from Kansas vs. Clemson
---