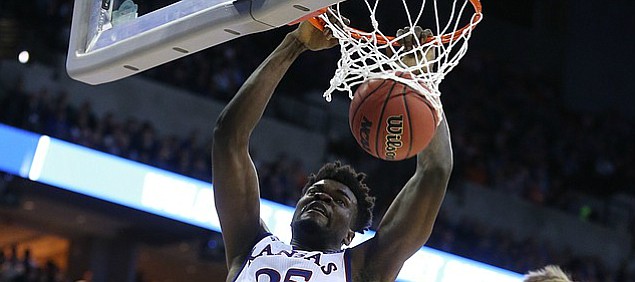 Omaha, Neb. — After rolling to a 14th straight Big 12 regular season title a little more than a month ago, the Kansas men's basketball team now sits one win away from adding an ACC title to its 2017-18 haul.
Oh, and a trip to the Final Four.
Thanks to a strong start and a hold-on-for-dear-life finish on Friday night, top-seeded Kansas knocked off No. 5 seed Clemson 80-76 at the three-ACC-school regional semifinals at CenturyLink Center to advance to the program's third consecutive Elite Eight, where the Jayhawks will face yet another ACC squad, second-seeded Duke (29-7), in Sunday's regional final.
Tip-off is set for 4:05 p.m. central time on CBS.
Although the end result on Friday was exactly what the Jayhawks (30-7) wanted, their path to get there was as beautiful and bumbling as the rest of their season.
From up 20 and rolling two minutes into the second half to clinging to a four-point lead with 14.5 seconds to play, the Jayhawks were everything in Friday's final 18 minutes that they have been all season long — dangerous, dizzying, dramatic and victorious.
And there was not a player in the excited Kansas locker room who minded one bit.
After all, when it comes to March Madness and the survive-and-advance nature of the NCAA Tournament, the how becomes much less important than the bottom line. And on Friday night, KU's bottom line was better than Clemson's from start to finish.
"Every stage in this tournament is a blessing," said sophomore center Udoka Azubuike, who returned to KU's starting lineup and delivered 14 points and 11 rebounds in 25 minutes. "From the Sweet 16 to the Elite Eight, every step you take in this tournament, it's a different vibe, it has a different feel to it and I feel blessed."
Photo Gallery
Kansas v. Clemson (Sweet 16)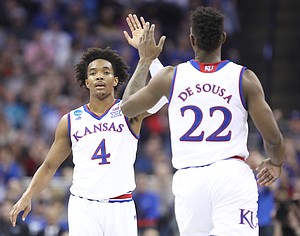 View a gallery of images from Friday night's Sweet 16 game between the Kansas Jayhawks and Clemson Tigers in Omaha, Nebraska.
On Friday, it was the Jayhawks who were blessed by Azubuike's presence. After scoring the first bucket of the game on a strong post move, Azubuike continued to assert himself inside all night.
Foul issues kept him shuffling in and out of the lineup for most of the game, but when he was on the floor, Azubuike proved to be too much for Clemson to handle.
He made 7 of 9 field goals — most of them dunks — and blocked two shots while grabbing four offensive rebounds.
"To me, he doesn't look as good scoring the ball on the block," KU coach Bill Self said of Azubuike. "But he got angles today. We were able to throw the ball over the top and get a couple easy dunks and that's what he does. But defensive rebounding and everything, I thought he was terrific, considering he really hasn't practiced much."
When asked if he felt like Clemson (25-10) had any real answer for him, Azubuike said simply, "not really."
Azubuike was far from the only Jayhawk responsible for moving the Jayhawks into the Elite Eight for the third straight year, marking the first time since 2002-04 that Kansas has achieved that feat.
Malik Newman (17 points), Devonte' Graham (16) and Lagerald Vick (13) joined Azubuike in double figures, and each had more than a couple of key moments or plays that helped Kansas build that 20-point lead that proved insurmountable.
"We just came out with a chip on our shoulder," Vick said. "We've been here and we just had to send a statement from the jump and go out and play Kansas basketball, being aggressive."
Kansas led for 38:30 of the 40-minute game and never really was in jeopardy of losing its lead.
"I'll think about how we got up 20 as opposed to how we almost gave it away," Self joked after the game. "Fortunately, it never got to one possession."
Like most of this wild and crazy KU season, very little came easy, and the Jayhawks had to grind this one out with their two most important players fighting serious foul trouble for the game's final 15 minutes.
Graham and Azubuike picked up their third fouls 34 seconds apart with a little more than 14 minutes to play. They each sat, at different times, for a few minutes and wound up staying on the bench for exactly 3:03 while re-entering at different times, as well.
Later, Graham, who last week set the school record for most minutes played in a single season, picked up his fourth foul with 8:10 to play and sat for 2:42 before closing out the game.
During that stretch, Azubuike also picked up his fourth foul at the 7:13 mark and sat a little more than a minute before re-entering with 5:57 to play, then exiting for good after picking up his fifth foul with 2:30 to play and KU leading by just six points.
Graham wound up playing 35 minutes, which marked his lowest output since a home win over Oklahoma on Feb. 19, and played fewer than 39 minutes for just the third time since Jan. 15.
"It was harder to execute without those two tonight," Vick said. "But we pulled it off."
"Pulled it off" was the perfect way to describe KU's Friday night victory, and just about every player who checked into this game made at least one memorable contribution.
Vick's 13-point night included three 3-pointers and one, far-above-the-golden-valley putback dunk that came when the Jayhawks were playing at their best.
Freshman Silvio De Sousa contributed nine points and six rebounds in 13 minutes in relief of Azubuike. Like Vick, the 6-foot-9 reserve forward delivered one of the game's biggest highlights, the first coming on a half-court alley-oop pass from Graham that put KU up 25-19 and forced a Clemson timeout with 7:42 to play in the first half.
And then there was Newman, who remained red hot and kept his confidence sky high by knocking in 4 of 7 3-pointers and carried much of the load for handling the ball when Graham sat out.
Although Friday's final five minutes saw a once-comfortable double-digit lead disappear faster than free tickets to Allen Fieldhouse, the Jayhawks, as they seemingly have done for most of the season, found a way to hold it together, refusing to let their razor-thin margin for error do them in.
A big part of that was owed to Graham, who, in true Graham fashion, added four assists and five rebounds, including arguably the biggest rebound of the game on a missed 3-pointer by Svi Mykhailiuk that just beat the shot clock with 1:57 to play and Kansas leading by just six. But so much of KU's latest survive-and-advance act also belonged to Self.
The players know that, and they also know that when they wake up Sunday, they'll be back where they wanted to be all season, playing for a trip to the Final Four in San Antonio.
"It's been a great year," Self said. "I mean, for this team to win 30 games and win the league and the league tournament and play in the biggest game of the year so far on Sunday, it's been great, but it would be nice to make it special. And I think in order to do that, at Kansas, you have to go to a Final Four. I honestly believe that."
Added Newman: "This is why you come to Kansas, to experience the best of the best and to have fun doing it. I wouldn't rather do it with any other group of guys."
---
More news and notes from Kansas vs. Clemson
---