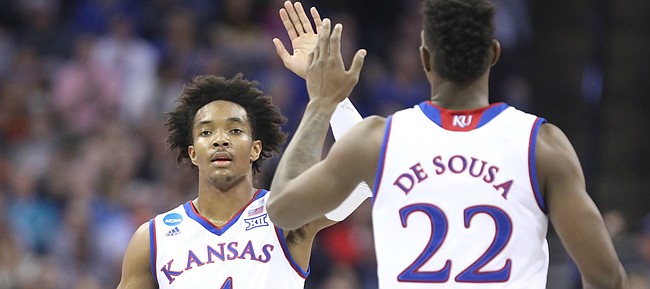 Omaha, Neb. — As difficult as it was for the pro-Kansas crowd to watch a 20-point lead shrink to one-fifth that size, the final 10 minutes of KU's 80-76 survive-and-advance victory Friday night against Clemson served a purpose.
"Certainly nobody can say that we've played our best game yet," Kansas coach Bill Self said in the hall outside of his team's cramped locker room inside CenturyLink Center. "Hopefully, that will come Sunday."
To players and coaches who draw so close to the Final Four only to fall one game short, that one game always seems as if it happened yesterday.
Listening to Self and senior point guard Devonte' Graham look back on the Elite Eight loss to Oregon, the disappointment seemed that fresh to them.
Photo Gallery
Kansas v. Clemson (Sweet 16)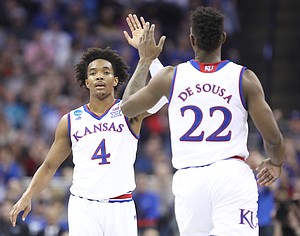 View a gallery of images from Friday night's Sweet 16 game between the Kansas Jayhawks and Clemson Tigers in Omaha, Nebraska.
Most who watched Kansas blitz Purdue in last season's Sweet 16 gave Oregon little chance of keeping Kansas from what would have been Bill Self's third Final Four.
"We played almost three perfect games going into that game and pretty much laid an egg against Oregon," Self said.
Perfection is difficult to sustain. After all, Don Larsen didn't make it out of the second inning in his first start of 1957 after tossing a perfect game in the 1956 World Series.
KU played as close to perfect as is reasonable to expect for the first 30 minutes Friday against Clemson and then got its egg-laying out of the way in nearly frittering the lead away, thanks to sloppy play against full-court pressure and substandard free-throw shooting.
"This was a year where it just seemed weird because we haven't played great yet," Self said. "We were OK against Penn. We played pretty good for the most part against Seton Hall. We played decently tonight, but it wasn't great."
Not as deep and lacking the projected lottery pick that most of Self's teams have, this team has done a terrific job of assuming Self's aggressive personality and, with it, a healthy dose of confidence.
But unlike most Kansas squads, this one hasn't played with a big lead that often, and when it did Friday it morphed into the polar opposite of itself. Passive at both ends, seeking to avoid turnovers and fouls, instead of gunning for points and stops.
"I really felt like the first 30 minutes we looked like a really good basketball team," Self said.
"And the last 10, I didn't think we played very well at all. But we were playing not to lose down the stretch as opposed to trying to close them out. But we did enough."
Kansas survived its best player, Graham, having an off night by his standards. When does he ever telegraph a pass and then foul the player who intercepted it to turn two points into three? Never. When does he ever battle foul trouble that makes him sit for six minutes? Never.
"Obviously, he hasn't shot the ball well of late," Self said of Graham, who has a .286 3-point percentage in his past six games. "He made two 3s the second half and a little floater that were great moves, but we haven't seen the real Devonte' yet."
Again, maybe Sunday.
Self was pleased that Kansas was able to hold it together when Graham sat.
"And you know that may be the first time we played without him even in practice, so the fact that it stayed around 15 when he was out of the game, that's probably about the best I can hope for," Self said.
Kansas built its big lead by riding a dominant Udoka Azubuike (14 points, 11 rebounds) inside and by confidently taking aim at 3-pointers and hitting them. The Jayhawks made 10 of 22 (.455) from beyond the arc and are shooting at a .405 clip for the season.
In theory at least, zone defense are vulnerable against 3-point-shooting teams. Without yet knowing whether Duke or Syracuse would be Sunday's opponent, Self said he wasn't going to change his message to his players in at least one regard.
"I'm telling our guys to let it fly, because no matter who we're playing we're going to have to shoot 30 3s because they're going to be playing zone," Self said before Duke defeated Syracuse.
A senior, Graham is a third-year starter and KU has reached the Elite Eight every year he has started, only to lose to Villanova and then Oregon.
"I mean, I think about it all the time," Graham said. "I just told the guys in the locker room, 'I've been here the last two years, and this year we've got to get over that hump.'"
This is Self's eighth Elite Eight in 15 years at Kansas. He also took Tulsa and Illinois that far in the tournament.
"We should play free," Self predicted. "There's no reason why we shouldn't because these guys have overcome more than most other teams have."
Duke and Syracuse, two of the three tallest teams in the country, both rank among the top 25 in defending the 3. But letting it fly, with long shots and in portraying themselves as long shots battling heavyweights, is when the Jayhawks tend to soar.
If KU falls one game short of the Final Four, the opponent's performance is likely to have more to do with it than KU's nerves or other intangibles.
This KU squad very much has the feel of a group that believes in itself and is ready to let it fly Sunday.
---
More news and notes from Kansas vs. Clemson
---