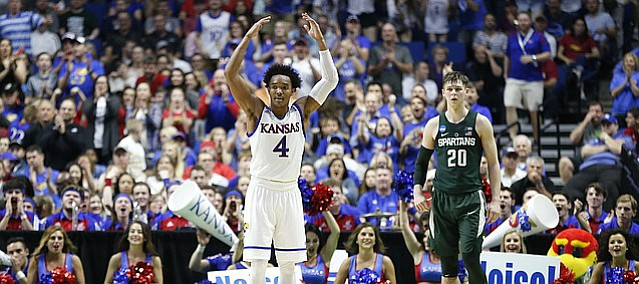 Tulsa, Okla. — When Kansas guard Frank Mason and Michigan State forward Miles Bridges stood chest-to-chest exchanging boxer's glares early in the game, nobody in attendance would dispute program listings that showed Bridges with an 8-inch, 40-pound advantage.
But Fearless Frank's mirror knows better, and so do his teammates.
"My boy Frank's not going for none of that," Kansas junior guard Devonte' Graham said. "He's not intimidated by anybody. He thinks he can guard LeBron, so nobody's going to intimidate him."
Photo Gallery
Kansas Basketball v. Michigan State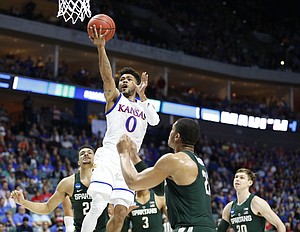 View a gallery of images from Sunday's game between the Jayhawks and Spartans at BOK Center in Tulsa, Okla.
The entire team took on that persona and played its best basketball of the season in the final 12 minutes, to bury Michigan State, 90-70, with a 36-17 flurry, including a 21-6 advantage in the final 6:54.
The Jayhawks ran like halfbacks and grunted like fullbacks.
"We're a tough team," Graham said. "We're not going to back down just because you bump us or something like that. We do it to each other all the time in practice. We're used to it."
The Jayhawks also are used to grinding out games stuck in the mud by finishing with tough defense and winning by a few points. It appeared that's where this one was headed.
Michigan State knows how to keep teams from running good offense and the Jayhawks didn't make it any easier on themselves by displaying itchy trigger fingers. When little was going right, Mason took it upon himself to get into the paint to draw fouls.
Then Josh Jackson heated up, scoring three points at a time the old-fashioned way, with the third coming at the free-throw line, where he is 4 for 4 in the NCAA tournament, and beyond the 3-point semi-circle, where he has made half of his six tournament attempts. Graham pointed to the "MVP" lift Dwight Coleby gave the team and to Landen Lucas' double-double (10 points and 11 rebounds).
What Graham left unsaid was that he had as much to do with this victory as anybody, throwing so many pinpoint, blink-and-your-missed-them passes on the fly and in the halfcourt for open dunks of the missed and made variety.
Graham consistently draws tough defensive assignments and probably gained as much from the break between the early exit from the Big 12 tournament to the opening weekend of the NCAA tournament.
The break might have revived his 3-point shooting. He made 8-of-13 3-pointers in Tulsa, four of them coming in the second half Sunday, three in the final 4:41, giving Kansas leads of 13 (smile to the crowd), 15 (pounded his chest after a pump-fake, step-back swish) and 20 (good night, turn out the lights).
Graham didn't wait until his shots dropped to stiff-arm the Spartans' hopes.
Twice when Michigan State trailed by eight, Graham put the lead back into double figures with beautiful passes to Vick, one on a lob for a dunk, the other a perfectly threaded pass delivered as soon as Vick broke free on the baseline.
Mason, Graham and Jackson finished so aggressively and cleanly, making 10 shots in a row at one point.
Bridges got the better of Jackson early, and Jackson took over late. As expected they both had big games, Jackson with 23, Bridges with 22, and also as expected, KU's experienced guards made the biggest difference.
Mason and Graham combined for 43 points, nine assists, five steals and just two turnovers.
The Jayhawks turned it over just seven times, a remarkable figure considering the rapid pace at which they played. Fast, clean and tough is a nice blend to have in March, especially for an experienced team playing next week at its home away from home.
"All three of these guys played great," coach Bill Self said during the post-game press conference, where he was joined by Mason, Graham and Jackson. "They shot it fairly well, but they competed and they defended and they cared about the right things and certainly played unselfish and still got numbers."
The road gets shorter yet tougher for Kansas, which faces Purdue in a Thursday game at Sprint Center. The Boilermakers won the Big Ten regular season, finishing four games ahead of Michigan State, which finished in a four-way tie for fifth with a 10-8 record.
Purdue has an abundance of size, which Kansas lacks.
"They're huge," Graham said. "I watched the game against Iowa State and they execute really well."
Time will tell if Purdue can beat KU with size. This much already is known: Fear of size won't kill Kansas, a team packed with competitors too confident to let fear shrink them.
— See what people were saying about the game during KUsports.com's live coverage.
---
More news and notes from Kansas vs. Michigan State
---