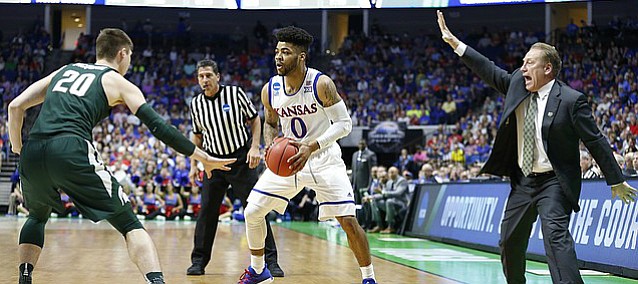 Tulsa, Okla. — After Kansas advanced to the Sweet 16 with a 90-70 second-round victory at BOK Center, Michigan State coach Tom Izzo said the Spartans lost to the better team.
Izzo's only complaint was the score didn't show how close the game really was.
But each and every time the Spartans thought they could make a run or take advantage of KU's lack of depth, the Jayhawks used their experience to their advantage.
After the Spartans cut the score to five points — two technical foul free throws from Cassius Winston and a 3-pointer by Matt McQuaid — the Jayhawks closed on a 21-6 run in the final seven minutes.
"I think they're good defensively, but it's a different Kansas team," Izzo said. "The high to low, the lock-down defense maybe isn't quite the same as it's been over the years. But they can score with anybody and they can run."
Photo Gallery
Kansas Basketball v. Michigan State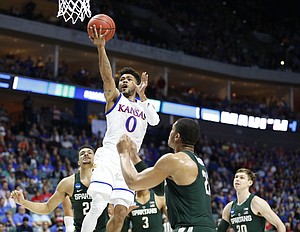 View a gallery of images from Sunday's game between the Jayhawks and Spartans at BOK Center in Tulsa, Okla.
When Kansas senior center Landen Lucas picked up his fourth foul with 6:43 left, it only made the Jayhawks run faster. Plus, KU reserve forward Dwight Coleby didn't miss a beat defensively.
"They just took over," Izzo said. "I don't know if it was the veterans, a combination of veterans and (Michigan State's) youth."
When the Spartans (20-15) entered their match-up against the No. 1 seeded Jayhawks, they wanted to limit KU's points in transition and try to close driving lanes.
But once the Jayhawks saw a chance to pull away in crunch time, the Spartans couldn't do anything to stop them.
"I thought we did an incredible job on (Frank) Mason as far as letting him do what he does, and that's that fast break that's so lethal for him," Izzo said after Mason scored 20 points on 6-of-16 shooting. "But the gaps started getting bigger as we got a little tired, and we started missing some shots."
When Kansas returns to Sprint Center in Kansas City, Mo., for a Sweet 16 match-up against No. 4 seed Purdue (who beat Michigan State twice), perhaps the Jayhawks' biggest weakness is their front-court depth when they run into foul trouble.
Izzo thought that would play a factor Sunday and was impressed when the Jayhawks didn't have any missteps in the final minutes.
"They're one of the best teams in the country," Izzo said. "That's why they've been ranked No. 1. They got one of the best coaches in the country and they've got a Player of the Year candidate.
"A little bit of youth, a lot of experience, good coach, 16,000 fans or however many were here. That's a recipe for some success, and I think they have a good chance to have some success."
The Spartans played Kentucky, Baylor and Duke in non-conference play, all teams ranked No. 1 throughout the season, and they hoped that would prepare them for tournament games similar to Sunday.
"The only shame of the whole event for me is it wasn't a 20-point game," Izzo said, "and yet, the better team won tonight."
— See what people were saying about the game during KUsports.com's live coverage.
---
More news and notes from Kansas vs. Michigan State
---