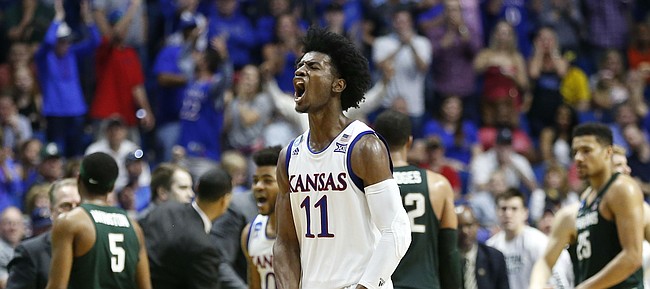 Tulsa, Okla. — Saturday afternoon, inside a locker room that one day later would turn into the scene of a bunch of smiles and satisfaction, Kansas freshman Josh Jackson was asked by a handful of Michigan State reporters why he chose Kansas over MSU.
Jackson's answer? He picked Kansas, in part, because he thought joining Bill Self and the Jayhawks offered him the best chance to win a national championship.
Twenty-six hours and two halves of basketball later, Jackson and the top-seeded Jayhawks climbed one step closer to that goal, topping ninth-seeded Michigan State, 90-70, at BOK Center in the second round of the NCAA Tournament to advance to next week's Sweet 16 match-up with Purdue in Kansas City, Mo.
Photo Gallery
Kansas Basketball v. Michigan State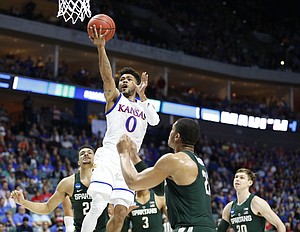 View a gallery of images from Sunday's game between the Jayhawks and Spartans at BOK Center in Tulsa, Okla.
That goal, coupled with the fact that Jackson was facing the team he grew up rooting for and a handful of foes he had known since elementary school, only made things more intense for the 6-foot-8 Kansas freshman, who led all scorers with 23 points and added a pair of blocks and steals.
But a night that began with Jackson playing out of control and "too juiced up," as Self would later say, ended with him checking out of the game, inciting the excitement from the pro-Kansas crowd as he walked to the bench with the game in hand.
"I do think he likes competitive games," said Self, reiterating a point he's made all season, that Jackson plays his best with the stakes at their highest. "I'm not gonna coach him that much longer and the only games we have left are competitive games so hopefully he'll stay on a roll."
Squaring off head-to-head against Michigan State freshman Miles Bridges (22 points, eight rebounds in 34 minutes), Jackson got the best of his buddy, knocking down 9 of 16 shots and scoring in all ways at all times to help propel Kansas into the tournament's second weekend.
"He scored at every level," Self said of his star freshman. "He got threes off the catch, off the bounce, mid-range, driving it, finishing in traffic. He showed a lot of stuff today."
And so did his teammates. Senior point guard Frank Mason III did what Mason does, scoring 20 points, dishing five assists and relentlessly attacking the basket to create opportunities both for himself and his teammates.
Junior Devonte' Graham added 18 points on 4-of-6 shooting from 3-point range and dished some of the game's prettiest assists, including an alley-oop pass to Svi Mykhailiuk (nine points, four rebounds, three assists) that put Kansas up 40-29 late in the first half and another alley-oop to Lagerald Vick that capped a 13-4 run that put Kansas (30-4) ahead 67-57 with 8:06 to play. Each time, Michigan State coach Tom Izzo called timeout. And each time, Kansas emerged from the momentary break with complete control.
All three players carried the Jayhawks at times during this one, but none of them would take credit for it after the game. Jackson deferred the credit to his coaches and teammates and having fun. Graham hit three late 3-pointers from nearly the identical spot across from the Kansas bench, but would not have made at least two of them without perfect passes from Mason. And Mason chose first to tip his cap to reserve forward Dwight Coleby, who picked up three points and four rebounds in nine of the biggest minutes of the night.
Total team effort. Total team emphasis.
Still, Graham said Jackson's individual showdown added a little extra to what already was a huge night.
"He definitely wanted this game," Graham said. "We were all surrounding him, trying to get it for him."
As the season has progressed, that has become this team's identity. No one on this roster plays for himself, and everyone plays for the common cause of hanging another banner inside Allen Fieldhouse.
"We all want it as bad for ourselves as we do for each other," senior forward Landen Lucas, who tallied 10 points and 11 rebounds in 25 minutes. "We have one goal and I think each game everybody's just on the same page with that and we're just gonna take it game by game until we get to our goal."
Asked about watching Jackson play the biggest part in moving Kansas four wins away from that goal, Lucas simply sat back and smiled.
"It was real fun," he said. "He hit some big shots and I knew he was gonna make a couple of those as soon as he shot 'em. He went out there confident, had a big game and I'm looking forward to seeing more of that."
Sunday's second-round victory certainly was not a 20-point game, even though the final score indicated that. Kansas, which opened things up with a 13-2 run after the game was tied at 27 and played from in front the rest of the way, needed every big shot and every hustle play and closed the game on a 36-17 tear after the Spartans (20-15) had pulled to within one, 54-53, with 12:17 to play.
"That's a great 10 minutes that we played," Self said of the sprint to the finish. "And probably a pretty good 30. But a really good 10."
Added Lucas: "That was the first time, really, I think this year, where we did that at the end of the game. We just finished the game. And that was nice to see."
Jackson, of course, played a huge role in that. But after the game, after all of the extra contact, trash talking and chirping had subsided, the KU freshman had just one word to describe it all — fun.
"I feel like we're all competitors," Jackson said. "And I've been knowing those guys for a long time and I knew it was going to be a fun game before it even started. So it was just really fun to be able to go out there and play against those guys and (I'm) really proud to see them here, having success. A couple guys (in the handshake line) told me to just go ahead and win the tournament, just wishing us good luck and telling me that they were proud of me. Like I said, I was just really happy to see everybody there and it was just really fun."
For Jackson and the Jayhawks, the fun continues into next week, 35 minutes away from home, with another four-team tournament and a spot in the Final Four on the line.
— See what people were saying about the game during KUsports.com's live coverage.
---
More news and notes from Kansas vs. Michigan State
---