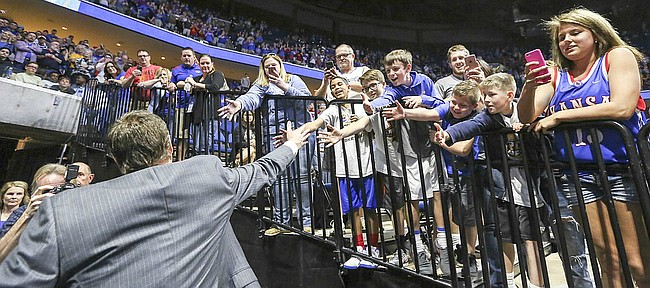 Tulsa, Okla. — The Kansas Jayhawks are coming home, and when they get there, a date with Purdue in the nearby NCAA Tournament will be waiting.
That's thanks to KU's 90-70, second-round victory over No. 9 seed Michigan State on Sunday night at BOK Center, and when the roar of the crowd and celebratory smiles and high-fives and hugs had ended, the Jayhawks found themselves focusing on one thing.
"You know, you work your butt off all year long so you can hopefully play a regional in Kansas City, so you gotta do the things to get there," KU coach Bill Self said. "Now, that doesn't mean we have an advantage or anything like that, but you would think that would be a nice reward to having a good season."
Sure sounded like it.
"Well, I'm excited," said KU junior Devonte' Graham, who hit the Spartans for 18 points, four assists and three steals in 34 minutes on Sunday. "Why wouldn't we be excited to play in our hometown, in our own state, in front of the best fans in the world. I'm excited to get back and redeem myself in the Sprint Center."
Photo Gallery
Kansas Basketball v. Michigan State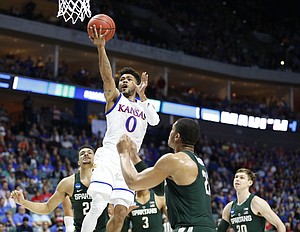 View a gallery of images from Sunday's game between the Jayhawks and Spartans at BOK Center in Tulsa, Okla.
The address of the Sprint Center notwithstanding, the Jayhawks, to a man, sounded more than a little pumped about the prospects of returning to the place where, just 11 days ago, they lost to TCU in the quarterfinals of the Big 12 tournament.
"Yeah, definitely," said sophomore guard Lagerald Vick. "We have an advantage with the fans and it just feels like home, feels like (Allen) Fieldhouse."
Added senior point guard Frank Mason, who hit his averages of 20 points and five assists against Michigan State: "It doesn't really matter where we play, but it's Kansas basketball and we get a chance to play 35 miles away from Lawrence and I think it's just great for the fans and for us to get a chance to play there for the Sweet 16. We're all excited."
Time to get tough
Known for their physical, aggressive, full-of-attitude philosophy, the Spartans had little success getting under the skin of the Jayhawks in Sunday's second-round clash.
That, according to several Kansas players, made the 20-point victory that much sweeter.
"Moving on to the Sweet 16 is exciting enough, so I think we would've been excited either way," senior forward Landen Lucas said. "But that obviously contributed to it a little bit.... We're not gonna back down from anybody or let anybody punk us. We enjoy that. We kind of rally together as a team and it kind of showed on the court."
Mason, who embodies that ideal as well as any player to come through the Kansas program, said that mentality starts at the top.
"I think we all play with a lot of pride," Mason said. "We all believe in each other and I think it starts with coach (Self). He really gets on to us in practice and he makes us compete. And, you know, it just carries on to the games. I'm just proud of the way my teammates played and the great job that my coaches did."
Hey, coach
Not long after the Jayhawks' knocked off Michigan State and just a few minutes before Baylor stepped onto the BOK Center floor for its game against USC, Baylor coach Scott Drew peeked his head into the Kansas locker room and shouted, "Great job, guys. Congratulations."
Self said he and Drew caught up in the hallway outside of the locker room, and, like a ghost, Drew was in and out of the locker room as quick as he appeared. A couple of hours later, was staging his own celebration in a nearby locker room, as the Bears knocked off USC, 82-78, to move on to the Sweet 16.
Baylor and Kansas advancing placed three Big 12 teams into this year's Sweet 16. It marks the second year in a row three Big 12 teams reached the Sweet 16 and the seventh time in conference history.
No glory this time
For the second game in a row, Kansas guard Tyler Self and a couple of other KU walk-ons got off the bench and into an NCAA Tournament game.
This time, though, there would be no big shot glory or wild celebration about Tyler scoring as there was on Friday night after the senior walk-on drilled a late 3-pointer on his only attempt in KU's first-round win over UC Davis.
Instead of letting his son pull the trigger in this one, Self told him to dribble out the shot clock and turn the ball back over to Michigan State with just a few seconds remaining.
"I figured he'd stay at 100 percent for his NCAA Tournament career," Self joked after the victory.
This and that...
KU's win trimmed Michigan State's lead in the all-time head-to-head series to 7-6 and made the Jayhawks 2-1 vs. the Spartans in NCAA Tournament play.... Self is now 6-7 all-time against MSU coach Tom Izzo, 3-4 at Kansas.... The win gave Kansas its 14th 30-win season of all-time, with eight of those coming under Self.... Self also improved his personal NCAA Tournament mark to 42-17, 32-12 at Kansas.... KU now owns an all-time NCAA Tournament record of 102-44.
— See what people were saying about the game during KUsports.com's live coverage.
---
More news and notes from Kansas vs. Michigan State
---