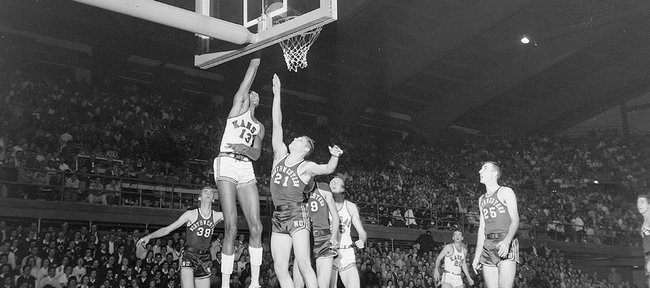 Editor's note: This is the seventh story in the Journal-World's series of the top 10 games in Kansas University hoops history. Introducing No. 4:
On the day that Wilt Chamberlain turned in arguably the greatest single-game performance in Kansas University basketball history, a photograph of the then-Kansas University sophomore ran in the Journal-World.

In it, Chamberlain, who was to play his first varsity collegiate game later than night against visiting Northwestern, was pictured towering above the rim in the moments before a dunk, and when the photo made its way into the hands of the visiting Northwestern players in the hours before the game, they scoffed it off as trick photography.
"They thought it was a staged type of thing," says Jerry Waugh, an assistant coach at KU at the time. "And they didn't believe it."
Later that night, Dec. 3, 1956, Northwestern and its players found out exactly how real the photo was.
To understate it, Chamberlain did everything that night. He scored 52 points. He grabbed 31 rebounds. He performed feats that, to that point (and maybe this one), had not been done on a college basketball court.
Photo Gallery
Kansas vs. Northwestern, 1956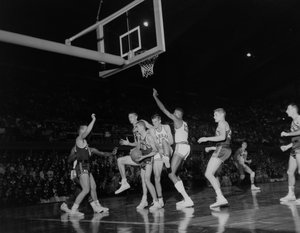 Wilt Chamberlain played an amazing game in the Dec. 3, 1956 game against Northwestern. Chamberlain broke several records with 52 points and 31 rebounds.
Both his point and rebound totals broke the previous NCAA records in an eventual 87-69 Kansas victory.
Even Chamberlain's coaches and teammates walked away from the game unsure what they'd just witnessed. They should not have been surprised, of course. They'd seen the way Chamberlain dominated practices. They knew he'd spent his summers playing in the Catskills against some of the top players —collegiate and otherwise — in the country. But it was one thing to do it in a stuffy practice gym and quite another to do it on a grand stage, against a team that had been picked to win the Big 10.
Waugh remembers that, each time Chamberlain dunked, the cables holding up the basket shook ferociously. Chamberlain teammate Ron Loneski remembers a photo taken during the game in which Northwestern defenders were cowering under the basket, trying to protect themselves from the aftermath of an ensuing dunk.
Everyone who saw the game, most likely, came away with an image or two burned into their mind, and those not fortunate enough to have been in attendance for the opener made it a point to get to a game soon after.
"Someone had made a statement that right after Wilt started to play, the revenues in the (Kansas) Turnpike changed dramatically," Waugh says. "Chamberlain comes on the scene, and all of a sudden, people were anxious to get (over) here. He was the show, and his impact — certainly in that first game — was just, 'Wow, we need to get up there and see that.'"
Fans hoping to recreate the same magic of that first night, however, usually came away disappointed.
Immediately after the team's victory over Northwestern, teams began playing the Jayhawks and their standout center differently. Opponents refused to run with Kansas, like Northwestern had, limiting the number of offensive possessions the Jayhawks received per game. And with no shot clock at the time, teams would hold the ball for minutes at a time, further limiting the potential damage.
"Nobody wanted to say he scored 52 against them and had 30 rebounds," said Monte Johnson, a member of the 1956-57 KU team and an eventual athletic director at KU. "That's just embarrassing."
As a result, Chamberlain's production dipped back down to more reasonable totals. He finished his career with averages of 29.9 points and 18.3 rebounds before going on to star in the NBA, where we would eventually be named one of the league's 50 greatest players of all-time.
"He was an attraction," said Johnson. "We've had so many good players over the years, but you haven't had many like that. He was an absolute magical person to watch."
More like this story on KUsports.com