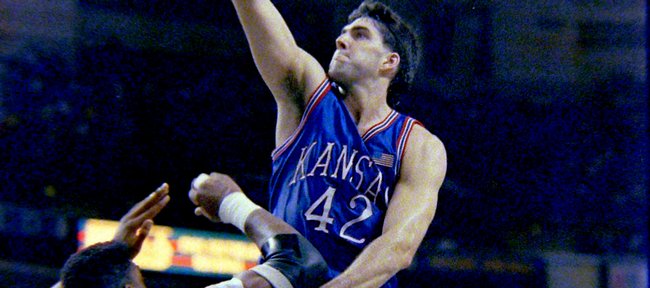 Editor's note: This is the fifth story in the Journal-World's series of the top 10 victories in Kansas University hoops history. Introducing No. 6:
Kansas wasn't supposed to be able to hang with Arkansas.
Nolan Richardson's top-seeded Razorbacks were 34-3 and ranked No. 2 in the Associated Press poll for the majority of the season, behind only the undefeated and defending national champion UNLV Runnin' Rebels, who were responsible for one of Arkansas' three losses. The Razorbacks' trademark 40-minutes-of-hell brand of basketball had won them the Southwest Conference regular-season and tournament championships. Arkansas had won 10 games by more than 30 points, with a scoring margin of plus-19 points per game.
Kansas, seeded third, was 25-7 after starting the year 9-4. The Jayhawks had lost both their regular-season finale and their second-round Big Eight tournament games to Nebraska, and were led by third-year coach Roy Williams. Kansas was only 10-7 in games played away from Allen Fieldhouse.
Kansas forward Alonzo Jamison, now an assistant basketball coach at Bethel College in North Newton, looked back on the team's underdog role in that game.
"We didn't have any pressure. That was our theme," Jamison said. "We were a three seed, and nobody really gave us a chance to do anything. Over the years, especially in the '80s and '90s, we had that little moniker where we didn't get a lot of respect. At that time, you know, they just thought Kansas was a flash in the pan."
Future NBA draft picks started at four positions for the Razorbacks, with Todd Day, Oliver Miller, Lee Mayberry, and Isaiah Morris confusing opponents with their tenacious defense and aggressiveness.
So on March 23, 1991, when Day scorched the Jayhawks for 21 points in the first half in the Elite Eight in Charlotte Coliseum, and Arkansas had hit six three-pointers to cruise to a 47-35 halftime lead, it appeared the underdog Jayhawks were on their way out of the tournament.
"Coach rallied the troops at halftime and just said, 'Hey, just do what I ask you to do and things will work out.' And they did. (Charlotte Coliseum) was rocking just because it was a regional and a lot of people like to see the underdog win that type of game. It was fun, and I really think that the faithful there really wanted to see Arkansas get knocked off."
Kansas outscored the Razorbacks 58-34 in the second half behind the stellar performance of Jamison, its 6-foot-6 junior forward. The Jayhawks jumped out quickly to open the second half, scoring eight straight to cut the lead to 47-43, including Jamison's second career three-pointer to cap the rally. Day's 21 first-half points inspired Williams to change his approach.
"We kept fresh bodies on him, and I think that pretty much wore him out, because he wore us out in the first half, and in the second half he really didn't have the legs to finish on his shots," Jamison said.
Day finished the second half with only five points, and Jamison could sense that the school's ninth Final Four was on the horizon when the clock wound down on a 93-81 KU victory.
"It was about six or seven seconds left, time was running down right then and there, and that's when I knew, it clicked in my brain that we were going to Indy," he said. "That moment will never leave me for the rest of my life."
Just two years removed from a post-season ban and three years from a national championship dubbed a miracle and facing a No. 1 seed, KU signaled it was ready to establish itself as a national power.
"Coach said, 'Just believe in what I'm saying.' And we believed in each other also," Jamison said. "You can't make that type of a run in the NCAA Tournament without having faith in your teammates."
More like this story on KUsports.com