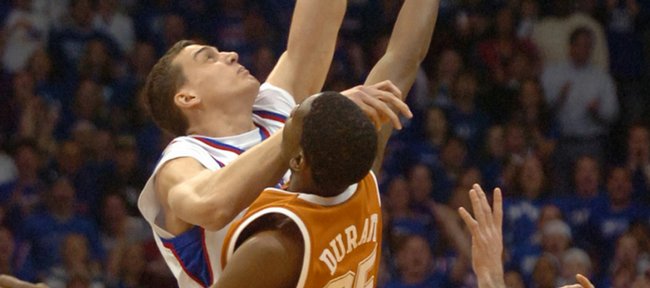 Editor's note: This is the third story in the Journal-World's series of the top 10 victories in Kansas University hoops history. Introducing No. 8:
The passionate Kansas University basketball fans have given numerous standing ovations to show their appreciation of an awe-inspiring performance at Allen Fieldhouse.
Rarely have those cheers from the stands honored a member of the visiting team, however. Such was the case on March 3, 2007, when Texas freshman Kevin Durant put on a show for the ages.
Every time Durant elevated for a shot, it seemed to drop.
"I thought he was going to go for 80," Bob Davis, who called the game on the Jayhawk Radio Network, said on Monday.
Durant drilled all five of his three-point tries in the first half. At intermission, the freshman phenom, who earned Associated Press player of the year honors in 2007, erupted for 25 points, and UT held a 12-point advantage.
"He's one of the best to ever play on that court," Kansas coach Bill Self said after the game. "He's at a different level."
What made the game so memorable in KU history was how the Jayhawks turned the game around. Kansas used a 24-7 run and turned a 16-point deficit into a one-point lead in the second half. Kansas won, 90-86, and clinched its third straight regular-season Big 12 title.
A sprained ankle forced Durant to miss four minutes of the second half. He produced only seven points in the final 20 minutes. Durant tried to play through the injury. For his effort, many KU fans rose to their feet and showed their support.
"I think they appreciated what they saw," Davis said. "They thought, we better take a quick look at him because he'll only be there one year (before leaving for NBA). The ovation was really directed at one guy, and deservedly so."
Durant actually turned his left ankle a few days before the game against KU. It clearly didn't affect him in the first half. He finished with 32 points and nine rebounds.
"It was one of the great performances I've ever seen anywhere," Texas coach Rick Barnes said on Monday's Big 12 teleconference. "That first half, he was phenomenal. He not only was responsible for what he did scoring-wise, but almost every basket led from something he did, whether he touched it, got double-teamed, kicked it out for an open shot or got somebody a layup."
Both teams' rosters were loaded with young talent. The Jayhawks didn't have a senior on their roster. KU's junior class featured Darnell Jackson, Sasha Kaun and Russell Robinson. Mario Chalmers, Brandon Rush and Julian Wright were sophomores. Sherron Collins and Darrell Arthur were freshmen.
KU was young, but Texas was even younger. The Longhorns started four freshmen (Durant, D.J. Augustin, Damion James, Justin Mason) and a sophomore (A.J. Abrams). Dexter Pittman was also part of that freshman class.
"What he did with our program was phenomenal," Barnes said of Durant. "For him to keep it where it was and get us back to the NCAA Tournament, really, people have no idea what kind of year he really did have."
Durant and the Longhorns won a game in the 2007 NCAA Tournament, but lost in the round of 32 to USC. Kansas advanced to the Elite Eight and lost to UCLA.
For the 2006-07 season, Durant averaged 25.8 points per game. His 903 total points stand as the most by any Big 12 freshman.
The Big 12 has seen its share of stellar freshmen. Texas' T.J Ford in 2001-2002; Kansas State's Michael Beasley and Oklahoma's Blake Griffin in 2007-2008; Oklahoma's Willie Warren last season and KU's Xavier Henry this season. Durant, however, could be remembered as the conference's top diaper dandy.
"I think he's been the best," Barnes, in his 12th year at Texas, said of Durant when asked about the Big 12's best freshman ever. "I think he's proven that now, even at the next level. I think the impact he's having on the NBA, and what he did in college, I'm not sure there's anyone who's had that much of an impact anywhere."
Durant, now in his third year in the NBA, hasn't played in an all-star game, but should crack this year's West roster when the all-star reserves are announced Thursday. Durant ranks third in the league with 29.3 points per game for the Oklahoma City Thunder.
It's a good bet most people in Lawrence who witnessed the KU-UT game on March 3, 2007, had a good idea Durant was capable of putting up those numbers at the next level.