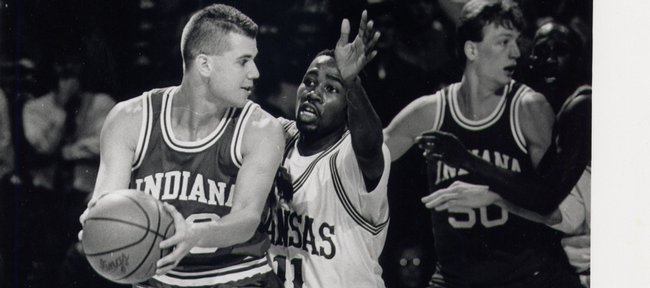 Original J-W story
• Check out the Journal-World's original story from this game
Editor's note: This is the fourth story in the Journal-World's series of the top 10 victories in Kansas University hoops history. Introducing No. 7:
When 12th-ranked Indiana strolled into Allen Fieldhouse on Dec. 22, 1993, the stage was set for a fantastic showdown between powerhouse programs. Not only did the two schools have great tradition on their sides, but both were ranked in the Top 15 at the time, and both were just a few seasons removed from national championships — KU in 1988, Indiana a year earlier.
The way former Jayhawk Steve Woodberry remembers it, however, he was the man who was oh-so-close to becoming the hero of the game.
But thanks to the stout defense played by the Hoosiers and the extreme savvy of a highly touted freshman named Jacque Vaughn, this game will forever be remembered as the night Vaughn hit the game-winner and effectively announced his arrival to the college basketball world.
With the game tied at 83 in overtime, Kansas secured possession and had the fate of the game in its hands. The natural instinct for then-KU coach Roy Williams was to draw up a play for Woodberry, a senior and the team's leading scorer.
"The time before, coach (Williams) had drawn a play up and I hit a shot," Woodberry said. "Coming off of that, we were going to run the same play, but Indiana defended it really well, took me away, and left Jacque with only one option, and that was to shoot it. He took a couple of dribbles and gathered himself, gave a shot-fake but the guy didn't go for it, so he just rose up above his man and shot the ball."
Swish.
Kansas wins. Vaughn's a hero. The first time of many that such words would be used to describe the point guard's play during his four seasons at KU.
"I just remember going Christmas shopping during the three or four days we had off after that game, and all anybody wanted to talk about was that game and Jacque's shot," said former Jayhawk Greg Gurley, who played 15 minutes in the victory against IU. "I don't really remember what play was called, but, no offense to Jacque, I can pretty much guess that him shooting from the outside wasn't the first option. But that was Jacque. Even though he wasn't a great shooter, he made big shots."
Vaughn finished the night three of eight from the field — including two of four from three-point land — for 13 points. He added five assists and two steals to his stat line.
Although Vaughn's heroics stole the show, the game had plenty of other interesting storylines. The victory marked the fourth time in four seasons that the Jayhawks had defeated Indiana. That stretch included three times in a 12-month span.
"That was what I remember being so cool about it," Gurley added. "During my four years at Kansas we were 1-3 against Iowa State and 1-3 against Nebraska, but we found a way to be beat Indiana every time."
Of course, in those days, beating Indiana meant beating Bobby Knight. And, in many ways, that made the victory even sweeter for the players and the fanatics who packed the gym. In fact, that game — specifically the moment after Vaughn's game-winner — often has been tossed into the debate concerning loudest Allen Fieldhouse moments in history.
"The thing about the Fieldhouse is it doesn't matter what time of year it is — people still pack the gym," Woodberry said. "Playing against Bobby Knight and Indiana, it was a great atmosphere. I'll tell you who played well was (Indiana senior guard) Damon Bailey. He had 36 points and he hit some clutch shots and some timely shots. It was just a great game with two good teams going back and forth at each other."
In the end, KU's balance seemed to wear the Hoosiers down. Five Jayhawks scored in double figures that day, with forward Richard Scott leading the way with 23 points and 10 rebounds. Vaughn and Woodberry each scored 13, while Patrick Richey added 12 and Scot Pollard chipped in 10. Meanwhile, Bailey, Alan Henderson and Pat Graham accounted for 74 of Indiana's 83 points.
In 1997 the annual award given to KU's single-season assist king was renamed to include Vaughn's name in the title. The guy they called "JV" may have been known for his fancy passes and relentless defense, but the thing that so often comes to mind first when people think back about No. 11 is his shot against Indiana.
"Boy, I remember that one," said former KU player and assistant coach Jerry Waugh, who was in attendance that day as a fan. "Tough shot. That was a game between two great basketball schools and, from an historic standpoint, that was really special. But then for Jacque Vaughn to end the game with a shot like that, that just made it even more special."
Added Woodberry: "Late in the game like that, he didn't have any choice but to take the shot. But you know, during his four years here, Jacque always played with a lot of composure, so I wasn't surprised by that."
More like this story on KUsports.com