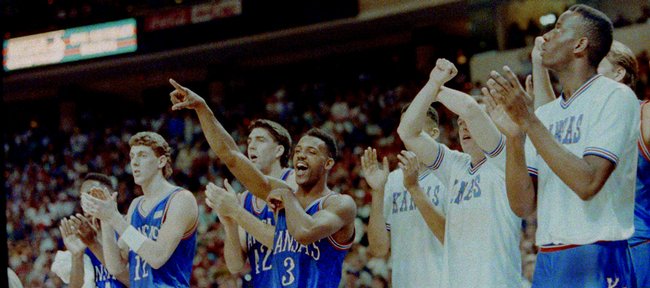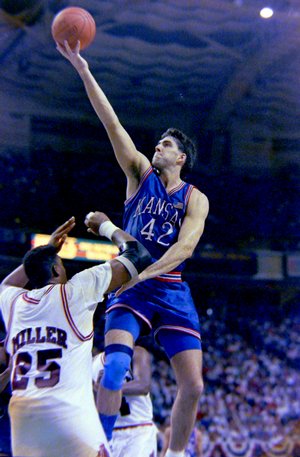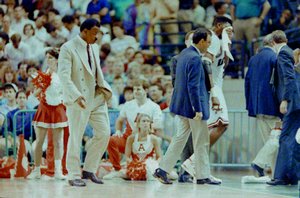 Charlotte, N.C. — Propped atop a ladder, scissors in hand, Roy Williams snipped the net Saturday at the Charlotte Coliseum.
"It is a moment I'll never forget," Williams, Kansas' third-year basketball coach, said after the Jayhawks' spine-tingling 93-81 win over Arkansas in the NCAA's Southeast Regional final.
"To see those kids jumping around," added Williams, who hoisted the net skyward, "is something you dream about in coaching. I've seen so many pictures of it. You just hope it's something you someday get a chance to do."
Williams stood on top of the ladder make that the proverbial mountain Saturday, thanks to his Final Four-bound players who rallied from both 11- and 14-point deficits.
"These kids haven't always been pretty," said Williams, whose Jayhawks, 26-7, will face the winner of today's North Carolina-Temple game in a Final Four game next Saturday in Indianapolis. "It's been frustrating at times. But I've said all along, this is a group of competitors. They proved that today."
Given several opportunities, the Jayhawks, led by Alonzo Jamison's career-high 26-point, nine-rebound effort, refused to wilt against 34-4, No. 1-seeded Arkansas.
Gut Check
No. 1 came after Arkansas raced to a sizable 17-6 advantage just 6 minutes into the game.
At that point, 6-8 forward Todd Day had already scored eight points. KU, paced by six straight points from Jamison, four from Kirk Wagner, plus two apiece from Terry Brown, Mark Randall and Mike Maddox, went on a 16-5 run and tied it at 22 with 8:08 left in the half.
"We had to keep our composure early," Williams said. "When Arkansas senses fear, it's like a shark smelling blood."
KU led 29-27 at 5:59 following a three-pointer by Brown, one of five Jayhawks in double figures with 11 points.
Arkansas, however, went on an 18-2 roll and led, 45-31, following a Day trey with 1:21 left in the half. Day scored 10 in that stretch.
He finished the half with 21 points, including four three-pointers. At the break, Arkansas led, 47-35, actually prompting some Arkansas sports writers to make their plane reservations to Indianapolis.
Following a chewing out by Williams, however, the Jayhawks, scored eight straight to open the second half. Brown hit two layups to start the stretch, Randall hit a free throw and Jamison canned a three his second of the tournament and the season in two tries.
"When Terry hit those layups," said KU guard Adonis Jordan, who had 14 points, three assists and six boards, "I said to myself, `Oh boy, we're gonna get 'em now.' Coach told us at halftime to be aggressive against 'em and take care of the ball and we started doing it."
KU, which committed 14 turnovers just four the final half continued on a 23-9 run, tying the score at 54 on a Randall bucket and foul shot with 15:35 left. Arkansas had 16 turnovers for the game.
Randall, who finished with 10 points, despite picking up his fourth foul with 9:19 left (Brown also sat the final nine minutes), said the Jayhawks rallied because Williams' halftime talk sunk in.
"Coach told us not to be so casual," Randall said, "to keep attacking. Arkansas got so many easy buckets the first half. The second half we had to be strong. Alonzo (16 points the final half) was strong as a bull."
Tied at 56, Arkansas went on a 6-1 run and led 62-57 at 12:10. Oliver Miller (16 points), Ron Huery and Day had buckets in that surge.
Jamison took over inside, scoring twice to make it 62-61 at 9:45. Many times, Jamison simply busted free up the middle, driving in for layups.
"For some reason they wouldn't foul me," said Jamison, a poor free throw shooter who hit three of five Saturday. "I just went up strong. I guess it was my best offensive game."
Jordan put KU ahead 63-62 on a spinning layup, then after Huery turned it over, Mike Maddox scored on a Miller goaltend call and KU led 65-62 at 8:28.
Miller scored at 8:10, then Jamison responded at 7:06, giving KU a 67-64 lead.
Miller hit two free throws at 6:32 and KU led, 67-66.
Jamison scored, Miller scored, Jamison hit one of two free throws and Maddox (eight points) hit a pair of free throws at 5:11, giving KU a 72-68 lead.
The two Maddox free throws started a string of 10 straight by KU, a team that hit 26 of 33. The Jayhawks hit 24 of 30 charities in the second half.
"We've struggled some," said Williams, whose team entered a 61.9 percent shooting team, worst in the NCAA Tournament field, "but we made 'em today. Again it shows how competitive those kids are.
"It doesn't matter if we're 64. I wrote No. 4 on the board. We're one of four still playing."
Debatably the game's biggest shot followed the two Maddox free throws. Sean Tunstall (11 points, all in the second half) canned a three at 4:31 and suddenly KU led by seven 75-68.
"From then on, my adrenaline just flew. I knew we weren't going to lose," Tunstall said.
"To be honest, one of the kids I chewed at halftime was Sean," Williams said. "He came out and gave us a big lift the second half."
LU's lead would not dip below seven again, thanks to free throw shooting of players like Steve Woodberry, who hit four of four, and Jordan, who canned six of eight.
KU's lead reached 14 at 87-73 following two Jordan free throws with 2:10 left. At that point, KU had hit 20 of 24 second-half charities.
The rest of the game was a celebration KU had comfortably beaten heavily favored Arkansas in Williams' home state.
"It's special even if I had to go to through China, though I wouldn't like the boat ride," Williams said of making the Final Four. "To have my family here, my mother, wife, two children, sister, cousins, friends, this is my home state. To be in North Carolina, it's special. But I'm happiest for those kids."
Ones like Randall, who redshirted KU's title season in 1988.
"It hasn't sunk in yet. It may take awhile," Randall said.
Yet nobody expressed total amazement KU was able to beat Arkansas, Indiana, Pittsburgh and New Orleans to get to the Final Four.
"Hard work," Jamison said, "has paid off."
More like this story on KUsports.com