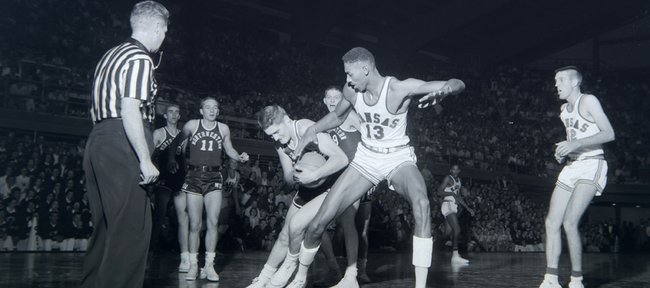 Photo Gallery
Kansas vs. Northwestern, 1956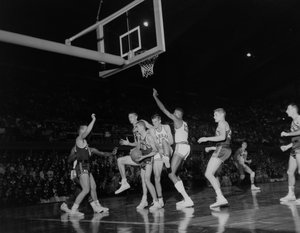 Wilt Chamberlain played an amazing game in the Dec. 3, 1956 game against Northwestern. Chamberlain broke several records with 52 points and 31 rebounds.
Kansas University's basketball team, rated No. 1 or No. 2 by most national polls in preseason voting, Monday night showed an estimated 15,000 fans why by spanking Big Ten power Northwestern, 87-69. The fabulous Wilt (The Stilt) Chamberlain canned 52 points, mostly on dunks, for a new school scoring record.
Marquette comes to Allen Fieldhouse Saturday night to give Wilt and his mates their second test of the young season and after the first show, it's an almost safe bet that the opening night attendance figure will be topped.
Also a rebound record
The Big Dipper broke the school record of 44 points held jointly by a pair of 6-9 KU All-Americans of the early 1950's, Clyde Lovellette and B.H. Born. Clyde set the mark against St. Louis in 1952 and Born equaled it in 1953 against Colorado. In addition, the seven-foot Chamberlain grabbed 31 rebounds to top the school record of 24 set by Lew Johnson, now a forward, against Kansas State in 1955.
Wilt hit his 43rd point with 7:07 still to play in the game, then racked the net with record-smashing No. 45 at the 5:48 mark. After that, he just fattened the total. He played all but 31 seconds.
Coach Dick Harp, making his debut as head KU basketball coach, said he felt Kansas played as well as he had hoped for for an opening game.
Ruklick fouls out
Both Harp and Wilt said Northwestern was a tremendous club, and that 6-9 sophomore center Joe Ruklick was "great." Ruklick had a great hook shot with either hand but fouled out with 9:30 left in the game.
Chamberlain said in the dressing room following the game that, "Ruklick is as great a hook-shot man as I have every played against. He was really hard to stop."
Wilt didn't actually stop the big fellow until the second half when he defended from in front. From that point on, it was a common sight to see a big hand boom out and bat the ball clear across court. Wilt had 25 points in the first half, Ruklick 16.
When he left the game, the fans stood and gave Wilt an ovation.
Chamberlain hit 20 of 29 field goal tries and added 12 free throws. Ruklick got 22 points on 11 field goals.
The smooth-striding Chamberlain got the crowd excited from the beginning as he roared out and scored four straight field goals before Northwestern hit. The Stilt got the first 11 KU points before Gene Elstun connected on a two-pointer and Maurice King added a free toss.
All hands into game
Coach Harp sent all hands into the game, frequently working with a four-sophomore unit, and sometimes with five sophs in the lineup.
Although KU whipped one of the teams favored to cop Big Ten honors this season, it was far from a polished crew. The Jays made frequent floor mistakes and all hands except Chamberlain were cold from the field.
King, Elstun, Lew Johnson and Johnny Parker opened with Chamberlain. Harp next tried Ronnie Loneski and Blaine Hollinger, and followed by sweeping the bench.
Ruklick and Dick Mast, a 6-0 dandy, turned in top games for the visitors. Mast finished with 17 points on seven field goals and three free tosses.
Actually, Kansas out field-goaled Northwestern only 32-30, but the visitors managed only nine free tosses while the Jays were getting 23. The Wildcats didn't score a charity until three minutes were gone in the second half.
In addition to his 52 points, Chamberlain grabbed off 16 defensive rebounds and 15 from the offensive nets. Elstun picked off five and five.
Chamberlain's tremendous scoring thrilled the crowed, but not nearly as much as the method he used. His dunk shot blatsed through the net, and on three occasions he faded from the free throw line and connected on jumps. Once, he backed in, hand over head and behind, to lay the ball in the hoop. His lay-in shots were actually that - the big boy just dropped the ball in from an open hand that was even with the basket.
Northwestern played Wilt tight in the second half, but it didn't bother the almost certain All-American. If anything, it just made him play harder. He showed phenomenal stamina.
Praise from the Stilt
Wilt said he would hate to face the Ruklick again this season, he felt the Northwestern sophomore was that good.
"He had a soft hook," Wilt said, "and his fake sure worked the first half. I had trouble until the second half when I moved out in front."
Chamberlain showed little emotion about the scoring record, but he was happy over the win. His teammates had nothing but praise for the 7-0 soph.
Harp said KU will get better as it goes alog.
"Northwestern played the most aggressive opening home game since I have been around," Dick said. "They are a great ball club."
Kansas jumped into a quick lead, but the visitors deadlocked it 16-16 with 8:25 remaining in the first half.
Wildcats are dogged
The Wildcats made it 18-18 and then 20-20 before fading. KU jumped ahead 26-24, then 28-26 and finally 42-34 at the half. From that point on, the Jays were not contested, although the 'Cats stayed fairly close until about the middle of the final half.
Kansas finished with a 42 percent shooting average against the visitors' 34 percent. KU tried 76 goal attempts, the Wildcats 88. Chamberlain ruined many Wildcat shots with his long arms.
In the rebound department, Kansas grabbed 26 on offense and 44 on defense. Northwestern managed to pick up 15 on offense and 29 on defense.
More like this story on KUsports.com