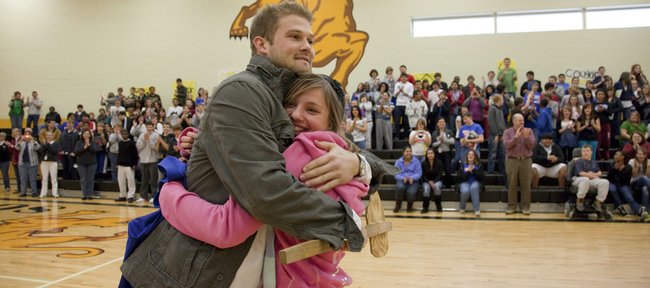 As far as South Junior High ninth grader Tara Rasing was concerned, receiving a Todd Reesing jersey from her physical education teacher at an all-school sports assembly was enough.
Add to that thrill the fact that the jersey — blue, size medium, sporting a white No. 5 — was being delivered by Reesing himself and, really, there was only one way to describe it.
"My guts dropped," Rasing said.
The jersey presentation highlighted Tuesday's assembly, which was thrown together as much to honor South's eighth- and ninth-grade athletic teams as to lift Rasing's spirits. Clearly, it worked.
"This was just a burst of enjoyment for me," said Rasing, who, like her favorite KU football player, has overcome her share of adversity in her life. "This was one of the best days I've had in a really long time."
The same could be said for Reesing, who, after graduating in December with degrees in finance and economics, has spent the past several weeks in Lawrence at the Anderson Family Football Complex preparing for a shot at professional football. Although most of his time has been spent focusing on dropping his 40-yard dash time along with strength and agility drills, Reesing said he was happy to deliver the jersey when asked by South P.E. teacher and former KU football player David Lawrence.
"I was told about all of the obstacles (Rasing's) had to overcome in her life at such a young age, and I heard that she was also a huge fan, so this was just a no-brainer for me," Reesing said. "Once you've done it before and you see how spending time with kids and just being around them brings a smile to their faces, it's almost impossible to turn something like that down."
With just 58 days remaining before the 2010 NFL Draft (April 22-24), Reesing is hoping that at least one general manager will feel the same way about him. Reesing wrapped up his KU career as the school's leader in every major passing category. In addition, he became known around college football as a player who, despite his small frame, could make something out of nothing on any play. While that style became the signature for one of the most productive careers in KU football history, Reesing has spent the last couple of months fine-tuning the elements of his game that he believes the pro scouts will want to see.
"It's the same thing I've been doing at every stage of my life it seems like," he said. "Just one more time I've gotta go out and prove myself and earn my way because it's not going to be handed to you."
At Tuesday's assembly, Reesing told the room full of South Cougars what playing pro football would mean to him.
"In the next couple of months, I have the opportunity to accomplish my ultimate childhood dream, and that's a chance to play pro football," he said. "If you would have told me that 10 years ago, when I was in y'all's shoes, I might have lost it. So shoot high. Always go for your dreams. And whether it's sports, school or your social environment don't ever let someone tell you you can't do something."
The next date circled on Reesing's football calendar is March 10, when the KU football program will welcome several pro scouts to town for the school's annual pro day.
"We'll probably get a lot more feedback after that day," Reesing said. "And we'll have a better understanding of what I might end up with or what my chances in the NFL are."