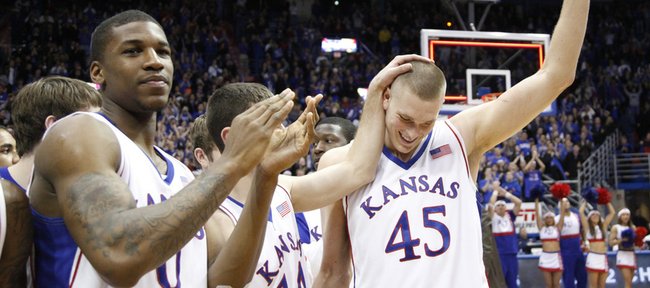 Cole Aldrich isn't going to challenge fellow Academic All-American of the Year Jacque Vaughn to a 1-on-1 battle of the brains.
"I don't know if I'm as smart as Jacque," Aldrich, Kansas University's junior center, said with a smile, in commenting on becoming KU's first basketball player to win the country's top academic honor since Vaughn in 1997.
"Jacque is incredible. He is a poetry major. We saw him in San Antonio (at Final Four) two years ago. He just lets things flow off his lips. I don't quite have that. It's a real honor to be part of that elite group," added Aldrich, who has an overall GPA of 3.32 in Communication Studies.
Vaughn actually was a Business Administration major who dabbled in poetry on the side. He had a GPA of 3.6 entering his senior year, according to the 1996-97 KU media guide. The 1997 KU grad went on to play 12 years in the NBA. He's currently an NBA free agent who makes his home in Lawrence.
"One thing about Cole, I don't think he writes poetry as well as Jacque did," KU coach Bill Self joked on Tuesday's weekly Hawk Talk radio show.
"We're not calling him (Aldrich) Bill Bradley just yet," Self added, referring to the brainy former Princeton University/New York Knicks standout who went on to a career in politics.
"Still, it is a remarkable accomplishment, especially for a guy that is a fun loving, goofy kid that just enjoys college. I think it's really neat. Cole would be the first to tell you he owes so much to the faculty members, professors and all the people in the athletic department. We have an unbelievable support staff and Cole — all our guys — benefit from it."
Aldrich to be eligible to be a first-team Academic All-American needed "to be a varsity starter or key reserve, maintain a cumulative grade point average of 3.30 on a scale of 4.00, have reached sophomore athletic and academic standings at his/her current institution and be nominated by his/her sports information director."
The Academic All-American of the Year is basically the captain of that first-team.
"You could be the AP national player of the year or the Naismith Award winner. That means you are THE guy (in college basketball)," Self said. "In this arena, Cole is THE guy. It's something he told me he wanted to go after. I don't think in his wildest dreams he thought he'd be THE guy."
Aldrich told the Journal-World in a January interview that one of his main goals this season was to a be first-team Academic All-American.
"Just for the fact in my immediate family we've never had anybody graduate from college or even attend a university," Aldrich said. "So one huge goal of mine is to graduate, also to do really well in the classroom, to show people the stereotype that basketball players or athletes are just in it for the sport is not true. There are a lot of guys in it for academics, too."
Aldrich, who is expected to turn pro after this, his junior season, will be about a semester short of graduation — hours he could complete via correspondence. Senior Sherron Collins will graduate in May with a degree in African American Studies.
KU now has 14 first-team Academic All-Americans, second nationally to UCLA's 17. Ryan Robertson was the last Jayhawk to be named a first-teamer, back in 1999.
"Cole exemplifies everything that is right about college athletics," Robertson said. "As I look back on my own career, it is the one award that sticks out most. With this award, Cole has made his family, fans, and alumni proud, and I am just really happy for him."
Breaking the tie: KU (27-1, 13-0), which has snared at least a share of its sixth-straight Big 12 regular-season title, can win it outright with a victory Saturday at Oklahoma State. Second-place Kansas State improved to 23-4, 10-3 after beating Texas Tech, 83-64, on Tuesday in Lubbock.
Self indicated it is Big 12 policy to present a team the trophy once it is assured at least a tie, which is why there was a ceremony after Monday's victory over Oklahoma.
"Our administration talked to me about it. I said, no, I don't want the trophy or our guys to get it until we take care of business and win it outright," Self said. "(But) it is sort of a bad deal because now T-shirt shops are printing shirts and selling them. Why wouldn't we let the guys at least have a photo-op which we did. It was not a big-time ceremony.
"We'll celebrate it Senior Night (next Wednesday against Kansas State) if we take care of business."
K-State will play host to Missouri on Saturday.
Big 12 play: The Jayhawks are just three wins from a perfect 16-0.
KU's 2001-02 squad is the only team in league history to go undefeated.
"We're playing for a great seed, outright championship and to do something few teams have done in this league. Only one other team has done it," Self said on Hawk Talk.
"We've not talked about that (yet), but certainly a win in Stillwater would put us in position to (talk about it)."
Of course, OSU (19-7, 7-5 heading into today's game at Texas) will have great motivation in Saturday's 3 p.m. game at Gallagher-Iba Arena. "I think they are in the NCAA Tournament," Self said, "still yet, one marquee win would solidify everything. They'll be excited and ready. We need to be as well."