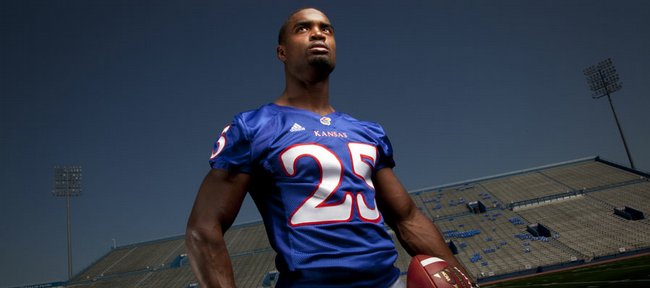 Former Kansas University football standouts Darrell Stuckey, Dezmon Briscoe and Kerry Meier are all accomplished football players who possess great skills.
They're also wise enough to realize that what they're about to get into has next to nothing to do with the game they love.
"Right now, it's not about football at all," said Stuckey, who will join Meier, Briscoe and 326 other college football players at the NFL Combine in Indianapolis beginning today. "The only part that's about football is the skills part. The drill part, sure, that's football, but a lot of it is drills you'll never do again."
Welcome to the NFL Combine, a tell-all college football talent show, which tests the speed, strength and smarts of the top college players in the country. This year's combine kicks off today with a series of media interviews and orientations and runs through Tuesday.
For the first few days of the combine, players who were invited will be put through a series of off-the-field exams. Drug tests, physicals, body measurements, psychological tests, media interviews and, of course, the infamous Wonderlic intelligence test all will take place during the first few days of the combine.
The Wonderlic test was made famous by former University of Texas quarterback Vince Young and his well-documented struggles in 2006, when he was reported to have scored a six out of 50. A score of 20 projects average intelligence and it is believed that former Cincinnati Bengals punter Pat McInally (1976-85), is the only player ever to register a verified perfect score. While different teams place varying degrees of importance on the Wonderlic test, all three Jayhawks in attendance at this year's combine expect that portion of the week to be a strong point.
"I'm not really worried that much about the Wonderlic part, and I think that's because of the education I got at the University of Kansas, being an all-around education," Stuckey said. "I've proven that I can think outside of the box in class, and now I get to apply all of those little things that I've learned."
For Briscoe, whose junior season was littered with off-the-field incidents and suspensions, the one-on-one interviews and Wonderlic test offer a chance to atone for the past.
"I think I'm going to do really good on that part," Briscoe said. "Because I know that other stuff is really not me and I'm just excited about the opportunity to show everyone in the NFL."
Beginning Saturday, the players will be divided into 11 groups and will begin to flash their physical skills, all of which will be heavily observed — and sometimes scrutinized — by NFL coaches, scouts and team doctors. Included among the physical drills are: bench press tests, 10-, 20- and 40-yard dashes, vertical jump tests, broad jump tests and agility drills such as the 20- and 60-yard shuttle drills and cone drills, which measure lateral quickness and body control.
Offensive linemen and tight ends will hit the field and track on Saturday, followed by wide receivers, running backs and quarterbacks on Sunday. Defensive linemen and linebackers will go Monday and Stuckey's crew — the defensive backs — will close out the combine on Tuesday.
All three Jayhawks have gone elsewhere to prepare for the combine during the past few weeks. Meier has been in Houston, Briscoe has worked out near Dallas and Stuckey has hit it hard in Tampa, Fla. Regardless of where they've been, who they've met or what they've done, they'll all arrive in Indianapolis with one thing on their minds.
"This is the turning point in my life," Meier said. "Going through college was good and getting my education was important, but this is the next level for football, it's what you grow up doing, it's the ultimate goal for a young football player. And right now it's right in my grasp, and I'm working my tail off to actually make the NFL a reality."
Back home, they'll have at least one guy believing in them.
"I've talked with all of them, and I know they're excited about the opportunity to try to improve their draft stock," said former KU quarterback Todd Reesing, who also hopes to get a shot at the NFL through the draft or free agency. "All three of those guys are going somewhere in the NFL without a doubt. So I hope they do well and represent KU pretty well."