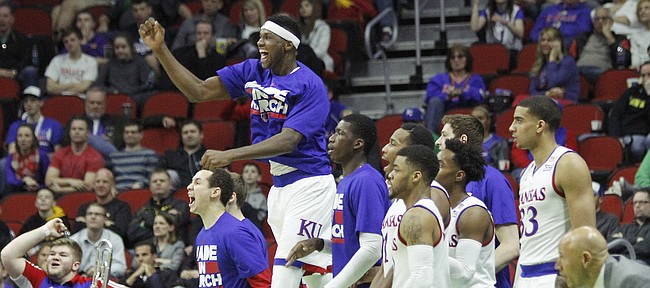 Des Moines, Iowa — Stressed out over the poor timing of Joel Embiid's back injury two years ago and last March by the NCAA's docking of Cliff Alexander, Kansas University's basketball coach is back to his smooth self.
Bill Self's not mad in March. He's not uptight, and if he can stay that way, his players will continue to play with the confidence they have displayed during a 15-game winning streak that was not in any way threatened by Austin Peay State University in a 105-79 blasting.
"I think I'm a little bit more relaxed and looser this year than what I've been the last couple of years because our team's playing better and we kind of limped home the last couple of years with injuries," Self said after the blowout.
Things couldn't have gone much better for the Jayhawks in Thursday's NCAA Tournament opener for the overall No. 1 seed that doesn't appear dragged down by expectations. The same couldn't be said for some of Self's younger teams seeded on the top couple of lines.
Photo Gallery
Kansas basketball v. Austin Peay (NCAA first round)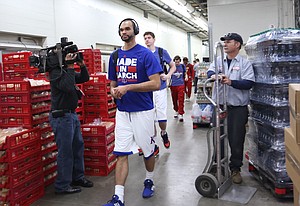 The Jayhawks take on the Governors in the first round of the NCAA tournament
These Jayhawks know they deserve the honor and know that it didn't come easily, especially when they stumbled to a 5-3 start in Big 12 play.
Self doesn't have to worry about his players stressing him out with knuckle-headed moves away from the court or on it. Again, the same could not necessarily be said of some of his younger squads.
"They say the players can reflect the attitude of the coach," Self said. "A lot of times, the coach can take on the attitude of the players. Acting and playing and how focused they are ... this group has been really, really good in that area over the last six weeks or so."
Of course, in the middle of that statement he talked about how they lost focus in the second half, but that's hardly a concern given that the opponent was seeded eighth in its conference tournament for a reason.
Austin Peay scored 51 second-half points. Not good, and not necessarily all that relevant. The 27 personal fouls? Not good, but fixable.
Center Landen Lucas — speaking of mature, the fourth-year junior thinks, talks and comports himself like a college coach — knows the defensive effort against the Governors won't cut it Saturday against quicker, longer, stronger Connecticut.
"We can't go into a game against a good team like UConn and not guard like we did today," Lucas said after a dominant 14-minute performance. "If the refs are calling it tight like they were, we have to adjust better than we did today."
After totaling 16 points, eight rebounds and two blocked shots in his limited time on the floor, Lucas will be well-rested for Saturday's game. His back-up, fifth-year senior Jamari Traylor, figures to come into the game with confidence riding high. Ditto for sophomore Svi Mykhailiuk, who dropped a Fly Williams-like scoring performance on the Governors with 23 points. Fans of the underdogs chanted, "Let's Go Peay!" They must have felt like chanting, "Svi's open. Let's go ... to the bathroom. This game is over."
Podcast episode
After his top-seeded Jayhawks blew out Austin Peay, 105-79, Kansas coach Bill Self discusses his team's depth and what KU accomplished in its first-round victory in Des Moines, Iowa.
Nobody played more than Frank Mason III's 27 minutes for Kansas. Even more beneficial than the rest to the starters was the feel-good experience gained by the reserves. 
Eager-to-please freshman center Cheick Diallo made the most of his seven minutes with nine points, four rebounds and an emphatic blocked shot.
Carlton Bragg Jr. (four points, three rebounds, three personal fouls in nine minutes), after his put-back bucket  received a pat on the head from Traylor, grateful that his point-blank clank didn't cost the team two points.
"Jamari, I don't know if he scored, and he was by far the best player in the first half because he changed the whole tempo and energy level," Self said of Traylor (scoreless with nine rebounds). "Svi, it's great to see it go in the basket. Lagerald (Vick, seven points in 10 minutes) hadn't had much time at all. So moving forward, if his number is called, I think that had to give him confidence without question.
"Carlton didn't have a Big 12 Tournament-type game that he's been having for us, but he was solid. And I thought Cheick (Diallo), even though he was seven minutes late, I thought he was active and looked great out there."
And then there was Devonté Graham, who had six assists and didn't turn it over once. Kansas scored 105 points without a single point from the Most Outstanding Player of the Big 12 Tournament.
The stroll on the hardwood was just what the doctor ordered for the Jayhawks. Now it's time to shift into competitive mode for every remaining 20-minute half.
— See what people were saying about KU's first-round victory during KUsports.com's live coverage
---
More news and notes from KU's victory over Austin Peay
---