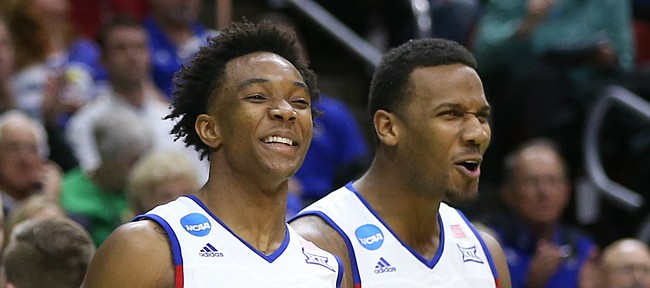 Des Moines, Iowa — Sviatoslav Mykhailiuk is one of many Kansas University basketball players who, on Thursday, admitted to having a case of the jitters for the Jayhawks' first game of the 2016 NCAA Tournament.
"The court seemed kind of longer. Everything was a lot bigger. But it's still the same game, same basketball," Mykhailiuk, a 6-foot-8 sophomore from Ukraine said after the Jayhawks — who led Austin Peay by a mere two points after eight minutes — impeached the Governors, 105-79, in a first-round South Regional clash at Wells Fargo Arena.
Mykhailiuk — he played just three minutes in KU's Big 12 title victory over West Virginia last Saturday — scored a career-high 23 points off 9-of-11 shooting in 24 minutes. He hit four of five threes, including consecutive treys that opened a 23-6 run that stretched a 12-10 lead to 35-16 at 3:46.
Mykhailiuk, who had a dunk and did not receive credit on the stat sheet for a fierce block but altered a dunk attempt, also played point guard — yes, point guard — next to Lagerald Vick during a 10-0 run that helped the Jayhawks stretch a 61-44 lead to total blowout status in the second half. 
Photo Gallery
Kansas basketball v. Austin Peay (NCAA first round)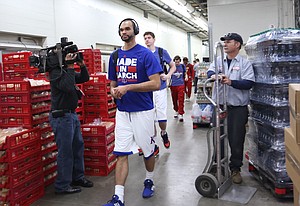 The Jayhawks take on the Governors in the first round of the NCAA tournament
The work at the point was needed on a day guards Frank Mason III (nine points, four assists, 27 minutes), Devonté Graham (no points, six assists, 24 minutes) and Wayne Selden, Jr. (14 points, 19 minutes) were limited because of foul problems.
"I did when I was a kid, not when I was with my main team (Ukraine's Cherkasy Mavpy)," Mykhailiuk said of his past experiences at point guard as a toddler. "I play it in practice on the Red team. With Frank and Devonté in foul trouble, I had to play point — focus more on my teammates, try to get shots for them instead of me."
Selden was impressed with Mykhailiuk's team-steadying performance.
"He's a special talent," Selden said. "He's first-round material. He's a special player. Him being aggressive, being confident. (It) was good to see."
Especially on the first day of the NCAAs, when even juniors like Selden felt a bit nervous.
"I felt today we were a little tight for some reason," Selden said after a game in which the Jayhawks hit 48.6 percent of their first half shots, 62.9 the second stanza. "I think that was pre-tournament, pre-game jitters. Those should be out the window now (entering Saturday's second-round game against UConn, a 74-67 winner over Colorado)."
Reserve forward Jamari Traylor, who coach Bill Self said was the best player in the first half (his eight rebounds, two steals and block helped KU to a 48-28 halftime advantage), also thanked Mykhailiuk for steadying the ship early and helping out at point later.
"I'm happy for him (Svi). I told him to stay aggressive when he got in there," said Traylor, who finished with nine boards in 18 minutes.
Podcast episode
After his top-seeded Jayhawks blew out Austin Peay, 105-79, Kansas coach Bill Self discusses his team's depth and what KU accomplished in its first-round victory in Des Moines, Iowa.
Perry Ellis led the bigs with 21 points, while forward Landen Lucas tallied a career-high 16 points and eight rebounds. Cheick Diallo had nine points and four boards in seven minutes and Carlton Bragg Jr. four points in nine minutes.
"Svi got his 23 points on 11 shots. It was great for him. He didn't surprise me today, because I see it all the time from him in practice. He's just gotta stay confident like this and he can do a lot for us. I'm just proud of him today and I know he can do even better, actually," Traylor added.
Memphis freshman Vick, who hadn't played at all in seven of the last 11 games, scored a career-high seven points with two assists in a 10-minute second-half stint.
The 6-5 Vick hit a three, cashed a layup on the break and had a steal in the stretch where he and Svi played some point.
"He was just ready," Vick said of Mykhailiuk. Of his own effort, he said: "I was ready when my jersey was called."
Noted Traylor: "Lagerald was great off the bench, and it was a point in the game when they were in we were actually better than when the starters were in. So I feel like we've got a deep group and got guys that you've gotta respect when you come out there."
Self said he thought "the bench played pretty well."
Specifically, of Svi, he said: "I would have liked to have played Svi more in the last game. The way West Virginia presses, you want your best ball-handlers out there and Devonté and Frank weren't in foul trouble and they weren't tired, so you have those guys out there, and if Wayne plays well there is not a lot of minutes to go around.
"But I think the fact he came in and fired one right off the bat and I think it went down, and then after that he was ultra aggressive the rest of the way. I thought his moves off the bounce were actually more impressive than maybe the shots off the catch. I thought he looked athletic," Self added.
And of Vick, Self said: "I don't think it's realistic to think he can come in and at the drop of a dime he's going to go out and get you seven points and kind of take over the game for a short period of time where we kind of needed to extend the lead.
"I do have confidence in Lagerald. He's our sixth perimeter player and a lot of times the sixth perimeter player is odd man out because we play five, but he looked good today and he looked confident. And certainly Brannen's (Greene) back has been bothering him and he didn't move very good today. The fact that you had all the starters in foul trouble we were going to play him (Vick) regardless and he responded like he's supposed to. He was ready."
The only thing that seemed to bother Self was KU's defense (Austin Peay hit 41 percent of its shots; four of 15 threes) and rebounding (KU out-rebounded Peay, 41-37).
"Today's game was called much tighter than what we probably have been playing (KU hit 21 of 27 free throws to Peay's 25 of 37). I'm not saying right, wrong, indifferent, I don't think our players did a good job of adjusting at all," Self said. "I felt like we were defensive on defense."
In all, 15 Jayhawks played, leaving a lot of happy players, ones who insist they'll be focused, not nervous, heading into Saturday's Round of 32 contest vs. UConn.
"I'd say we were a little (nervous) the first half. We finally calmed down and started to play well," said Perry Ellis, like Lucas, a steadying force who hit eight of 12 shots. "We know we got that out of the way and will have to play better defense and rebound better the next game."
"A little bit," Lucas said of his also being a bit tense Thursday. "Going into this, the lights are brighter and they actually are brighter out there. It feels different on the court. The first game gets that all out of the way."
Said Mykhailiuk: "It's always great to win and go to the next round. To play a great game helps your confidence. If you feel confident, your teammates do, too. We won the first one. We need to focus on the next and keep going."
— See what people were saying about KU's first-round victory during KUsports.com's live coverage
---
More news and notes from KU's victory over Austin Peay
---