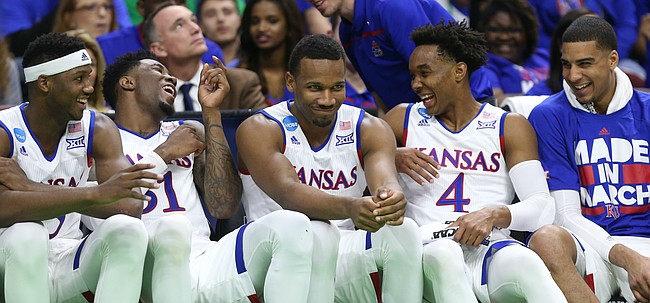 Des Moines, Iowa — Lagerald Vick, who hadn't played at all in seven of the Jayhawks' past 11 games and earned a combined 10 minutes in the other four contests, admitted to being "excited" when coach Bill Self told him to enter Thursday's NCAA Tournament game against Austin Peay with 14:15 left, KU up 17.
"The feeling is amazing, just getting a chance to play with my team, doing what coach asked me to do," Vick, a 6-5 freshman from Memphis said after scoring a career-high seven points while logging 10 minutes in KU's 105-79 win in Wells Fargo Arena.
Vick had a steal and layup in a 10-0 run that immediately followed his entering the game. He later knocked down a three-pointer that gave the Jayhawks an 84-55 lead.
"I was kind of nervous, but coach told me to be ready when my name was called," said Vick who had two assists to no turnovers with a block and steal. "I knew today finally would be the day. I stayed ready and did what coach asked me to do."
Photo Gallery
Kansas basketball v. Austin Peay (NCAA first round)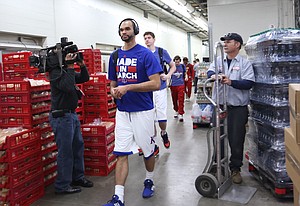 The Jayhawks take on the Governors in the first round of the NCAA tournament
Vick figured he'd enter the first-round South Regional game, because Brannen Greene's back has been bothering him. Greene finished with four assists, three steals and no points in 11 minutes.
"He's really good," KU junior Wayne Selden, Jr., said of Vick. "People don't really get a chance to see him. He's talented, athletic, can really pass and shoot the ball."
Diallo scores nine: Freshman forward Cheick Diallo had nine points and four rebounds in seven minutes.
"I thought he was active and looked great out there," Self said.
Podcast episode
After his top-seeded Jayhawks blew out Austin Peay, 105-79, Kansas coach Bill Self discusses his team's depth and what KU accomplished in its first-round victory in Des Moines, Iowa.
"It's awesome. I'm proud of him (Diallo)," said forward Landen Lucas, who had a career-high 16 points with eight rebounds. "You guys don't get to see Cheick in practice. He's so dominant in practice, such a great player. It's awesome to get him out there and do it on a bigger stage. We're going to need him and Carlton (Bragg Jr.).
"I think he's starting to carry what he does in practice into games better," Lucas added. "We're pushing for him to get out there and be himself, just play. He's doing a great job of that."
Everyone plays: Lucas said he loves when the walk-ons get to play. Tyler Self, Evan Manning and Clay Young played three, two and two minutes respectively.
"It's like the victory formation in football," Lucas said. "We're happy to get those guys out there. It shows we handled business and they got an opportunity. They work hard every day."
— See what people were saying about KU's first-round victory during KUsports.com's live coverage
---
More news and notes from KU's victory over Austin Peay
---