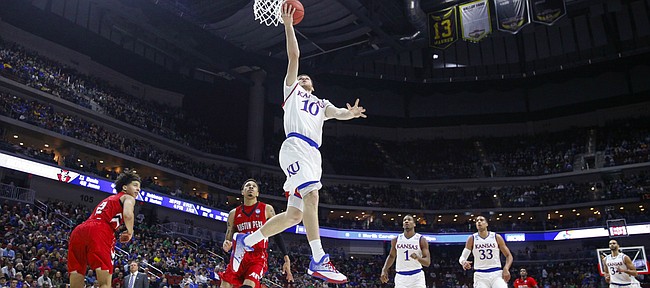 Des Moines, Iowa — All week, during their preparation for a first-round matchup with No. 1 overall seed Kansas University in the NCAA Tournament, the Austin Peay Governors focused on names like Ellis, Selden, Mason and Graham.
And then a guy who entered the tournament as the Jayhawks' fifth-leading scorer at 5.7 points per game in an average of 13 minutes, checked in early in the first half and blew up their plans.
Just like that, after a 23-points-in-24-minutes outburst by sophomore Sviatoslav Mykhailiuk on Thursday at Wells Fargo Arena, Austin Peay's season was over. Kansas 105, Austin Peay 79.
Asked if they were surprised that a guy who played so little could do so much, the Governors (18-18) almost sounded as if they expected it.
Photo Gallery
Kansas basketball v. Austin Peay (NCAA first round)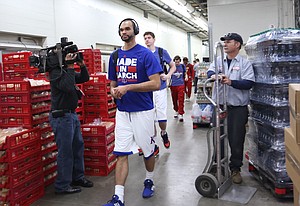 The Jayhawks take on the Governors in the first round of the NCAA tournament
"He's a really good player," freshman Jared Savage said of Mykhailiuk. "I mean, he plays at Kansas."
Added reserve guard Zach Glotta: "Any one of their guys could go off at any time. Even their bench players are great players."
That certainly was the case Thursday, where KU's bench outscored the Governors' reserves 45-19. Mykhailiuk accounted for most of that scoring, but freshman Lagerald Vick (7) and Cheick Diallo (9) also did their share of damage.
Glotta said his team was aware of Mykhailiuk's skill set and potential. But added that knowing about it and being able to do something about it were two very different things.
"We really don't have a 6-8 shooting guard on our team to try to prepare for that," said Glotta with a laugh and a shrug.
Added Austin Peay coach Dave Loos: "He's a really good player and coming into this game I thought he might just jump-shoot. But he can do more than just shoot."
In many ways, KU's ability to do more as an entire team was the difference between two teams at opposite ends of the tournament bracket.
Kansas coach Bill Self, with all of that firepower and his weapons in the starting lineup, still had even more he could go to when foul trouble of fatigue became a factor. Loos did not have the same luxury and his team paid for it.
Podcast episode
After his top-seeded Jayhawks blew out Austin Peay, 105-79, Kansas coach Bill Self discusses his team's depth and what KU accomplished in its first-round victory in Des Moines, Iowa.
"That's a big part," said Kansas City, Mo., native and senior Kahlil Davis of the Jayhawks. "They have good bench play and we couldn't really do anything about it. They had a counter move for everything. They're the No. 1 team in the nation and Bill Self is a great coach. Anything we came with, they did something else."
Even after the 26-point loss to the tourney's top seed, a handful of Austin Peay players still could be found dreaming about what an upset would've meant.
"I couldn't sleep last night," forward Kenny Jones said. "That's all I was thinking about, 'Man a win over Kansas would've blown the world up. We would've messed up (President) Obama's bracket."
Instead, Kansas moves on and Austin Peay heads back to the area it occupied before winning four games in four nights at last week's Ohio Valley Conference tournament — college basketball anonymity.
— See what people were saying about KU's first-round victory during KUsports.com's live coverage
---
More news and notes from KU's victory over Austin Peay
---