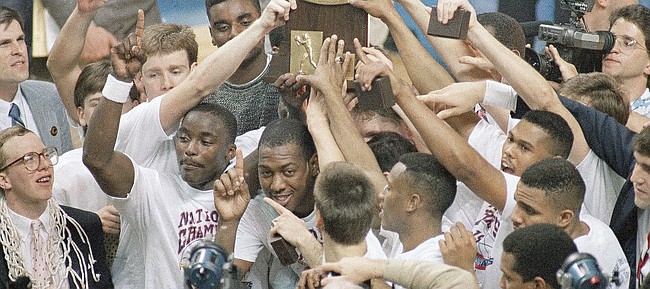 When Kansas University's men's basketball team was announced as a member of this year's NCAA Tournament field, the nation's longest active streak of tournament appearances hit 27. It will be KU's 45th appearance in the NCAAs.
Kansas takes an all-time NCAA Tournament record of 97-43 into this year's event, and all kinds of legendary players, memorable moments and heartbreaking losses remain fresh in the minds of KU fans from those previous 140 games.
Under the direction of 13th-year KU coach Bill Self, there figure to be many more noteworthy moments in the years to come.
And while we wait to see if any of the players on this year's team will add their names to the list of past great performances, here's a look back at the 12 most impressive individual NCAA Tournament efforts by a Kansas player:
No. 1: Danny Manning, 1988 national title game win over Oklahoma — In his final act in a career that left him as one of college basketball's greatest players of all time, Manning scored 31 points and ripped down 18 rebounds in an 83-79 victory over Oklahoma that helped Kansas complete its miracle run to the 1988 national title. Manning made 13 of 24 shots from the field and five of seven free throws while adding two assists and helping slow down OU forward Stacy King. Manning was the heart and soul of that Kansas team, and his memorable buckets and impassioned pleas for defense and his team to dig deep and smile, and Manning's embrace with head coach Larry Brown are the lasting images of the upset victory.
No. 2: Clyde Lovellette, 1952 national title game win over St. John's — Lovellette — who died Wednesday at the age of 86 — scored 33 points and grabbed 17 rebounds in 80-63, national championship game victory over St. John's in 1952. The monster game came just a few days after Lovellette tallied 44 points in a victory over Saint Louis, a mark that still stands as the most points scored by a Jayhawk in an NCAA Tournament game. The win over St. John's gave Lovellette the distinction of becoming the first player to lead the nation in scoring and win an NCAA title the same year. Lovellette remains the only player to do so to date. Lovellette shot 12-of-25 from the floor and 9-of-11 from the free-throw line in the title game and earned the 1952 tournament's Most Outstanding Player honor before going on to lead KU to a gold medal in the Olympics.
No. 3: Mario Chalmers, 2008 national title game win over Memphis — It is considered the greatest shot ever taken by a Kansas basketball player and helped deliver Bill Self his first national title and KU its first since 1988. Mario's Miracle, as it has been dubbed, tied and sent a thrilling title game against Memphis to overtime, where the Jayhawks left little doubt they were the nation's best team that season. With 18 points on 5-of-13 shooting, Chalmers finished as KU's second-leading scorer in the game, but also added three rebounds, three assists and four steals before hitting the shot heard 'round the world. Like Manning and Lovellette before him, Chalmers was named the 2008 tournament's Most Outstanding Player.
No. 4: B.H. Born, 1953 national title game loss vs. Indiana — Although the NCAA record book lists it as unofficial, a look back at the stats from the game reveals that the former KU center posted a triple-double during KU's 69-68 loss to the Hoosiers in Kansas City, Mo. Born, who earned All-Big Seven honors that season and, in 1992, had his jersey retired at Allen Fieldhouse, tallied 26 points, 15 rebounds and 13 blocked shots.
No. 5: Wilt Chamberlain, 1957 national title game loss vs. North Carolina — Of all the big games the Big Dipper had for the Jayhawks, one of his most memorable may have come in a losing effort in the 1957 national title game, where Chamberlain and Kansas lost to unbeaten North Carolina, 54-53 in triple overtime. Chamberlain led all scorers with 23 points, all rebounders with 14 boards and shot 11-of-16 from the free-throw line in a game the Tar Heels slowed down the pace to counteract Chamberlain's huge size advantage. Although blocked shots was not an official statistic at the time, Chamberlain also swatted away several UNC shots and nearly led Kansas to victory. Despite falling short in the title game, Chamberlain was named the tournament's Most Outstanding Player after piling big game on top of big game to lead KU to the final. In the opening-round win over SMU, Chamberlain scored 36 points and ripped down 22 rebounds. Chamberlain also tallied 30 points and 15 boards in a 20-point triumph over Oklahoma City in the regional final.
No. 6: Nick Collison, 2003 Sweet 16 win over Duke — Nick Collison's monster effort in the Sweet 16 helped the Jayhawks survive third-seeded Duke. The man who ranks second all-time on KU's scoring list, third in rebounds and fourth in blocks scored 33 points on 14-of-22 shooting and added 19 rebounds in a 69-65 victory that propelled No. 2 seed KU into the Elite Eight for a showdown with No. 1 seed Arizona. Collison played all 40 minutes and added four assists, three blocks and a steal to his stat line. Two games later, in a Final Four win over Marquette, Collison finished with 12 points, 15 rebounds and five assists to lead KU into the national title game, where he ripped down 21 rebounds in a loss to Syracuse.
No. 7: Darrell Arthur, 2008 national title game win vs. Memphis — KU's national championship in 2008 would never have been possible without Mario Chalmers' miracle shot, but Mario's shot might not have been possible without the incredible game turned in by Darrell Arthur on both ends. The 6-foot-9 sophomore from Dallas scored 20 points on 9-of-13 shooting and added 10 rebounds, five on the offensive end, while playing just 35 of 45 minutes. Arthur, who picked Kansas over Baylor after his decision came to him in a dream, also hit both free throws he attempted and added a steal and an assist.
No. 8: Thomas Robinson, 2012 national title game loss vs. Kentucky — After willing his team all the way to the final Monday night of the season with equal parts talent, heart and tenacity, the first-team All-American delivered a monster night in a losing effort against a crazy-talented Kentucky squad. While staring UK center Anthony Davis in the face all night long, Robinson attacked relentlessly and finished with 18 points and 17 rebounds (five offensive) in a 67-58 loss in New Orleans.
No. 9: Cole Aldrich, 2009 second-round win over Dayton — One year after a breakout performance in the national semifinals against North Carolina big man Tyler Hansbrough, Aldrich proved that was no fluke. His 13-point, 20-rebound, 10-block game against Dayton in his hometown of Minneapolis helped propel Kansas into the Sweet 16. The triple-double was the first official such game in KU history and just the sixth in NCAA Tournament history to date, something that prompted his teary-eyed father, Walt, to put the whole thing in perspective after the game. "He'll be in the record books forever," Walt told the Journal-World. "At a school with Wilt, Manning and (Nick) Collison. I'm pretty proud of him."
No. 10: Clyde Lovellette, 1952 second-round win over St. Louis — Lovellette's 44 points in the second game of the 1952 tourney still stand as the most scored by a KU player in as NCAA Tournament game. The scoring outburst was part of a 141-point tournament for the consensus All-American, which at the time was an NCAA record.
No. 11: Danny Manning, 1987 second-round win over Southwest Missouri State — The KU junior poured in a career-high 42 points and grabbed 16 rebounds in a 67-63 victory in Atlanta. The 42 points stand as the second-most by a Jayhawk in an NCAA Tournament game, and the 16 rebounds, which Manning actually accomplished twice in his career (1988 vs. Vanderbilt), are tied for the second-most tourney boards in a game in school history. No other KU player scored more than six points that night. After the game, KU coach Larry Brown said he told his team that no one else should attempt a shot without first looking to pass to Manning.
No. 12: Danny Manning, 1988 Sweet 16 win over Vanderbilt — In his second-biggest game during the Danny and the Miracles run to the '88 title, Manning poured in 38 points and grabbed a then-school-NCAA-Tournament-record 16 rebounds in a 77-64 victory over Vandy. The game marked the 129th double-digit scoring game of his career, tying Manning with Duke's Johnny Dawkins for the all-time record and also was his 51st consecutive double-digit scoring game and 21st college game with 30 or more points. KU's all-time leading scorer made 16 of 29 shots from the field and grabbed five rebounds in just 29 minutes.
Honorable mention: Ryan Robertson scores 31 points in second-round, overtime loss to Kentucky in 1999; Wayne Simien scores 30 points, grabs nine rebounds and dishes five assists in 2004 Sweet 16 win over UAB to break Chamberlain's school record with 18 free throws; Nick Collison scores 25 points, grabs 15 rebounds and blocks three shots in 2002 Elite Eight win over Oregon; Kirk Hinrich scores 28 points and adds five rebounds, five assists, two steals and two blocks in Elite Eight win over Arizona in 2003; Alonzo Jamison scores 26 points and grabs nine rebounds in Elite Eight win over Arkansas in 1991; Mark Randall matches Christian Laettner's 18 points and 10 rebounds in 1991 title game loss to Duke.
---
2016 NCAA Tournament Preview
---