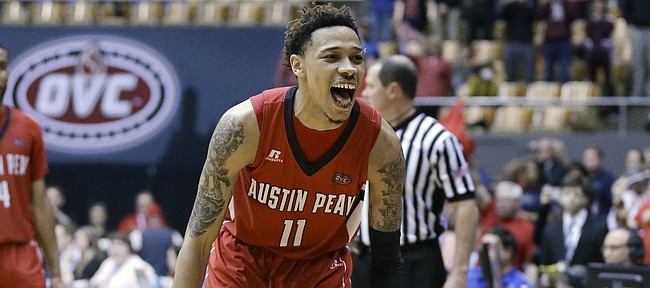 When Austin Peay senior Khalil Davis saw his team's name pop into the NCAA Tournament bracket against No. 1 overall seed Kansas University when the field was revealed Sunday evening, Davis could only shake his head.
Not because the task of taking on Kansas (30-4) in the first round on Thursday in Des Moines, Iowa, was too daunting. Instead, because Davis could not believe that he will be able to tap into a lifetime's worth of anti-KU vibes.
See, Davis, a native of Kansas City, Mo., who attended Grandview High, grew up rooting against the Jayhawks and for his father, Tyrone, who played at Kansas State and has told his son plenty of tales about battles with Paul Pierce and the Jayhawks in the late '90s.
"It's really a dream come true," Davis said via telephone Sunday night. "At the beginning of the year, I talked to my pastor and he told me it was going to be the biggest year of my life. To be able to get to the NCAA Tournament and to play Kansas is just an incredible blessing and I'm looking forward to it."
Podcast episode
Kansas basketball coach Bill Self answers questions from the media after learning the Jayhawks earned the No. 1 overall seed in the NCAA Tournament and will play in the South regional. Self doesn't think KU's players are satisfied with what they've accomplished so far, which he says is a good ...
By 5:30 p.m. Sunday, less than an hour after the bracket was revealed, Davis said he had received more than 20 Facebook and text messages from friends and family members trying to get tickets. The family members, Davis said, no doubt would be pulling for Austin Peay. But he wondered if his friends might be a different story. Many of them are KU fans and Davis said that made the whole experience even more unreal.
When Davis and the Governors (18-17) face off with the Jayhawks on Thursday in Des Moines, they will be one of four teams in this year's field trying to make history by becoming the first No. 16 seed to upset a No. 1.
While the odds of doing that are significantly against them, Davis said his team's path to the tournament gives them hope that it can be done. Last week, Austin Peay became the first No. 8 seed in Ohio Valley Conference history to win the postseason tournament.
Podcast episode
A west coast native, Kansas junior forward Landen Lucas explains he's familiar with the tough Pac 12 teams (Colorado, Cal and Arizona) that are in KU's South region of the NCAA Tournament.
"We've got absolutely nothing to lose," said Austin Peay coach Dave Loos, who is making his fourth NCAA Tournament appearance in 26 seasons at the school. "It's something that you have to look at as an opportunity and the chance to do something on a big stage. Our guys have been playing the last couple weeks with a lot of momentum and confidence and we're excited about the chance to take on one of the premiere programs in college basketball."
In order to get that match-up, Austin Peay won four games in four days earlier this month, including a wild, 97-96, overtime victory over Belmont in the OVC Tournament semifinals. Austin Peay also beat Tennessee Tech, Tennessee State and UT Martin in that stretch.
During the regular season, the Governors lost at Belmont, 76-58, and also lost at Indiana (80-41) and at Vanderbilt (102-76), by far the two biggest names on their 2015-16 schedule.
Podcast episode
Kansas senior forward Perry Ellis reacts to the Jayhawks earning the No. 1 overall seed in the NCAA Tournament and says he is entering his final March in a KU uniform with a sense of urgency.
Although the Governors and Jayhawks don't have many opponents in common, Loos said he watched Kansas "a bunch" this season and came away impressed by the balance and number of weapons KU possessed, most notably senior forward Perry Ellis. He also praised KU coach Bill Self as "one of the best in the country" and said he had the utmost respect for Self and the KU program.
"It's a tough match-up for us. No question about it," Loos said. "But we probably know more about them than they know about us right now."
Loos said he first met Self when he was working at Memphis and Self was an assistant at Oklahoma State. Although their paths have not crossed much beyond that, Loos said his coaching style comes from the same school as Self's.
"Offensively, we try to play what I would call inside-out and with some set plays and ball-screen motion," Loos said. "Defensively, we're mostly man-to-man."
Because Kansas was selected as the tournament's No. 1 overall seed, CBS revealed the Jayhawks' region first. That started with Kansas at the top and its opponent after that. Because the selection show already had announced all four No. 1 seeds, Austin Peay became the first non-No. 1 named in this year's field.
That, Loos said, made an already wild day even crazier.
"We had some indicators that we would be a team going to the (play-in games in) Dayton and that turned out not to be true," he said. "But it sure didn't take long to find out who we were playing. We found out right out of the gate. That was interesting."
Austin Peay at a Glance
Location: Clarksville, Tennessee
Mascot: Governors
Colors: Red and black
Conference: Ohio Valley
Record: 18-17
Leading scorers: Chris Horton (18.9), Josh Robinson (16.3), Khalil Davis (11.3)
Leading rebounders: Chris Horton (12.1), Kenny Jones (5.5), Khalil Davis (4.0)
Leading assisters: Khalil Davis (92), Josh Robinson (82), Terrell Thompson (55)
All-OVC players: Chris Horton (first team), Josh Robinson (second team)
---
2016 NCAA Tournament Preview
---