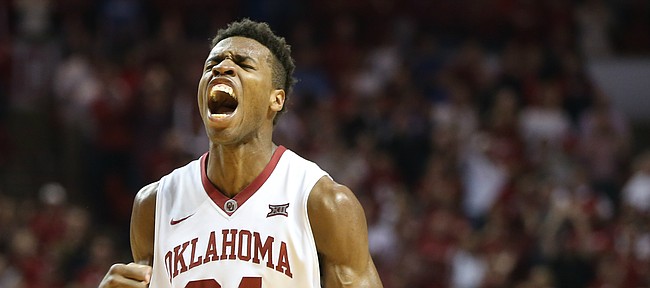 For fans of Kansas University basketball, March Madness is all about a handful of names.
Self. Selden. Ellis. Mason. Graham. Greene. You get the picture.
But even if the Jayhawks were to win it all this year and bring coach Bill Self his second national championship trophy, they would play just six games in the next three weeks.
When you consider that the tournament that many call the greatest sporting event in the world features a whopping 59 other games not involving the Jayhawks, it might not be a bad idea for KU fans to learn the names of some of the most exciting players in this year's field.
Many of the Tremendous 12 listed below are names you've heard of from programs that always seem to be in the running for the big prize. But there are a couple of sleepers, too. Either way, this group figures to make the upcoming madness must-see TV.
1 Buddy Hield, Oklahoma — Oklahoma's thin bench hurt the Sooners down the stretch, but the consensus Big 12 player of the year and serious candidate for national player of the year did his part. As KU fans know all too well, Hield has range from anywhere on the floor and also is a creative enough scorer to get his own shot off the dribble, attack the rim or crash the boards looking to clean up the glass. Stat skinny*: 25.1 ppg, 5.5 rpg, 2.1 apg
2 Denzel Valentine, Michigan State — Quite possibly the most complete player in the field — as KU fans know from his 29-point, 12-rebound, 12-assist game in a win over Kansas in November — Valentine has the look of a modern-day Danny Manning, a guy who can do a little bit of everything and can put a team on his back en route to a deep tournament run. Even though the 6-foot-5, 220-pound guard prefers to get others involved first, he is capable of handling the scoring load, and so many of his stats come in an effortless manner. Stat skinny: 19.6 ppg, 7.5 rpg, 7.5 apg
3 Grayson Allen, Duke — One of the most polarizing players in the field, Allen has become the latest great Duke player whom people either love or hate. When he's not drawing attention to himself by tripping opponents or whining to officials, the sophomore's strong game and sick skills are undeniable. He can score from anywhere on the floor and plays as hard as anybody in the field. Allen exploded onto the scene during last year's title run, and his encore performance has been everything Duke fans had hoped it would be and then some. Stat skinny: 21.5 ppg, 4.5 rpg. 3.5 apg
4 Tyler Ulis, Kentucky — Despite standing just 5-9, 160 pounds, Ulis is the kind of player that can take over a game by himself. KU fans saw this firsthand at Allen Fieldhouse in late January, and the small but slick combo guard is deadly from the outside when left open and also can put defenders on skates and blow by them on his way to the paint. Stat skinny: 16.6 ppg, 3.3 rpg, 7.4 apg
5 Brice Johnson, North Carolina — One of the few players on a good UNC team that can take over a game, Johnson is active on the defensive glass, demonstrative after most baskets and shoots 60 percent from the floor and 76 percent from the free-throw line. Long, lean and blessed with the ability to operate and attack smoothly, the 6-9, 228-pound senior has saved his best season for last. Stat skinny: 16.8 ppg, 10.8 rpg, 1.4 apg
6 Jakob Poeltl, Utah — A future lottery pick with that Euro game, Poeltl is a force in the post as much for his creativity and ability to draw fouls as his size and strength. The 7-foot center from Vienna, Austria, has doubled some of his most significant stats from a strong freshman season and appears to be poised to take the Utes on a deep tourney run. Although he is not the most physical player in the paint, he plays extremely hard, and his size alone creates major problems for opponents on both ends of the floor. Stat skinny: 17.5 ppg, 9.1 rpg, 1.9 apg
7 Yogi Ferrell, Indiana — A couple of months ago, people wondered if Indiana was even going to make the tournament. The Hoosiers quickly erased any doubt, and their point guard is a huge reason why. One of the best players in last year's tournament, Ferrell has only continued to get better and, like Ulis, is deadly from three-point range — guarded or not — but rarely forces his shot and instead looks to dish sweet dimes to his teammates in positions they like. In short, Ferrell is the guy who makes Tom Crean's Hoosiers go, and his confidence is at an all-time high. Stat skinny: 17.1 ppg, 3.9 rpg, 5.5 apg
8 Diamond Stone, Maryland — The muscle part of Maryland's 1-2 punch of Stone and sophomore Melo Trimble, the freshman who arrived at UM with incredible hype has lived up to it in a big way and appears to be getting stronger week after week. He has the potential to humiliate or harass opponents on the defensive end and loves to get the ball down low and go to work on offense. His numbers are modest, but his play has been loud. Remember, this is a first-year player who has been a major factor in the ACC this season. Stat skinny: 12.7 ppg, 5.4 rpg, 0.4 apg
9 Sheldon McClellan, Miami, Fla. — Dual-threat, dynamic scorer who transferred to The U after playing the 2012-13 season at Texas, McClellan can score in so many different ways and always looks like he has a blast doing it. Some of his most notable buckets have come on high-flying slam dunks, but the 6-5, 205-pound senior has great touch from inside and out and, with his physicality and strength, is a tough match-up for almost every team he faces. Stat skinny: 15.7 ppg, 3.2 rpg, 1.7 apg
10 Ben Bentil, Providence — One of the hottest scorers in the country down the stretch, the 6-9, 235-pound sophomore forward averaged 23.4 points per game from Feb. 1 to March 1, which put him in the top three among all major-conference players, tied with Duke's Grayson Allen. For the season, Bentil leads the Friars in scoring and rebounding, yet still somehow plays second fiddle to teammate and national player of the year candidate Kris Dunn. Stat skinny: 21.2 ppg, 7.8 rpg, 1.2 apg
11 Josh Hart, Villanova — The most balanced offensive player on one of the nation's top teams this season, Hart has worked his way into many player of the year conversations with a good blend of scoring ability and crafty defense. Physical, fluid and a relentless competitor, Hart uses his good vision, great range and ability to attack off the dribble to keep defenses off balance. Stat skinny: 15.3 ppg, 7.2 rpg, 1.8 apg
12 Isaiah Miles, Saint Joseph's — The 6-7 senior enjoyed a monster season by shooting 58 percent from the floor, 39 percent from three-point range and 88 percent from the free-throw line. Add to that incredible accuracy the fact that Miles has a knack for hitting big shots late in games, and you're looking at one of the most exciting, lesser-known players in the field. Stat skinny: 18.0 ppg, 8.1 rpg, 0.8 apg
*Regular season averages
---
2016 NCAA Tournament Preview
---