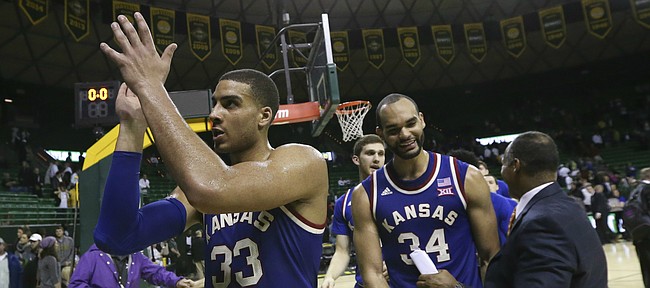 Here are 12 reasons Kansas University's men's basketball team could reach the Final Four and win the school's first national championship since 2008:
1 Experience: The Jayhawks have one senior starter in Perry Ellis, three juniors in Frank Mason III, Wayne Selden Jr. and Landen Lucas, and one sophomore in Devonté Graham. In this day and age of one-and-done players, this is quite an experienced KU ballclub.
2 Star player capable of carrying team: Ellis, who earned first-team All-Big 12 honors, averaged 16.5 points a game and 6.0 rebounds during the regular season. He hit 52.1 percent of his shots including 45.6 percent from three and 76.3 from the line. Capable of scoring both inside and out, the 6-foot-8 Wichita native could go on a six-game sizz reminiscent perhaps of Danny Manning's run in 1988.
3 Good guards: They say teams only go as far as their guards take them this time of year. Well, KU has Mason, Graham and Selden. Mason has a chance to make some noise, especially. He's fired up after ESPN announcer Fran Fraschilla proclaimed him just the league's sixth-best point guard late in the regular season. Graham has developed a reputation as a guy willing to take, and make, the big shot during crunch time.
4 Bill Self: KU's 13th-year coach knows what it takes, having engineered the magical run to the NCAA crown in 2008 and directing the Jayhawks to the NCAA championship game, where it fell to Kentucky, in 2012.
5 Location, location, location: The Jayhawks won't have to travel far in the NCAAs Midwest Regional. If KU can win two games in Des Moines, Iowa, the Jayhawks would advance to Louisville for the Sweet 16 and Elite Eight. The Final Four is in Houston. The Jayhawks, of course, travel to Texas quite a bit during the Big 12 season.
6 Team offense: The Jayhawks have been explosive more times than not this season, pushing the basketball to the tune of 81.8 overall points per game during a 27-4 regular season. The team hit 49.2 percent of its shots and cashed 42.9 percent from three. If the team needs points it could conceivably rack up a bunch in a hurry. During the regular season, the Jayhawks hit 484 of 691 free throws for a so-so 70 percent.
7 Team defense: KU, which prides itself on sticky man-to-man defense, allowed 67.8 points per game off 39.7 percent shooting during the regular season. If KU needs a stop, it can get one on most occasions.
8 Instant offense off bench: Kansas' Sviatoslav Mykhailiuk (31-of-82 from three during regular season) and Brannen Greene (30-of-58 from three) are capable of lighting it up from outside on a given night.
9 Motivated McDonald's All-Americans: Cheick Diallo and Carlton Bragg Jr., who have NBA aspirations, can explode on the national scene with huge NCAA tournaments. Bragg averaged 3.7 points and 2.3 boards this regular season, while Diallo went for 2.9 points and 2.6 boards. Diallo had 22 blocks, which, in his limited duty, ranked second on the team.
10 Tradition: KU expects to win and as one of the country's bluebloods figures to return to the Final Four and NCAA champions throne sooner rather than later.
11 Andrea Hudy: The Jayhawks' strength and conditioning coach uses the latest technology to keep the players in tip-top shape. The players' work on their bodies pays off this time of year when teams tend to get worn down.
12 Assistant coaches Kurtis Townsend, Norm Roberts, Jerrance Howard: The Jayhawks' aides are known for their astute scouting reports put together after studying hours of film. Scouting reports are key sometimes on short notice during the NCAAs.
Nobody knows what will happen in the wild, wacky NCAA Tournament, but those listed reasons give the Jayhawks as good a chance as anybody, it appears.
---
2016 NCAA Tournament Preview
---