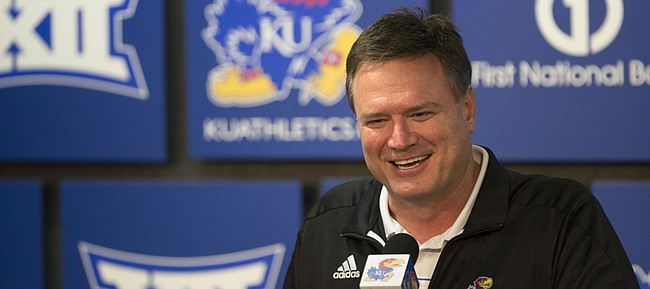 Two questions:
No. 1: Is my memory failing me, or did Kansas University defeat Oklahoma in that triple-overtime thriller in Allen Fieldhouse and again in Norman, Okla., when Devonté Graham outplayed Buddy Hield?
No. 2: Am I incorrect in thinking that the No. 1 overall seed, and not the defending national champion, is supposed to be rewarded with the least difficult path to the Final Four?
I ask these questions because when I looked at the bracket, the first two things I noticed were that No. 2 seed Oklahoma and No. 4 seed Duke, both in the West region, were given easier roads than Kansas to the Final Four. I still like KU's chances better than theirs, but its seems KU drew the short straw despite winning the Big 12 regular-season and tournament titles and finishing 30-4 with 14 consecutive victories.
Not only that, KU has the toughest potential second-round opponent of the four No. 1 seeds, facing either Connecticut, one of the nation's hottest teams, or Colorado. Oregon plays the winner of Saint Joseph's (22-7)/Cincinnati (22-10). North Carolina faces the USC (21-12)/Providence (23-10) winner. Virginia meets either Texas Tech (19-12) or Butler (21-10).
Compare KU's potential second-round foes to those of Oklahoma, a No. 2 seed. The Sooners play the winner of Oregon State (19-12)/VCU (24-10).
Don't blame tournament committee chairman Joe Castiglione, Oklahoma's athletic director, for the Sooners' easy path. Whenever a committee member's school is discussed, he or she must leave the room until the discussion ends. But human nature is such that those who spend long, stressful hours in a room together are going to want to make the member walking back into the room happy, especially someone as respected and well-liked as Castiglione.
The committee made a number of strange decisions this year, which makes me believe several members relied way too heavily on the dreaded RPI. Better computer rankings, such as Sagarin predictor and Kenpom.com, are available, but tend not to be used.
Let's look at Kenpom.com. Nine schools from the South appear in the top 25 among teams eligible for the tournament (Louisville and SMU are serving tournament bans): Kansas Villanova, Wichita State, Miami, Arizona, California, Maryland, UConn, Vanderbilt. Five from the West are among the top 25: Oklahoma, Oregon, Texas AM, Duke and Baylor.
Plus, isn't the reward for earning the No. 1 overall spot supposed to be staying in one's own region, unless there exist compelling geographic reasons to do otherwise? I know that, as the crow flies, Louisville is three miles closer to Lawrence than Chicago is, but Kansas is a Midwest school and has a huge alumni base in Chicago. Send Virginia to Louisville, Kansas to Chicago. That makes for a shorter trip for Virginia.
It's as if the committee felt guilty about giving Michigan State a No. 2 seed when the Spartans clearly deserved a No. 1 and made up for it with a trip to Chicago. Why not make the Spartans the top seed in the West?
"I thought, you know, if you are the No. 1 overall seed, it seems like to me there's a lot of good teams in that particular region," Kansas coach Bill Self said of the South. "Of course, there are going to be good teams throughout all the brackets, but I would say that the South region would be thought of by most of the pundits as being as strong as any of them, I would think."
No question.
Kansas still is the smartest pick in the South to send to the Final Four, but it's no easy road.
Well before the brackets were released, I wrote a story on 12 teams that had a shot to win it all. Five of those teams were sent to the East region, four to the South, three to the Midwest, and not one of them to the West. Strange, strange bracket.
---
2016 NCAA Tournament Preview
---