Kansas City, Mo. — Several hundred fans seated behind the basket chanted, "MVP, MVP," at Kansas University sophomore guard Devonté Graham as he stepped to the free-throw line with 1:33 left in the Jayhawks' 81-71 Big 12 Championship victory over West Virginia on Saturday in Sprint Center.
"That's crazy. It's a good feeling," Graham said after the people's choice indeed was named tourney most valuable player after scoring a career-high-tying 27 points with four steals, five rebounds, three assists and three turnovers against the Mountaineers' pesky full-court press.
"I don't really think about things like that (during the game). I just try to play hard, play my heart out," added Graham, who hit five threes in six tries and went 10-of-10 from the foul line.
His performance helped the Jayhawks improve to 30-4 overall (West Virginia fell to 26-8) and most assuredly grab the No. 1 overall seed in the 2016 NCAA Tournament entering Selection Sunday.
Photo Gallery
Kansas v. West Virginia (Big 12 Tournament Championship)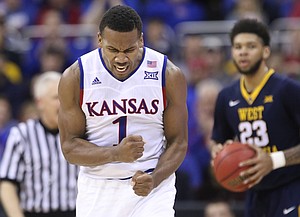 View a gallery of images from the championship matchup between the Jayhawks and Mountaineers.
"He's playing at such a high confidence level," coach Bill Self said of the 6-foot-2 native of Raleigh, N.C. "His attitude is just a 10 and it's rubbed off on others. I love his personality as much as any kid we've ever had," Self added
Graham showed his colorful personality during the post-game awards ceremony. He was handed a bucket of confetti by a tourney worker and, with the support of his teammates, crept behind Self and dumped the debris on his coach's head.
"It wasn't water. The guys wouldn't do that to me on the court," Self said with a smile, noting he didn't mind having to brush confetti off his suit-coat shoulder. 
"I am proud of these guys. Nobody else in the league can wear a hat that says 'Big 12 Championship' because we won the regular season and conference tournament. I think that's good for our guys."
Podcast episode
Kansas basketball coach Bill Self, and Jayhawks Devonté Graham and Wayne Selden Jr., answer questions from the media following KU's Big 12 title game victory over West Virginia.
One person in the stands wearing Graham's World University Games jersey No. 4 wasn't surprised Devonté took the lead in the confetti dumping prank.
That would be Graham's mom, Dewanna King, who attended along with Devonté's sister, Shamaria, and his grandmother, Doris.
"I saw him do that. We've got it on film. He's silly. He's the class clown," Dewanna said, smiling.
"I would say I'm one of the biggest kids on the team even though I'm 21 now. Me and Jamari (Traylor, one point, one rebound, three turnovers, 12 minutes) are two of the biggest clowns. I enjoy doing stuff like that," Graham said.
On a serious note, mom never doubted Graham, a former Appalachian State commit, could play at this high major level.
"He's had it in him a long time," Dewanna said. "I think a lot of the world just now is getting to see it. When I drove in here on Thursday, one of the coach's wives said, 'Do you remember what you told me in Maui (at Maui Invitational in which KU went 3-0)?' She told me my son had a good game in Maui. I said, 'You haven't seen him yet,''' King exclaimed.
Self sure wouldn't mind if Graham's family members somehow find their way into the stands for KU's upcoming NCAA Tournament games. 
"It seems to me he plays better when his mom is in town," Self stated.
Graham hit two threes in an 11-2 run that gave the Jayhawks a 51-39 lead with 14 minutes left. He nearly matched West Virginia's Devin Williams point for point, Williams scoring 31 points with 10 rebounds.
"Devin had a great game, congratulations to him," Graham said. "Lando (Landen Lucas, six points, seven boards) was down in the first half (after Williams' 18-point effort). We kept trying to talk to him, tell him he's one of the biggest pieces on our team. We need him. He got a big and-one and hit some big free throws for us (two of two)," Graham added.
Also, Graham said he was "proud of Frank (Mason III, who had four points, seven assists playing 38 minutes on a sore left foot; he suffered a bad bruise in Friday's semifinal win over Baylor). This time of year nobody is 100 percent healthy. You will have to fight through injuries and put your heart out for the team like he did."
Graham was joined on the all-tourney team by KU's Perry Ellis (17 points, five boards), West Virginia's Williams, Iowa State's Georges Niang and Oklahoma's Buddy Hield.
"It's special. I'm grateful for it. There are so many good players in the conference. For me to win it is a big deal. I will remember it forever," Graham said.
He was more impressed with the fact his team won the Big 12 postseason tourney title after winning the regular-season crown.
"It's huge," Graham said. "We won conference outright and winning the conference tournament shows it wasn't a fluke or somebody else should have won it. We did what we did for a reason," he added.
The Selection Sunday show, in which KU will be assigned its seed, regional site and opening opponent, will be 4:30 p.m., on CBS.
— See what people were saying about the Big 12 title game during KUsports.com's live coverage
---
More news and notes from KU's Big 12 postseason crown
---
---
---
---