Kansas City, Mo. — The last time West Virginia big man Devin Williams faced Kansas University, he watched KU junior Landen Lucas dominate the paint to the tune of nine points, 16 rebounds and four blocks in a 10-point Kansas victory in early February, in Lawrence.
Playing the rubber match in the Big 12 title game on Saturday night at Sprint Center, Williams was determined to prevent that from happening again.
"We didn't take it lightly," said 6-foot-9 WVU sophomore forward Elijah Macon. "Coming into the tournament, before we even got to Kansas City, we said, 'If we play Kansas, we gotta keep Lucas out the game and don't let him do what he did when we played him the second time.'"
Mission accomplished. Lucas finished with just six points, seven rebounds, three turnovers and five fouls in 24 minutes on a night when Williams went off for a game-high 31 points and 10 rebounds, and landed on the all-tournament team.
Photo Gallery
Kansas v. West Virginia (Big 12 Tournament Championship)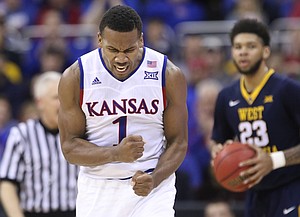 View a gallery of images from the championship matchup between the Jayhawks and Mountaineers.
One problem: Lucas' team got the victory, 81-71, KU's 14th win in a row and first Big 12 postseason title since 2013.
"I had the last one, he got this one," Lucas said with a shrug. "He definitely got his, and I'm not too proud of that, but I'll take a win any day."
Behind 18 first-half points from Williams, the Mountaineers (26-8) actually led 34-33 at the break. No other WVU player had more than six points in the first half, and, as good as Williams was in this one — 9-of-12 from the floor, 13-of-15 from the free-throw line — he was not able to topple the top-seeded Jayhawks (30-4) by himself.
"Dev worked really hard and that was one of his missions, to do what he did tonight, and he did it," said sophomore guard Daxter Miles Jr. "As a surrounding cast, we gotta do better."
Podcast episode
Kansas basketball coach Bill Self, and Jayhawks Devonté Graham and Wayne Selden Jr., answer questions from the media following KU's Big 12 title game victory over West Virginia.
Added junior guard Tarik Phillip of his teammate's monster night: "He wanted to show that he was one of the best big men in the country and that's what he did."
Williams' teammates were not the only ones complimentary of the junior forward's big night. But between breaths of talking about how hard Williams worked and how he had developed into WVU's go-to player, Mountaineers coach Bob Huggins also made sure to tip his cap to Lucas, both for his efforts against Williams and his role in KU's current winning streak.
"The guy that was sitting here is a pretty big, strong guy," Huggins said of Williams. "And Landen has done as good a job on his as anybody has."
Williams admitted that he thought a lot about Lucas' big night heading into this week. But, for him, the rematch was about more than a one-on-one showdown inside.
"When I was at home, I played my butt off and that was enough for him (the second time) to be at home, in front of his home fans and not get out-worked," Williams said of Lucas. "It just bounced back my way again. More than getting into the battle with him, though, it was about (trying to win) this championship and doing whatever it takes."
WVU fell short of that goal, and as much as that pleased Lucas, the thought of one more meeting with Williams this season did not bother him one bit. For one, it likely would come deep in the NCAA Tournament. And, for two, Lucas said he thought he'd be due.
"Exactly," he joked. "I'll take the next one, if we do face each other again. It's the more important one."
— See what people were saying about the Big 12 title game during KUsports.com's live coverage
---
More news and notes from KU's Big 12 postseason crown
---
---
---
---