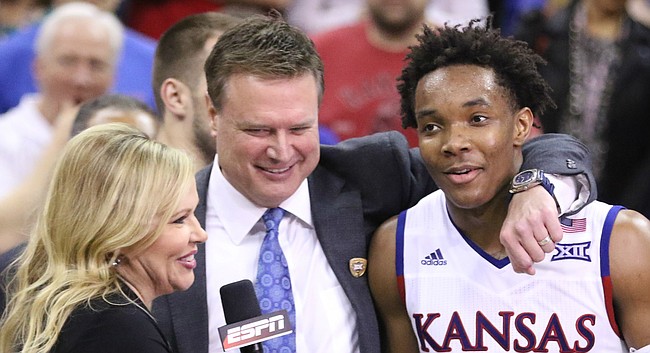 KANSAS, CITY, MO. — Last week, when talking about rest and how it relates to the Big 12 tournament at Sprint Center, Kansas University men's basketball coach Bill Self said if you get to the final, you might as well win it because you're going to be worn out anyway after three games in a three days.
Self's Jayhawks did just that Saturday night, knocking off No. 2 seed West Virginia, 81-71, to win their first Big 12 tourney title since 2013 and validate, once again, their regular season championship.
The top-seeded Jayhawks got a monster game from Devonte' Graham (27 points) and strong showings from Wayne Selden (21) and Frank Mason (7 assists), who both decisively attacked the West Virginia pressure to help Kansas win the rubber match between the Big 12's top two teams which split the regular season series.
KU's defense, however, may have played an even bigger role than the Jayhawks' offense in this one. Led by Graham, who finished with 4 steals, KU's defense forced WVU (26-8) into 13 first-half turnovers and 20 for the game.
Photo Gallery
Kansas v. West Virginia (Big 12 Tournament Championship)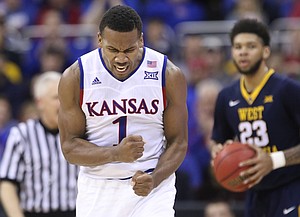 View a gallery of images from the championship matchup between the Jayhawks and Mountaineers.
Kansas (30-4) also finished with 20 turnovers.
Despite trailing by as many as 14 at one point in the second half, the Mountaineers kept charging. And Tarik Phillip actually had a chance to cut the KU lead to a single possession with four minutes to play. But the junior guard missed two free throws and KU maintained a 67-63 lead. On the very next Kansas possession, Landen Lucas delivered a three-point play and pushed KU's lead to 70-63 with just over three minutes to play.
With 2:38 remaining and WVU back within five, Selden beat the shot clock with a deep three-pointer from in front of the KU bench that all but sealed it.
The victory almost certainly guarantees that the Jayhawks will enter the NCAA Tournament as the No. 1 overall seed. And West Virginia's run at the Big 12 championship likely was good enough to put the ninth-ranked Mountaineers on the 2-line.
KU enters the Big Dance on a 14-game winning streak.
Graham earned tournament MOP honors and joined Perry Ellis, Buddy Hield, Georges Niang and Devin Williams on the all-tourney team.
Here's a quick look back at some of Saturday's action:
Podcast episode
Kansas basketball coach Bill Self, and Jayhawks Devonté Graham and Wayne Selden Jr., answer questions from the media following KU's Big 12 title game victory over West Virginia.
• The game turned when: Kansas came out of the locker room to start the second half. Much like during Friday's semifinal victory over Baylor, the Jayhawks looked like a determined team to start the second half, using runs of 7-0 and 8-0 to build a nine-point lead five minutes into the half.
• Offensive highlight: There was very little offensive skill involved in it; it was more like survival mode. But Landen Lucas' huge offensive rebound of a missed jumper by Perry Ellis helped Kansas maintain a six-point cushion early in the first half. Lucas wrestled a WVU defender for the rebound, went right up with the ball after he snagged it and was fouled. He made the free throw to put Kansas up 43-37. A few minutes later, after another steal by Graham, KU had a three-on-one on the other end and Wayne Selden slipped a pass to Perry Ellis, who soared through the paint to finish a two-handed slam that put KU up 48-39.
• Defensive highlight: West Virginia may be known as the team that turns people over, but the Jayhawks did their fair share of that in the first half, as well. Turnover No. 10 might have been the most memorable. With the pace picking up and the Jayhawks jumping in trying to get deflections and steals, Devonte' Graham poked the ball away from Jaysean Paige, managed to corral it after the knock-away and then slipped into a sweet spin move that created a transition bucket for Wayne Selden. The quick turn put Kansas up 19-13 with just over seven minutes to play in the first half. Later, with about a minute to play in the first half, Carlton Bragg blocked a dunk attempt by Elijah Macon by meeting Macon at the peak of his jump and pinning the ball in mid-air. Macon recovered and finished the layup and KU coach Bill Self screamed at the officials for a jump ball. Either way, the block by Bragg on a guy he gives up 20 pounds to, was definitely a memorable moment from a great tournament for the KU freshman.
• Key stat: Three-point shooting. A night after WVU was red hot from three-point range, the Mountaineers, who are not known as strong outside shooters, came back down to Earth and hit just 2 of 15 from downtown. KU, meanwhile, hit 9 of 15, for 60 percent and 27 points.

• Up next: The Jayhawks head back to Lawrence to get ready to find out their NCAA Tournament fate on Selection Sunday. The team will gather together to eat and watch the selection show, which is slated for two hours this season and will begin at 4:30 p.m. on CBS.
— See what people were saying about the Big 12 title game during KUsports.com's live coverage
---
More news and notes from KU's Big 12 postseason crown
---
---
---
---