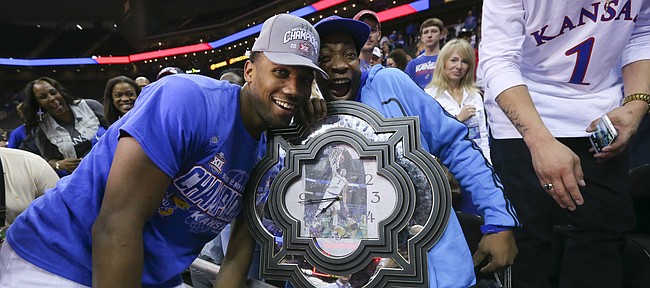 Kansas City, Mo. — Wayne Selden, Jr.'s uncle, Anthony Pitts, who made news Friday by bringing a huge Flavor Flav-styled clock to the Big 12 semifinals, wore a much bigger clock, predominately silver, around his neck for Saturday's final.
"I am on TV because of him," Anthony said to a TV reporter. "He's changed everybody in my family's life."
The clock Pitts wore Saturday had a picture of Selden's vicious dunk against Baylor in the Big 12 semifinals inside.
"You see what it is. That happened and I saw it," Pitts said of the slam dunk against the Bears. "It was crazy."
Pitts led the Rock Chalk Chant with fans after KU's post-game awards ceremony.
— See what people were saying about the Big 12 title game during KUsports.com's live coverage
---
More news and notes from KU's Big 12 postseason crown
---
---
---
---