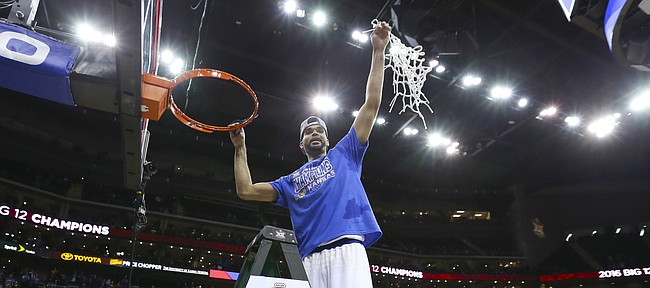 Kansas City, Mo. — First, the Kansas University basketball team conquered the world in South Korea. Next came the island of Maui. The grueling Big 12 regular season, a marathon in which the Jayhawks fell behind for a blink, proved a particularly gratifying championship.
Saturday, Kansas claimed the Big 12 Tournament title in Sprint Center, with an 81-71 victory against relentlessly physical West Virginia.
Four championships down, by far the biggest to go. So far, whatever it has taken, Kansas has known how to deliver in the clutch. When a team has rotating stars as does this one, that generally indicates nobody cares who deserves the credit and that's the way Kansas has played to win its four titles.
Wayne Selden Jr. earned World University Games MVP honors in July, and Frank Mason III stood out, as well. Selden and Mason shared the honors in the Maui Invitational in November. Perry Ellis was the lone Jayhawk to earn All-Big 12 first-team recognition for his exceptional regular season. So naturally, it was Devonté Grahams' turn to take home the hardware in Kansas City, Mo., where he was named Most Outstanding Player of the Big 12 tourney after a 27-point five-rebound, four-steal effort against the Mountaineers. Ellis also made the all-tournament team. 
Photo Gallery
Kansas v. West Virginia (Big 12 Tournament Championship)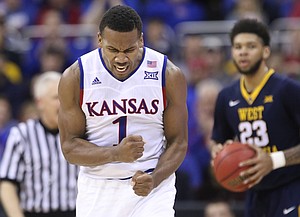 View a gallery of images from the championship matchup between the Jayhawks and Mountaineers.
All four players had strong Big 12 tournaments, as did emerging freshman Carlton Bragg Jr., who racks up points almost as swiftly as he does personal fouls.
It was an impressive three-day run to the title for a Kansas team that struggled to score points in the first 20 minutes of its semifinal (vs. Baylor) and final games. They found a way to reverse that. They almost always have on the way to a 30-4 record.
Nothing about the confidence Kansas carries onto the court these days appears fragile. Taking a 14-game winning streak into the NCAA tournament can do that for a team.
"We're very confident," said Mason, who played with a sore left foot that made him a possible scratch until he determined after warmups he would give it a shot. He played 38 minutes. "I think everyone has a lot of confidence right now. Everyone's having fun: coaches, fans, everyone. And I think we're going to need that heading into this next tournament."
Podcast episode
Kansas basketball coach Bill Self, and Jayhawks Devonté Graham and Wayne Selden Jr., answer questions from the media following KU's Big 12 title game victory over West Virginia.
That would be the NCAA Tournament. Kansas undoubtedly will enter it as No. 1 overall seed and likely will play the first two rounds in Des Moines, Iowa, although nothing is certain until brackets are released Sunday.
The team's balance, demonstrated by four different players having a share of the marquee, based on honors given out after the four titles, calls to mind the 2008 national-title team. Who was that squad's best player? Brandon Rush, a three-time All-Big 12 first-team selection and the team's leading scorer in each of his three seasons at Kansas? Mario Chalmers, perennial All-Big 12 defensive honoree, the second-leading scorer three years in a row and the author of The Shot that remains in mid-flight on sports-bar walls, countless basements, even some living rooms? Darrell Arthur, who dropped 20 and 10 on Memphis in the title game? Sherron Collins, that ball of fire of a sixth man? Tough question, much tougher than identifying that team's glue guys (Russell Robinson, Darnell Jackson, Sasha Kaun).
This team isn't as deep or talented as that one, but it doesn't necessarily need to be to win the national title. It's facing this year's field, not the 2008 champions.
Comparisons to more recent Kansas teams also have no relevance. Any fears that these Jayhawks won't reach the Sweet 16 because the past two didn't, have no basis in reality. The condition of center Joel Embiid's back (stress fracture) put everyone in a bad mood two years ago, when confidence wobbled and the team's best remaining player, Andrew Wiggins, turned back into the freshman he seldom resembled in a loss to Stanford.  
Last season, freshman center Cliff Alexander's family ran afoul of NCAA law and it resulted in his suspension. Don't you hate it when parents misbehave and get their children in trouble?
No such uncertainties hang over the Jayhawks this March and they compete with a much more experienced roster.
"Distractions are a major key," Mason said. "They can hurt teams. That's the main thing we preach about in meetings. We don't want any distractions. We want to keep doing what we're doing. Everyone's focused on the big picture and that's winning."
Mason suffered his foot injury late in Friday night's victory against Baylor. He limped off the floor but stayed in the game. He said he doesn't expect the foot to become a distraction.
"I got an X-ray on my foot," Mason said. "It wasn't feeling well. I thought I wasn't going to play (Saturday). I took some meds for it, got some treatment on it. The X-ray didn't look bad. It's the top of my foot. I think it's a bruise. I gave it a chance in warmups and it felt decent."
He also fell hard on his right hip a couple of times.
"At one point of the game it was hurting so bad I wanted to tell coach to take me out, but the moment was too great so I toughed it out," Mason said.
Toughing it out has driven this team to titles from as far away as South Korea and Hawaii and as close to home as Allen Fieldhouse and Kansas City. Potential trips to Des Moines, probably Chicago or Louisville and then Houston are on the horizon. Nobody knows if they'll win the fifth title, easily the toughest one. At the same time, nobody has reason to doubt they'll give it everything they have in pursuit of that goal. 
— Sports editor Tom Keegan appears on The Drive on WIBW-TV on Sunday nights.
— See what people were saying about the Big 12 title game during KUsports.com's live coverage
---
More news and notes from KU's Big 12 postseason crown
---
---
---
---