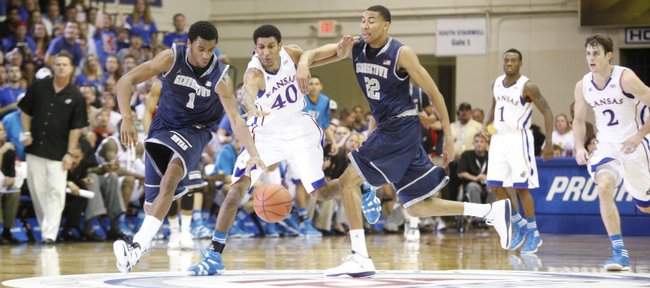 Podcast episode
KU coach Bill Self, Tyshawn Taylor, Elijah Johnson and Travis Releford talk to reporters following the Jayhawks' 67-63 victory over Georgetown on Nov. 22, 2011.
KU vs. Georgetown
Lahaina, Hawaii — A rematch of Kansas University's thrilling 77-76 victory over UCLA, contested on Dec. 2, 2010, in Allen Fieldhouse, takes place in the semifinals of the Maui Invitational on Tuesday in Hawaii.
Game time is 8:30 p.m. in Lahaina Civic Center. It'll be shown live on ESPN.
Several of the key participants in that game graduated last spring or declared for the NBA Draft as underclassmen.
Then a senior, Mario Little sank a free throw with seven-tenths of a second left to bust a 76-76 tie and give KU its second-straight victory over the Bruins in a series UCLA leads all-time, 10-6.
KU had beaten UCLA, 73-61, on Dec. 6, 2009, in Los Angeles.
Little had been "bumped" on a shot attempt by junior Malcolm Lee, a player who turned pro after the season. Little, who missed the second free throw on purpose, became hero on a day Tyler Honeycutt scored 33 for UCLA. Honeycutt, who hit a three with :05 left to knot the score, turned pro after his sophomore season.
His 33 points were the most against KU since Kansas State's Michael Beasley hit for 39 on March 1, 2008.
The end of the game proved "disappointing" to UCLA coach Ben Howland, who watched the replay before heading to a postgame media session.
"It was really, really a poor way to end a game on a call," Howland said at the time. "Just for anybody who hasn't seen it, both 23 (Little) and Malcolm Lee were putting their hand on the ball at the same time at .9 seconds. So, normally, you wouldn't make that kind of call at that point in the game unless it was very obvious."
Marcus Morris, who turned pro after his junior year, had 16 points and six boards for KU. Little finished with nine points.
As far as current returning players ... KU senior Tyshawn Taylor scored eight points in a key 13-2 run that turned a 64-60 deficit into a 73-66 lead with just under three minutes to play.
Taylor finished with 17 off 7-of-10 shooting. Thomas Robinson had two points in 18 minutes; Elijah Johnson had a point, in 10 minutes while Travis Releford and Jeff Withey did not score in nine and two-minutes respectively.
For UCLA, returning players include sophomore center Joshua Smith (17 points, 13 rebounds vs. KU); junior forward Reeves Nelson (five points, five boards); senior guard Lazeric Jones (11 points, four turnovers); senior guard Jerime Anderson four points and soph guard Tyler Lamb (two points). Nelson initially missed his flight to Hawaii with the rest of his teammates, but was on hand for the first-round game versus Chaminade.
UCLA has added reinforcements this year in former North Carolina big men, David and Travis Wear, 6-10, sophomores out of Huntington Beach, Calif.
The (1-2) Bruins started the year off with a pair of shocking losses — to Loyola Marymount (69-58) and Middle Tennessee State (86-66). Those games were played in the Los Angeles Sports Arena, UCLA's current home while renovations are being made to Pauley Pavilion.
KU and UCLA also played in the 2007 NCAA Tournament. UCLA won, 68-55, in the West Regional Finals in San Jose, Calif.
Five of the 16 all-time meetings have come in the NCAAs, UCLA winning all five.
The series dates to 1958. UCLA won the first eight meetings, but KU has taken five of the past seven.