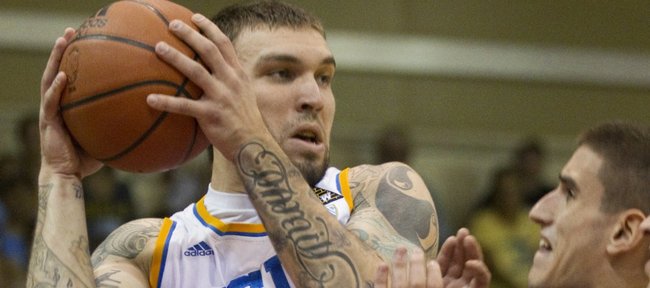 Podcast episode
KU coach Bill Self, Tyshawn Taylor, Elijah Johnson and Travis Releford talk to reporters following the Jayhawks' 67-63 victory over Georgetown on Nov. 22, 2011.
KU vs. Georgetown
Lahaina, Hawaii — Multiple tattoos make sleeves of his arms. His chin-down, expressionless stare and facial features call to mind Karl Childers, the character portrayed by Billy Bob Thornton in the compelling 1996 film, "Sling Blade."
His name is Reeves Nelson, a menacing junior power forward for UCLA. He has returned to the Bruins lineup just in time to make today's Maui Inivitational semifinal 8:30 p.m. tipoff against Kansas University interesting.
The Bruins have played three halves with Nelson, three without him. He played all of an 11-point loss to Loyola Marymount and the second half of Monday's 92-60 victory against Chaminade University. Nelson sat out the entire 86-66 loss to Middle Tennessee State and the first half of the Chaminade game.
The full-game suspension reportedly was for being late to a team meeting. The half-game benching was for missing the team bus for the flight to Maui. He caught a later flight, but missed the tournament banquet.
In three halves with Nelson, UCLA has outscored the opposition, 110-91. In three halves without him, foes have gotten the better of the Bruins, 124-106.
Famous for upsetting Ralph Sampson's top-rated Virginia squad in 1982, Chaminade looked eager to slay another giant, trailing 40-38 at the half.
Then Nelson entered, and a passive UCLA team turned into an aggressive, confident one. The guards defended the perimeter better, knowing the defense in the post had become more physical. UCLA stopped giving so many chances, thanks to five defensive boards from Nelson.
For a guy who scored just one point, Nelson changed the face of the entire team quite emphatically. UCLA won the second half, 52-22.
"It was exciting having him back," UCLA senior guard Jerime Anderson said. "You saw what happened out there in the second half. He brought us a lot of energy. When he brings that, it's a good thing for our team."
Nelson, a 6-foot-8, 235-pound native of Modesto, Calif., is no Thomas Robinson. He's not as big, not as strong, not as explosive and not as fast as Robinson. But Nelson did average 13.9 points and 9.1 rebounds as a sophomore and as a freshman nearly had a double-double (nine points, nine rebounds) in KU's 73-61 victory in Pauley Pavilion.
And Nelson does know how to bring out the heat in his man's head. He knows how to crawl under skin and stay there awhile. Robinson's composure will be challenged in what shapes up as the game's most interesting match-up.
This, of course, assumes he makes it to the shoot-around on time.
"What happened was he missed the bus going to the airport, and he never had done that," UCLA coach Ben Howland said. "The guy's a morning person. He's been through a lot here, but I still felt we had to do something. I wanted to let him know he's got to do a better job of leaving the phone on, rather than just the electric clock for when the electricity blacks out, which is what happened."
Predictably, in a world where many college basketball coaches do everything in their power to try to decide what's newsworthy, Howland did not bring Nelson to the interview room.