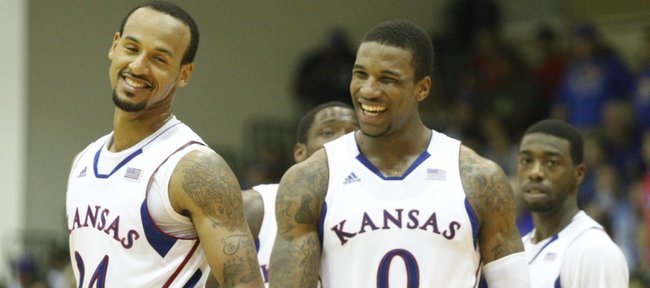 Podcast episode
KU coach Bill Self, Tyshawn Taylor, Elijah Johnson and Travis Releford talk to reporters following the Jayhawks' 67-63 victory over Georgetown on Nov. 22, 2011.
KU vs. Georgetown
Lahaina, Hawaii — Kansas University's basketball players rewarded their sleep-deprived fans on the mainland late Monday night and into this morning.
The Jayhawks (2-1) jolted Georgetown, 67-63, in the late, late late show — otherwise known as the first-round of the Maui Invitational.
"I thought we played hard and smart," KU's Tyshawn Taylor said. "I thought we played well. Georgetown battled and played well, but we kept our composure."
Taylor scored 16 points and survived a second-half case of the dreaded cramps, while Thomas Robinson exploded for 20 points and 12 boards and Travis Releford 10 points as KU advanced to a semifinal match-up today against UCLA (1-2) at a more manageable 8:30 p.m. Central time.
The game will be shown live on ESPN. UCLA, which led by just two points at halftime, routed NCAA Div. II Chaminade, 92-60, on Monday night.
KU thrilled its large contingent of fans in the 3,400-seat arena by storming to a 6-0 lead in the game that started at 11 p.m. Central time and ended after 1 a.m., courtesy of four points from Robinson and a dunk by Releford.
The Jayhawks did trail, 12-9, but led, 24-23 with 5:22 left in the first half. KU then embarked on an 8-0 run that gave the Jayhawks a 32-23 advantage at 2:55.
Georgetown (2-1) managed to slice the gap to 37-35 on an Otto Porter three right before the halftime horn.
KU opened a 42-37 lead early in the second half on a deep three by Taylor, but the Hoyas were able to tie at 46 with 15:19 left.
With the game deadlocked at 46 still with 14:21 left, KU's Taylor suffered a painful cramp. He returned with KU up by three points, 51-48, at 9:42.
The Jayhawks led, 55-53, with 6:52 to play, then went on a back-breaking 4-0 surge.
It was a two-point game, 65-63, when Releford hit two big free throws at :15.7.
For the game, KU hit 47.1 percent of its shots to Georgetown's 40 percent. KU hit five of 16 threes to the Hoyas' seven of 24.
Taylor hit five of nine shots, including three of three threes.