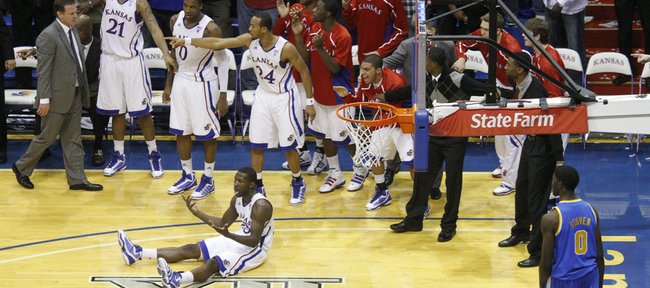 Mario Little wasn't shaking as he stepped to the foul stripe with a chance to win Thursday's thriller against UCLA.
He was as calm as a fifth-year college senior could be.
"I knew I had two chances, so I wasn't trippin'," Little, Kansas University's 6-foot-6 small forward from Chicago, said after his free throw with seventh-tenths of a second left busted a 76-all tie and propelled the Jayhawks a 77-76 victory — KU's 64th straight win in Allen Fieldhouse.
"Sink the first one and let them deal with it," he added with a smile.
He was told by coach Bill Self to miss the second of two tries.
Obliging, he bricked the second, the ball caroming to the Bruins, who had no time to set up a play to steal a key nonconference victory.
"I mean, it's big free throws, but it's what I do," Little said. "I mean, my team needed me. I had to step up. I'm not a hero or anything like that. This is something I'm supposed to do."
Yet the winning free throw — he was awarded two foul shots after getting "bumped" by Malcolm Lee while horsing up a shot just before the final buzzer — did feel perfect when it left his hand.
"I was on my tippy-toes and followed through. I mean, if you are a good shooter, you know when you are gonna make the shot," Little said.
Being a fifth-year senior — he red-shirted last year — Little knew the situation called for a free-throw miss on the second try, with KU safely up one point.
"I already figured coach wanted me to miss it," Little said, "but I looked over and asked coach Self, and he told me to go ahead and miss it. It's not easy to do. I tried to throw something up there."
Of course, just as big as Little's free throw was his getting fouled in the first place.
Tyler Honeycutt, who exploded for 33 points — most against KU since Michael Beasley's 39 on March 1, 2008 — stole the ball in the KU backcourt and drilled a three at :05, tying the score at 76.
KU rushed the ball upcourt, with Little ending up in the right spot at the right time.
"I saw Marcus pushing it," Little said of Marcus Morris (16 points, six rebounds). "I was going to try to get a cleanup bucket or do something. He lost it. I saw it, tried to grab it and throw it up. The dude bumped into me a little bit, and I just threw it up. He (ref) called it.
"I think he did foul me. It was nothing crazy, but a little bit," he added of the bump by Lee.
UCLA coach Ben Howland said it was a "disappointing" way for the game to end, especially after such a key three by Honeycutt.
But the game did end that way, providing Tyrel Reed with a sigh of relief. He was caught in the backcourt and committed the late turnover, though many fans thought Reed was fouled on his miscue.
"I should have called a timeout or threw it in our backcourt. I'm fortunate Mario hit the free throw at the end. It was a dumb play on my part," Reed said.
Of course, KU would not have been in position to win had Reed not exploded for 15 points the first half and finished with a career-high 17.
"It was probably the only smart thing we did tonight," KU coach Bill Self said of the final possession after Honeycutt's trey. "Get the ball in quick and take it down the court. It's what we talk about all the time. Don't look for the timeout, get it in quick and put pressure on them.
"They outplayed us. It's evident we were fortunate. Mario said he did get fouled at the end. Of course, if we made free throws (KU hit 16 of 30 to UCLA's 14 of 22), it wouldn't have come down to the last possession."
Tyshawn Taylor was terrific with eight points in a key 13-2 run that turned a 64-60 deficit into a 73-66 lead at 2:52. Taylor finished with 17 points off 7-of-10 shooting.
"I think neither team played their best game," Taylor said, "but it was one of those games two teams were going at it. Neither team played their best defensively, but that happens sometimes in games like this.
"We are a deep team, and we have guys that can do a lot of different things," Taylor added of himself and Reed and others stepping up on a night the Morris twins had foul problems. "We showed that a little tonight, but we have to do more of that in upcoming games."
Self will take the W.
"The crowd was great," he said. "They won the game for us."
KU will next meet Memphis in the Jimmy V. Classic at 6 p.m. Tuesday in New York.