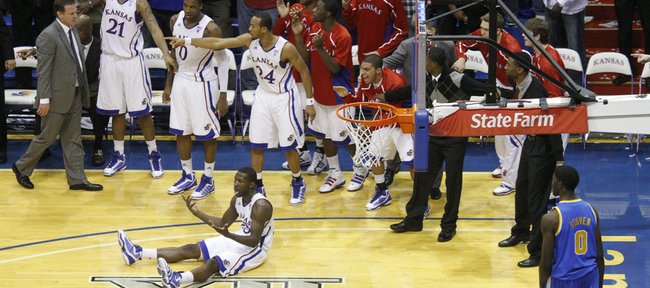 Noticeably upset by the way Thursday's 77-76 loss to Kansas University ended, UCLA men's basketball coach Ben Howland stepped to the podium and explained the frantic final seconds for anyone who would listen.
"Sorry it took so long to get here," Howland told the group of reporters seated in the Allen Fieldhouse media room. "I was watching the replay of the foul at the end of the game. It was really, really a poor way to end a game on a call. Just for anybody who hasn't seen it, both 23, (KU's Mario) Little, and (UCLA's) Malcolm Lee, were putting their hand on the ball at the same time at point-nine seconds. So, normally, you wouldn't make that kind of call at that point in the game unless it was very obvious."
Evidently, the call was obvious enough for the refs to blow the whistle, and Little's free throw with .7 seconds remaining handed the Bruins (3-3) their third straight loss and second to a top-10 opponent.
"Games like this are what players live for," said UCLA's Tyler Honeycutt, who tied the game with his fifth three-pointer of the night with less than five seconds remaining. "It's just a tough way for the game to end. It hurts."
Honeycutt and freshman forward Joshua Smith look nothing alike. But the young duo combined to outwork KU's dynamic Morris twins to the tune of 50 points and 22 rebounds.
Smith was a load inside for which the Jayhawks had no answer. The 6-foot-10, 305-pound freshman was wide on rebounds and tough around the rim. In addition, he stayed out of foul trouble and full of breath long enough to play a career-high 28 minutes, which led to 17 points and 13 rebounds (eight offensive).
"This was Josh's first of what I think will be many, many double-doubles in his career," Howland said.
While the two elite coaches did not agree on the foul call that decided the game — KU coach Bill Self said Little told him he was fouled — they did see eye-to-eye in their evaluation of Honeycutt's career night.
"Oh, he had a great night," Self said. "He was by far the best player in the game."
Added Howland: "It doesn't matter who we're playing against, I think Tyler is going to have a good night. I really liked the way he let the game come to him. He scored 33 points on 15 shots."
As for Honeycutt, who had visited Allen Fieldhouse once before for an AAU tournament, the 6-8 sophomore forward said there was no magic formula for his memorable night.
"I just got to the gym early and got a lot of extra shots," he said. "I liked the floor, I liked the rims. I've been working on my shot a lot lately, and I was feeling real good and confident."
Though he was disappointed by the outcome, Howland was gracious enough to tip his cap to the Jayhawks (7-0).
"I don't know that they have a weakness," Howland said. "They're a great team."
Howland, who led the Bruins to three straight Final Fours from 2006-08, including a trip to the national title game in 2006, continued to gush about the Jayhawks by speaking to the level of consistency with which Self runs things.
"It's one of the top programs in the country, year-in and year-out," Howland said. "Bill does a fantastic job reloading. They lost three guys to the NBA off of last year's team, (and) they're still a top-five team."