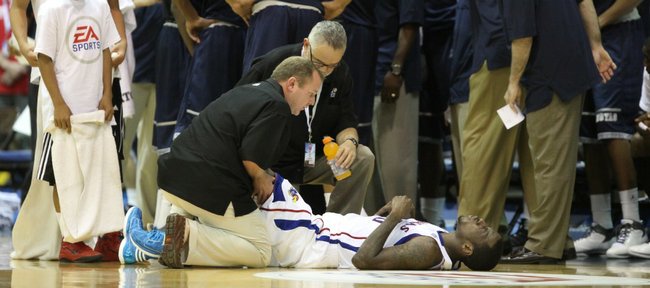 Podcast episode
KU coach Bill Self, Tyshawn Taylor, Elijah Johnson and Travis Releford talk to reporters following the Jayhawks' 67-63 victory over Georgetown on Nov. 22, 2011.
KU vs. Georgetown
Jayhawks' Taylor out due to cramps
Kansas University's basketball team seemed to have figured out how to avoid cramps after three Jayhawks were plagued with them during the 2001 Maui Invitational ... then Tyshawn Taylor went down with cramps early in the second half of the Jayhawks' 2011 Maui debut early Tuesday morning.
With 14:21 left, Taylor hit the deck complaining of pain in his legs and immediately came out of the game. He returned at 9:42 and played the rest of the way.
Lahaina, Hawaii — It has been 10 long years since Kansas University's basketball team suffered a painful 93-91 loss to Ball State in the first round of the 2001 Maui Invitational.
The anguish came not only from an upset defeat to a Mid-American Conference school, but from crippling cramps suffered by KU's Nick Collison, Drew Gooden and Aaron Miles during the contest.
"That was back when there was no air conditioning in the gym," KU coach Bill Self recalled of muggy Lahaina Civic Center.
Partly because of what happened in '01 — other teams also had cramp issues — central air was added to the small, 2,400-seat gym a few years later, and incidents have been at a minimum since.
Still, the Jayhawks were wary of possibly cramping up in the 2011 Invitational, which kicked off against Georgetown on Monday night.
"I've heard it's humid. We've just got to make sure to drink a lot of water," KU sophomore guard Elijah Johnson said leading up to the game.
Former KU forward Scot Pollard did not suffer cramps during the 1996 Maui Invitational, in which KU beat LSU, Cal and Virginia en route to the title.
He and his Jayhawk teammates had other problems, though.
"I just remember the floor was always wet. We had to stop the game and wipe it up," Pollard said. "It got to where you were more worried about injury than messing up in the game. The floor was so slick you were thinking, 'OK, I am going down for a dunk, here's what I have to do.' That's not something you normally think about, but if guys are going up for dunks and are slipping and falling on their butts and sliding into the backstand ... that was a factor.
"It was hot in the gym and very humid. It's a little pressure cooker in there, a little box. The game took way longer than it should of because they had to keep stopping it to wipe the floor over and over again."
KU coach Self's 2005-06 KU team didn't have cramping issues in Maui.
"Our problems were getting the ball across halfcourt against Arizona, not cramping," joked Self, whose Jayhawks lost to Arizona and Arkansas and beat Chaminade that year.
Bookworms
The Jayhawks, who already have made trips to New York (Nov. 14-15) and Maui this season, didn't forget about classwork on this trip. KU officials indicated the players brought their books. Senior Jordan Juenemann is working on an important paper on the trip.