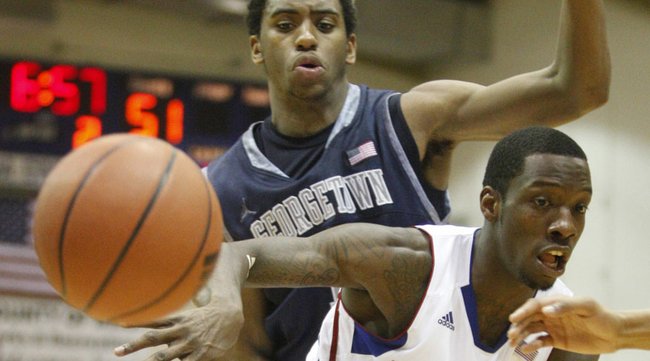 Podcast episode
KU coach Bill Self, Tyshawn Taylor, Elijah Johnson and Travis Releford talk to reporters following the Jayhawks' 67-63 victory over Georgetown on Nov. 22, 2011.
KU vs. Georgetown
Lahaina, Hawaii — Georgetown coach John Thompson III was visibly upset at the press conference following his team's 67-63 loss to Kansas on Monday night.
"Overall, was tonight a good experience? In a couple of hours or days, I might be able to say, 'Yes it was,'" Thompson said. "Sitting here right now, it's a tough loss."
The Hoyas held one lead in the second half, a 48-47 advantage 12:32 to go.
Georgetown also closed KU's deficit to two at 65-63 with 30 seconds left.
Thompson balked when asked if he learned anything about his team.
"After I go back and calm down," Thompson said, "maybe I can answer that better."
One point of frustration was his team's defense against KU forward Thomas Robinson, who finished with 20 points and 12 rebounds.
Georgetown's goal was to force the big man to take 12- to 15-foot jump shots.
Instead, Thompson said the junior came away with "what feels like 14 dunks."
"But that's what he does. He's physical. He's aggressive," Thompson said. "They do a very good job of creating isolations for him. They do a very good job of putting our bigs in a position where they have to make a choice: Do you step up on (Tyshawn) Taylor, who's coming down the lane to make a layup, or do you stay at home on Thomas?"
Thompson left wishing his team had done a better job of controlling what it could control, which included sticking closer to the scouting report.
He also wasn't making excuses for his team's play.
"We're not going to be singing this 'young team' song all year," Thompson said. "These guys are ready to play. What grade they're in doesn't matter. We have to take care of our business a little better."