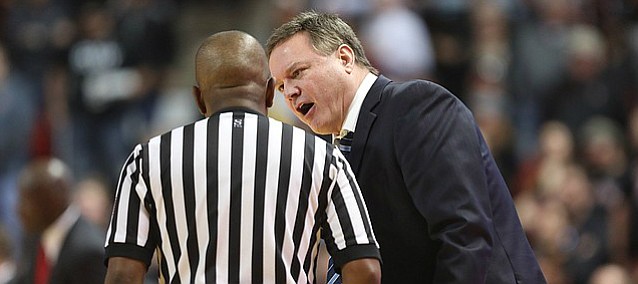 Lubbock, Texas — Less than an hour after his team clinched its NCAA-record 14th consecutive Big 12 regular-season title, Kansas coach Bill Self was in the hall answering questions about the ongoing investigation into corruption in college basketball.
On Friday, a Yahoo Sports report named former KU player Josh Jackson and his mother as having accepted a $2,700 loan from Christian Dawkins, a former associate of one-time NBA agent Andy Miller. Self released a statement on the matter Friday evening, saying both he and the KU administration were looking into the claim. Saturday, Self said there was no new news about Jackson's alleged involvement in the scandal.
"I'm not sure there's been any allegations," Self told a small gathering of reporters. "There was a report, where we don't have any idea on the validity of the report, none of that stuff. Obviously, it's a concern of everybody involved in college basketball and it'll get the proper attention. We're all concerned, but I know our people are on top of that and that did not have anything to do with us today and affecting our mindset."
Photo Gallery
Kansas basketball v. Texas Tech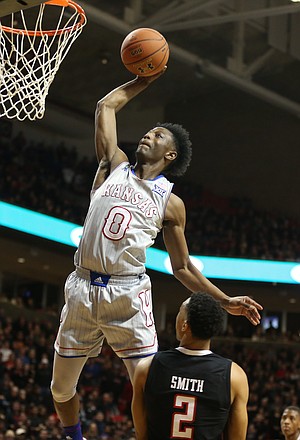 View a gallery of images from Saturday's game between the Jayhawks and Red Raiders in Lubbock, Texas.
As for how the widespread investigation, which now includes some of the biggest names and programs in college basketball, has affected him personally during the past couple of weeks, Self admitted that it had captured his attention.
"It has," he said. "I coach in our business. So, certainly, it's impacted me from a negative standpoint, worried for our sport and all those things. But I don't think it's impacted me in a way that I can't focus on what's important right now, and that's our team."
That stance extends to Self's current team, which improved to 23-6 overall and 12-4 in Big 12 play with Saturday's 74-72 victory over No. 6 Texas Tech at United Supermarkets Arena.
"You know what, I don't think our guys are distracted at all," he added. "I probably am more distracted than them because you ask me questions about it, which you've got to do. That's your job. But I'm not distracted from a, 'Hey I can't focus because I've got this going on.' Not at all."
It did not take fans of KU's Saturday opponent long to incorporate Friday's news into a potential advantage for their team. That was evident in looking around the stands and listening to some of the heckling from the Texas Tech fans.
A handful of signs referenced the KU program suddenly being tied to the investigation — "Rock Chalk Pay Off" was one, and the other read: "FBI Watch List" and featured "Kansas" circled at the bottom. Audible chants of "F-B-I, F-B-I" also broke out at least once or twice during the game.
Asked if he was "confident you guys will be OK," Self said simply, "I'm not sure that there's been anything that says we're not going to be. I think you're reading into some stuff that I don't think has been said. If you really studied it, I think the validity of it and certainly how other people (look at) it can certainly come in question."
Garrett gone wild
Late in the first half of Saturday's victory, Kansas freshman Marcus Garrett caught a harmless pass at the top of the key and turned it into a play that wound up making highlight reels everywhere.
The come-fly-with-me flush, in which Garrett kept going up, up and up, put Kansas up, 39-33, with 1:45 to play in the first half.
"My first intention was really to pass the ball to Devonte' (Graham)," Garrett admitted. "But I saw the lane open up and I just went. Coach has been telling me the whole year to show my athleticism, and I thought that was an opportunity to do it."
Asked for his reaction to the dunk, KU sophomore Malik Newman chimed in with: "Shout-out to Hudy. She's been on Marcus in the weight room since he first came. I knew he had something, but I didn't know he had that."
Evans evaluation
Although hobbled by an injured toe, Texas Tech point guard Keenan Evans played 31 minutes, subbing in and out at strategic times, during Saturday's loss to KU.
Asked if he noticed Evans being limited by the injury, Self said, "Looking at him physically, I didn't sense that. But, obviously, he wasn't, because he didn't attack the basket and some things like that like he normally would. But he still looked good to me."
Evans finished just 1 of 6 from the floor for six points, six rebounds and three assists.
This and that ...
KU's victory Saturday gave the Jayhawks 23 wins for the 29th consecutive season. ... It also marked the 18th overall Big 12 title and NCAA-record 61st regular-season conference championship of any kind. ... KU now has won 12 or more conference games for 18 consecutive seasons. ... The Jayhawks now lead the series with Texas Tech 35-5 overall, including a 14-4 mark in Lubbock, Texas, and 10-3 record in United Supermarkets Arena. ... Kansas is 7-2 in true road games this season and 10-4 in games not played in Allen Fieldhouse.
---
More news and notes from Kansas vs. Texas Tech
---