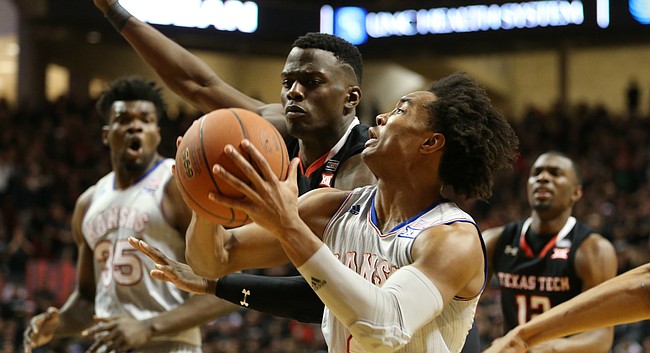 LUBBOCK, TEXAS — The Jayhawks entered Lubbock with a chance at a Big 12 title. They left with that — and a whole lot more.
The No. 8-ranked Jayhawks put their name atop the record books on Saturday, clinching at least a share of their record-breaking 14th consecutive Big 12 championship. The Jayhawks, who previously shared the record of 13 straight with UCLA (1967-79), defeated No. 6 Texas Tech on the road, 74-72, and earned payback for a defeat in Allen Fieldhouse earlier this season.
Devonte' Graham went off for 26 points, four rebounds and three assists, and Svi Mykhailiuk added 21 points of his own as the Jayhawks, now ahead by two games in the conference with two left to play, won their eighth consecutive game in Lubbock.
Photo Gallery
Kansas basketball v. Texas Tech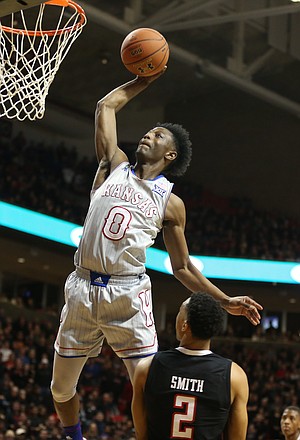 View a gallery of images from Saturday's game between the Jayhawks and Red Raiders in Lubbock, Texas.
Their last loss in United Supermarkets Arena came on March 4, 2009, when Sherron Collins shot 3 for 19 and Tech's Alan Voskuil scored a career-high 35 points.
Now, the focus for the Jayhawks shifts to a senior-night showdown against Texas in which KU will be playing for an outright Big 12 championship for the fifth consecutive year.
Here's a quick look back at some of the action:
• The game turned when: Graham began to take over.
No singular shot by the senior during his second half eruption put the game out of reach but Graham continued to hit daggers to keep the Jayhawks in front in a game in which they never trailed.
The Jayhawks jumped on top of the Red Raiders, taking an 8-0 lead just over three minutes into the game. The teams continued to get up and down the court at a fast pace — at least early on — a pace that favored the Jayhawks.
After having their first-half lead cut to one, the Jayhawks rallied, pushing the lead out to seven on a pair of free throws by Mykhailiuk and later to 10 on a wide-open corner 3-pointer from Malik Newman.
The Jayhawks' largest lead in the first half was an 11-point advantage, 37-26, which came on an athletic offensive rebound by Mykhailiuk. The senior leapt up and hauled the ball in with his right hand, gaining control with both hands and putting a shot up all before landing back on the court.
Texas Tech wasn't done, cutting the lead down to one with less than 16 minutes to play in the first half, but Graham came to life in the second, doing his best Frank Mason impression and driving into the teeth of the Red Raiders defense over and over to draw fouls and get easy baskets.
Graham scored or assisted on 15 of the first 19 points for the Jayhawks in the second half. He finished with 18 of his 26 points in the period, drilling a key 2-point jumper with just over a minute left and rolling in a near-impossible finish with right around 30 seconds left to play.
Newman added 12 points and five rebounds in the win, while Udoka Azubuike finished with a game-high seven rebounds.
• Offensive highlight: Azubuike's first basket was among the easiest he's made all season.
Azubuike sealed off Texas Tech big man Tommy Hamilton in the post and received an entry pass. Hamilton fell to the ground, perhaps trying to sell a bit of contact or without a base to be able to lean back on Azubuike.
The KU big man caught the pass and turned toward the hoop. He took a power dribble to get into the paint and rose up for a two-handed thunderous tomahawk slam that left the hoop shaking for several moments.
Azubuike finished the first half with six points, making all three of his field goal attempts — all dunks — in 16 minutes. Perhaps most impressively, though, Azubuike finished the half with no fouls, despite setting a pair of hard screens — one of which led to a Justin Gray injury — that could have been whistled as illegal early in the contest.
• Defensive highlight: Graham's pass — if you would call it that — was easily picked off, but his good friend and fellow senior wasn't about to let him down.
With just under 9-and-a-half minutes to play in the first half, Norense Odiase caught the ball in the post with Azubuike behind him. Graham swiped at the ball and knocked it away. He chased after it out of bounds and saved it, flinging it backward over his head to keep it in bounds.
The pass sailed into the hands of Tech's Zach Smith, but Mykhailiuk, who had a full head of steam, ripped the ball away and sprinted back down the court.
Mykhailiuk drew a foul and knocked down a pair of free throws to put KU up 7.
• Key stat: The Jayhawks shot 6 for 26 from 3 in their first meeting with Texas Tech. It took them all of 13 minutes and 15 seconds to one-up that in Lubbock.
The Jayhawks began the game shooting 7 for 10 from 3, pacing the offense to an efficient 41-point first half after scoring 32 in the first period at home against the Red Raiders.
KU shot 59.3 percent from the field in the first half and 53.8 percent from 3. The Red Raiders, though, were able to hang in the game by shooting 50 percent from the field and getting to the line for 10 free throws, compared to just two at that point for the Jayhawks.
• Up next: The Jayhawks will return home to take on Texas for senior night. That game, which will tip at 8 p.m. on Monday, will be a rematch of a Dec. 29 meeting in which the Jayhawks won, 92-86, in Austin.
---
More news and notes from Kansas vs. Texas Tech
---