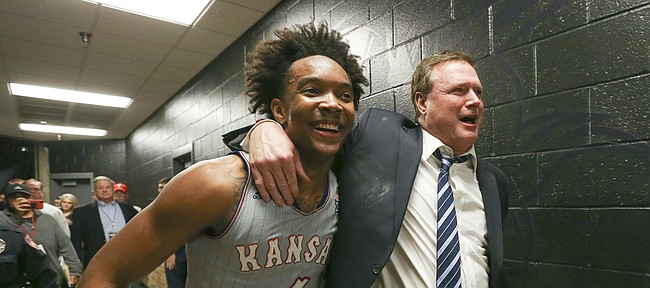 Lubbock, Texas — Want to know what it takes to win the Big 12 Conference 14 times in a row?
Just watch the final few minutes of Saturday's 74-72 victory by No. 8 Kansas over No. 6 Texas Tech inside a wild and crazy United Supermarkets Arena and you'll see a clear blueprint.
The sequence featured equal parts toughness and clutch plays from KU seniors Devonte' Graham and Svi Mykhailiuk, poise and raw emotion from everyone in crimson and blue and a road win in a tough environment that led to Bill Self's squad officially moving past the UCLA dynasty of the 1960s and '70s and into first place in the NCAA record books for consecutive conference titles, with 14.
"I'm amazed. I really am," Self said after the victory. "I'm happy for everybody, but certainly most happy for Devonte' and Svi, our two seniors that definitely put us on their back most of the season but certainly today."
Photo Gallery
Kansas basketball v. Texas Tech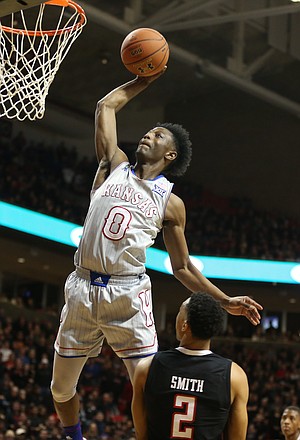 View a gallery of images from Saturday's game between the Jayhawks and Red Raiders in Lubbock, Texas.
Saturday's victory, during which KU shot 50 percent from the floor and 44 percent from 3-point range, guaranteed the Jayhawks a share of this season's Big 12 crown. A win in either of its next two games, or losses by Texas Tech and West Virginia, will give KU the title outright.
Getting to that point has been a memorable journey for the Jayhawks, both way back in the beginning of the unprecedented streak with the 2004-05 team and at the end of Saturday's game, which featured Graham willing the 2017-18 Jayhawks to victory.
Texas Tech (22-7, 10-6) never led in this one but came awfully close a couple of times down the stretch.
After a follow-dunk by Tech's Zhaire Smith tied the game at 68-all — erasing a second-half lead of as many as eight points just two minutes earlier — the stage was set for Graham to take over and he did exactly that.
Playing every bit like the Big 12 player of the year, the KU point guard's late-game heroics merely were a continuation of what he had done all afternoon on the way to a game-high 26 points in 40 minutes.
"Down the stretch, there was no doubt that that game belonged to No. 4," Self said. "Probably as much as any game that I can remember him playing in."
Graham credited his coach for instilling confidence in the entire team throughout the afternoon.
"In the huddle, he just said, 'This is what we want. If you would've told us we'd be tied with a minute left, we would sell out for that. And now it's time for players to make plays,'" Graham recalled.
There were exactly nine possessions in Saturday's final 152 seconds and they played out like this:
• After a missed 3-pointer by Svi Mykhailiuk (21 points, five rebounds, four assists) and a layup by Graham that was blocked by Tech's Zhaire Smith, Graham's step-back jumper that just beat the shot clock put Kansas back in front with 1:30 to play.
• Looking to tie, the Red Raiders got tied up right in front of their bench and turned the ball over when Graham twice poked the ball away from Jarrett Culver and into the arms of teammate Lagerald Vick, who got on the floor to gather the loose ball and gain possession for Kansas.
• With everyone in the building knowing who would get the ball for Kansas, Graham drove to the rim, one-on-three, and threw up a circus shot that somehow fell through after bouncing off of the rim and backboard a couple of times. Graham, Self and teammate Malik Newman all called the shot some variation of luck after the game. But none of them minded one bit at the time it fell through and Kansas' lead grew to four with 31 seconds remaining.
• Feeling now-or-never pressure, Tech again turned it over on its next possession when Jarrett Culver was called for a travel.
• That set the stage for Graham and Mykhailiuk to sink two of four free throws in the final 20 seconds to give Kansas just enough to get by. At one point, with just under two minutes to play, Texas Tech coach Chris Beard and his staff were instructing their players to purposely foul KU big man Udoka Azubuike. But the Red Raiders never did and the Hack-a-Dok strategy that worked for Oklahoma was never tested.
Two incredible offensive plays followed by two terrific defensive possessions — "It's unbelievable. We played zone to win the game," Self noted — made it possible for the Jayhawks (23-6 overall, 12-4 Big 12) to talk all about Big 12 title No. 14 after the game. And Graham did all of his talking with a shiny, new white hat on his head that marked the achievement.
"I felt like this year was the year everybody thought we were going to lose it and, as a team, we've just been battling, staying positive with each other, going through the grind and now we made history," Graham said.
Asked what it meant to be responsible for passing UCLA, KU's perpetual team-first point guard remained as humble as ever.
"For me, it's just being a part of it, being a part of something so historic," he said. "It's big for the fans. It's bigger for them. I'm just a small part of it. I won four of them, out of the 14, so it's just being a part of history and me and my boy (Mykhailiuk) are a part of it."
For Self, the experience was slightly different. After all, he remembers those UCLA teams.
"That's one that's a little tougher to put into perspective," said Self, who yelled, 'Yeah, yeah, yeah,' while pumping his fist after the final horn sounded. "I don't think we've had (former UCLA greats Lew) Alcindor and (Bill) Walton and Marques Johnson and some of those cats. But we've had our fair share of guys. This one will probably ring home more because we probably didn't have the best personnel in the hardest year to win the league, from a competitive standpoint We didn't have the worst, but I'm just saying the pieces didn't always fit the way we envisioned."
That may have been the case for most of the season. But of late, the Jayhawks have come together perhaps better than at any point all year and have positioned themselves to do very Kansas-like things in the weeks ahead — Big 12 champs, No. 1 seed, all that.
That reality was not lost on Graham after Saturday's victory, the second this week in which KU avenged an earlier loss.
"It's just what we wanted to do, what every player has done before us the last 13 years," said Graham. "We didn't want to be the team to end the streak and we didn't want to be the first two (players) to go four years without winning all four rings."
---
More news and notes from Kansas vs. Texas Tech
---