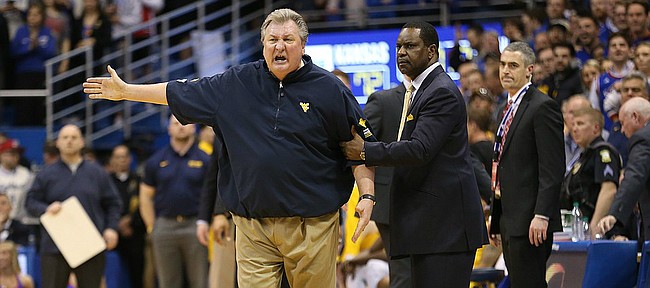 West Virginia basketball coach Bob Huggins cooled down almost as quickly as he flipped his lid in a way that earned him back-to-back technical fouls and an ejection with eight seconds remaining in Saturday night's game in Allen Fieldhouse.
Shortly after Kansas had finished its 77-69 come-from-behind victory against West Virginia, Huggins was seated in a folding chair in front of the visiting radio crew's court-side table.
From there, he went into the media room to take questions. He didn't duck that responsibility because it's part of his job. He gets paid handsomely and he's been coaching basketball a long, long time, and coaching it well. He understands that he must face the music. What puzzles him is why referees never have to answer for their performances.
Unrelated to the whistles, as is almost always the case, no matter the opponent, Kansas executed better down the stretch, made smarter decisions, delivered in the clutch.
Photo Gallery
Kansas basketball v. West Virginia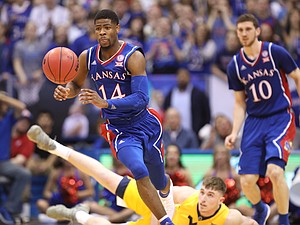 View a gallery of images from Saturday's game between the Jayhawks and Mountaineers at Allen Fieldhouse.
Thanks to the strong finish, KU was able to overcome Mountaineers senior guard Daxter Miles' career shooting night. He made 6 of 9 3-pointers on his way to a game-high 22 points. Afterward, Huggins was asked about Miles passing up a 3-pointer that could have given the visitors a one-point lead with 1:09 left. Instead of shooting, he passed into a crowded lane and turned it over.
"Yes, he did," Huggins said of Miles passing up a shot. "They're 21-year-old kids. They're going to make a mistake, and they don't get paid. I don't know why officials want to be part of the game, but then they don't want to be part of the game when they have to answer (questions about their calls). We are going to bring 19, 20 and 21-year-old kids in here that don't get paid and you're going to ask them questions like, 'Why didn't you shoot?' It's because (the refs) don't want to get asked, 'Why didn't you call this and that?' "
As for why he was upset enough with officials to get tossed, Huggins said, "They shot 29 free throws (before the technicals) and we shot two. You don't think that had anything to do with it?"
It ended up 35-2.
"I've been doing this 40 years and I don't think I've ever been in a game where a team shot two free throws," Huggins said.
He wanted to make it clear that he didn't view this loss in any way similar to the bigger lead his team couldn't hold onto in Allen Fieldhouse last season.
"We blew the game at the end (last season)," Huggins said. "We should have won the game, but they did a great job and came back and shot on us. … We gave it away. They pressed us, and we threw it around. This wasn't like last year."
The veteran coach's postgame talk with players reflected his different perceptions of the two games.
"It wasn't their fault," Huggins said of what he told his players Saturday. "It wasn't their fault, and the best way to respond from this is to go win the rest of them."
Self and Huggins agreed on at least one thing: Neither could remember such a huge foul disparity.
"I've never seen that before," Self said.
He then explained a couple of factors that contributed to it.
"One thing that we try to do against them is drive it downhill, drive it, drive it, drive it, because they pressure out," Self said. "One thing that they did a lot of tonight is shoot a lot of 3s (making 14 of 26). They didn't put us in a position to foul as much."
Self then said he will have to watch tape of the game to better judge how the game was officiated.
"I'm going to reserve comment on anything other than I hated how the game ended," Self said. "It was a good game. It was competitive. Both teams tried their butts off, atmosphere was incredible, probably one of the best atmospheres all year anybody's had in college basketball. I'm a fan of Huggs and I don't like how the game ended. I wish it didn't end that way. I'm happy we won, but certainly not to end that way."
For one thing, it will feed the perception of some that the fiery Mountaineers coach is a maniac, which his players, opposing coaches and media members know is not the case.
Huggins is one of Self's favorite coaches. He likes his grounded personality and quick wit and greatly respects his coaching ability.
A much calmer than on the court but still unhappy Huggins aired frustration during the postgame press conference that referees tend to talk a lot before the season about new points of emphasis, then stress those points early in the season and then revert to old habits. That's what he meant when he said not all of his frustration stemmed from Saturday's game.
"It's been building," Huggins said. "It's been building."
And then it erupted.
As for Kansas, it not only had itself another comeback victory against West Virginia, but by night's end, a share of first place in the Big 12 as well.
---
More news and notes from Kansas vs. West Virginia
---