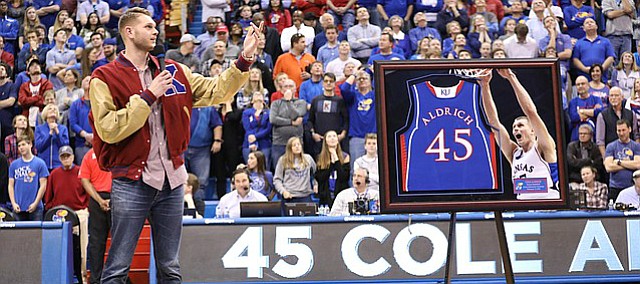 With his wife, Britt, by his side, and his dad, Walt, and brother, Grant, there to support him, as well — dad decked out in a No. 45 Kansas basketball T-Shirt, no less — former Kansas big man Cole Aldrich returned to Allen Fieldhouse on Saturday for the moment of a lifetime.
At halftime of 13th-ranked KU's wild, 77-69 victory over No. 20 West Virginia, Aldrich stood in the tunnel he ran out of so many times as a player and watched quietly as a video chronicling his Kansas career played on the video board above midcourt.
After the final scene had ended, Aldrich made his way to center court, where he was greeted by play-by-play announcer Brian Hanni and presented with a framed jersey and a microphone.
"Well, it feels great to be home," Aldrich said to the roaring approval of the Allen Fieldhouse crowd.
Photo Gallery
Kansas basketball v. West Virginia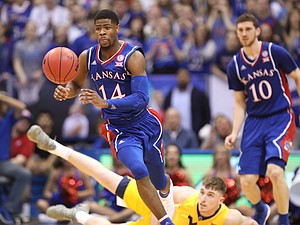 View a gallery of images from Saturday's game between the Jayhawks and Mountaineers at Allen Fieldhouse.
He then talked about the memories that came flooding back as he walked into his old gym during this trip back to Lawrence, the championship run in 2008, a true freshman, chief among them. He spoke of the '08 championship banner that hangs at Allen Fieldhouse's north end. Then he got to his No. 45 Aldrich banner than now hangs in the old venue's south end next to teammate and recent jersey retiree Brandon Rush.
"Looking up, seeing my name in the rafters, it's humbling," Aldrich said. "Really humbling. I wouldn't have been able to do it without all my teammates, the guys that are here and the guys that aren't here. Thank you so much."
He then dished out a few individual thank-yous, first to his wife and family, next the KU coaches and staff members, and then to running mate, Sherron Collins, and best friend and former roommate Tyrel Reed.
"Last but not least, I want to thank you guys," Aldrich said to the fans. "You guys were the ones that made my job easy every night, to come in here and play in front of a packed house. Thank you guys. I had so much fun. And I really appreciate it. Rock Chalk."
2008 title team honored
During the under-12 media timeout of Saturday's first half, KU paid tribute to the 2008 national championship team, many members of which were in town this weekend to celebrate the 10-year anniversary of their title.
In addition to a few clips from the title game victory over Memphis playing on the video board, eight members of the team marched out to midcourt and were greeted by a standing ovation from the Allen Fieldhouse crowd.
Those players able to make the celebration were Brennan Bechard, Jeremy Case, Conner Teahan, Reed, Matt Kleinmann, Sasha Kaun, Collins, Darrell Arthur and Aldrich.
The 2007-08 KU men's basketball team also was inducted into the KU Hall of Fame this weekend.
Asked if Saturday's victory, in front of that team, made up for the loss suffered by Kansas to Oklahoma State during the weekend celebrating 120 years of Kansas basketball, KU senior Devonte' Graham was brutally honest.
"No, it doesn't make up for it," he said. "But I'm glad we could get it when we were celebrating them."
Turnover triumph
For the second time this season, Kansas emerged from a battle with Press Virginia victorious in the turnover battle.
After committing 13 turnovers to West Virginia's 16 in their road win over the Mountaineers in January, the Jayhawks gave it away just eight times on Saturday night and forced WVU into 13.
"We've got four guards on the court," Graham said. "So (their press) really shouldn't bother us that much. They didn't do a lot of run-and-jumps like I thought they would and we just did a good job of trying to make the easy plays."
Added Self, putting the turnover number in perspective: "Their pressure totally took us out of running our stuff. So even though we didn't turn it over, their pressure was still effective. But we didn't have live-ball turnovers that led to transition and those sorts of things, so it was important that we took care of the ball."
Kansas is now averaging fewer than 10 turnovers per outing in the past five games.
Faces in the crowd
Aldrich and his forever beloved 2008 Kansas teammates were not the only big names and faces in the crowd on Saturday.
Joining them to help add to the buzz surrounding Saturday's main event for ESPN's "College GameDay" were: Kansas City Chiefs coach Andy Reid, Marlins Man, former KU great Frank Mason III, actor/comedian and KU grad Rob Riggle and PGA golfer and KU grad Gary Woodland.
"I talked to him at practice and just about the NBA and stuff, how he's living and about being injured and that kind of stuff," said Graham of his brief reunion with Mason. "We didn't talk about the season."
This and that ...
With its 10th conference win of the season, Kansas now has reached double-digit wins in conference play for the 24th season in a row ... KU leads the all-time series with West Virginia, 9-4, including a 6-0 mark in games played at Allen Fieldhouse ... KU is now 12-3 overall in its home gym this season and 232-13 all-time under Self ... Saturday's game marked the sixth time in the last eight meetings with WVU that KU trailed by double digits. The Jayhawks came back to win four of those six games.
---