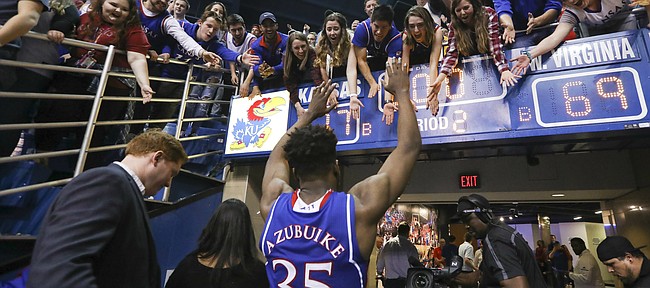 After Kansas sophomore Udoka Azubuike dropped 21 points in 31 minutes to help lead the Jayhawks to a wild, 77-69, comeback victory over West Virginia on Saturday evening at Allen Fieldhouse, one of the most popular questions tossed KU's way was whether the game was the best of Azubuike's still-young career.
As is so often the case, KU coach Bill Self delivered the best answer, tying in Saturday's celebration of the 10-year anniversary of the 2008 national title team to emphasize his point.
"I told those guys, you had Shady (Darrell Arthur) in there and you had Sasha (Kaun) and you had Cole (Aldrich). Those are three pretty good bigs," Self began, listing three of the four key big men on the 2008 team and in attendance Saturday. "And there were only a handful of games where those bigs played better than what Udoka did tonight.
"Shady getting 20 (points) and 10 (rebounds) in the national championship game still probably trumps it, but I thought Dok was pretty good."
Here's what pretty good looked like on Saturday: Seven field goals in eight attempts. Seven free-throw makes in 10 attempts. Twenty-one points. Five rebounds. Three blocks. Two steals.
Photo Gallery
Kansas basketball v. West Virginia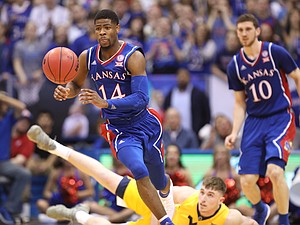 View a gallery of images from Saturday's game between the Jayhawks and Mountaineers at Allen Fieldhouse.
It marked just the sixth time in his KU career that Azubuike had scored 20 or more points in a single game. And it was just his fifth time playing 30 or more minutes in a game as a Jayhawk.
When Azubuike himself was asked whether it was the best game of his KU career, he repeated the question and instantly turned to his right to senior Devonte' Graham for help before attempting to answer.
When Graham chimed in, he went with a simple, "Nah," before amending his answer upon seeing Azubuike's 70 percent shooting performance on the stat sheet.
"Were you seven for 10," Graham asked, the pitch in his voice growing higher. "Oh, you went crazy. My boy. Hey! Looked like me. Nine of 10."
Both answers were equal parts entertaining and comedic and provided the perfect glimpse into the 13th-ranked Jayhawks' vibe after grinding out yet another thrilling victory over a tough West Virginia team that led for 29:01 of the game, yet still exited Allen Fieldhouse with a loss and an 0-6 all-time record in KU's home venue.
As has so often been the case when these two get together, the final outcome would have been hard to predict midway through the second half.
After playing to a 34-all tie during the game's first 20 minutes, the 20th-ranked Mountaineers (19-8 overall, 8-6 Big 12) used a 10-1 run early in the second half to open up a 10-point lead that hovered around that mark for most of the second half.
WVU guard Daxter Miles Jr., who tallied a game-high 22 points, had a lot to do with that, knocking in six of nine 3-pointers, including one with just more than 14 minutes to play that hit soft off the back of the rim, bounced high into the air, came down on the front of the rim and curled in after kissing the glass.
The wild triple put West Virginia up 50-40 and immediately inspired Self to call a timeout.
The Mountaineers built their double-digit lead largely with Azubuike on the bench after picking up his third foul while battling for a rebound that never came.
Self immediately took Azubuike off the floor after his third foul and did not put him back in until Miles' circus shot put the Jayhawks in a tough spot.
Instantly, Azubuike's presence could be felt, as the Jayhawks went right to him in the post for a big bucket that cut the deficit down to eight.
From there, the Jayhawks kept grinding and used tough stops on defense and timely shots on offense to build the momentum necessary to cap off another comeback.
"I don't know how many times they scored on their first shot there in the last seven or eight minutes," Self said, praising his team's defense. "It didn't seem like much. We didn't rebound great, but were able to, possession by possession, kind of crawl our way back in."
A 14-point comeback in the final three minutes it was not. But you never would've known that by listening to the Allen Fieldhouse crowd that Self said created as good of an atmosphere on Saturday as any in college basketball this season.
KU's final push started with 3:31 to play on a huge 3-pointer from Graham, who answered a deflating bucket by WVU's Lamont Harris. That shot — one of two makes all day from Graham — pulled the Jayhawks back within five at 66-61.
After another KU stop on defense, an attempt to draw a foul inside on Azubuike by WVU big man Sagaba Konate went unrewarded and Azubuike flushed home a wide-open dunk to pull the Jayhawks (21-6, 10-4) within three.
On the next possession, Azubuike erased a West Virginia shot attempt at the rim and that led quickly to a pitch-and-catch 3-pointer by Malik Newman from the corner that tied the game at 66 and took the roof off of the Fieldhouse.
West Virginia never led again, as the Jayhawks salted the game away with free throws from Graham and Svi Mykhailiuk, four of them coming off of back-to-back technical fouls called on WVU coach Bob Huggins.
In all, the Jayhawks closed the game on a 19-3 run and that, combined with Texas Tech's loss at Baylor, pulled the Jayhawks back into a first-place tie atop the Big 12 standings with four games to go.
That fact, which was not known until long after the Jayhawks were out of the media room, only made Self's best analogy of the day all the more fitting.
Asked if he had any special message for Azubuike after the game, Self smiled and said: "I told him if I was (famed boxing referee) Mills Lane and I had him next to me, I would've raised his arm up, saying he was the champion tonight. I thought he was great. He played terrific, he had energy, he stayed out of foul trouble for the most part. That was a big-boy game for him."
Four more games like that, and it might be all of the Jayhawks raising their hands as champions of the Big 12 for the 14th year in a row.
Next up for Kansas is a Big Monday showdown with Trae Young and Oklahoma at 8 p.m. on ESPN.
---
More news and notes from Kansas vs. West Virginia
---