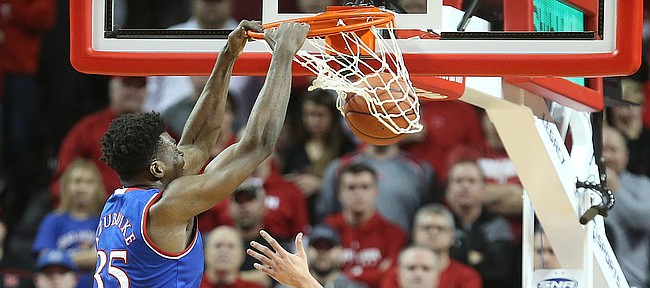 Lincoln, Neb. — During the week leading up to Saturday's Nebraska game, one that followed back-to-back losses to Washington and Arizona State, Kansas coach Bill Self and the Jayhawks implored sophomore center Udoka Azubuike to do more.
By the end of Saturday's 73-72 squeaker over Nebraska at Pinnacle Bank Arena, the biggest thing on the minds of the 13th-ranked Jayhawks was whether Azubuike was better on offense or defense.
Sure, he tallied a career-high 26 points and added 10 rebounds in recording just the second double-double of his career, both coming this season. But had it not been for his first and only block of the night, which came in the game's final few seconds, none of that offensive muscle would've mattered much.
"Dok played great," Self said after watching his team improve to 8-2 on the season. "That was the best game he's played since he's been here. I don't think Dok's going to send me any Christmas cards or a gift for sure. But he responded very well. He hasn't played to his size very well of late, but he did today."
Photo Gallery
Kansas basketball v. Nebraska
View a gallery of images from Saturday's game between the Jayhawks and Cornhuskers in Lincoln, Nebraska.
Sitting slouched at the postgame podium answering questions about his big night was the only time Azubuike looked anything but aggressive all night.
"These past few days, during practice, during film, it was really on me," Azubuike said after the KU victory. "(Self) told Devonte' (Graham), and all them, he said, 'You got to throw the ball inside.' And he asked me to always call for the ball, I'm not aggressive enough. That was a big topic for this week."
Throughout the game's first 20 minutes, KU (8-2) set up in its half-court offense and routinely looked down to Azubuike in the post. There were times when the Jayhawks were so intent to get the ball to the big fella that they even overpassed, which led to a mixed bag of results.
When it came down to it, though, there was very little Nebraska's big front line could do to slow down the biggest man in the game and everyone on the Kansas sideline knew it.
"Right before the game coach put the emphasis for me on just being aggressive in the paint," Azubuike said. "My teammates, Devonte', they tell me pretty much nobody can stop me in the paint."
The Jayhawks led most of the way in this one, but never really looked all that comfortable in front. Nebraska, which shot 49.2 percent from the floor and knocked in 8 of 22 3-pointers on the night, led for just 2:20 of the game and had it tied for another four minutes.
The Jayhawks appeared to be headed for a knockout blow late in the second half, when a seven-point lead nearly ballooned to 10 with 4:48 to play. But a missed 3-pointer by Graham (18 points, eights assists in 38 minutes) sparked a 9-0 Nebraska run and, from there, the two teams traded buckets and leads to the end.
Nebraska went up 68-66 with 2:26 to play but Kansas immediately tied it on an alley-oop to Lagerald Vick over the top of a 1-3-1 zone that gave Kansas fits. And the Cornhuskers (7-5) also led 70-68 and 72-70 in the final two minutes of the game.
The game-winning bucket for Kansas came on a perfectly executed drive-and-kick play from senior to senior, when Graham hit Svi Mykhailiuk in the corner and the KU guard who shot just 6-of-16 for the game drilled a 3-pointer right in front of the Kansas bench.
That set the stage for Azubuike's big block, which came after NU's James Palmer Jr. snagged an offensive rebound of a missed jumper by Anton Gill with seven seconds to play.
"Great timing on the most important block we've had yet this season," said sophomore forward Mitch Lightfoot of Azubuike's game-sealer.
Seeking a quick way to get to the rim, Palmer (14 points, eight rebounds) used his body to find Azubuike and then faded to shoot over him. One problem: He never got the shot off. Azubuike erased it from the air and then chased it down in the corner, throwing it ahead to Lagerald Vick all alone in the Kansas front court to seal the victory.
"As soon as I blocked it, I just had to go and get it," said Azubuike of his thought process that followed. "I didn't know if my leg was on the line or what."
Added a smiling Mykhailiuk of the moment when he saw Azubuike chase down the rebound: "I didn't know what he was going to do, but we had, like, three seconds so he just had to throw it up in the air.
"We needed something good in our last 10 days and it was a great win. This win was better than a 20-point blowout because we had to grind and we had to be focused the whole game."
Kansas now will have just one day off before returning to action against another team from Nebraska. The Jayhawks will take on Omaha at 6 p.m. Monday at Allen Fieldhouse.
---
More news and notes from Kansas vs. Nebraska
---