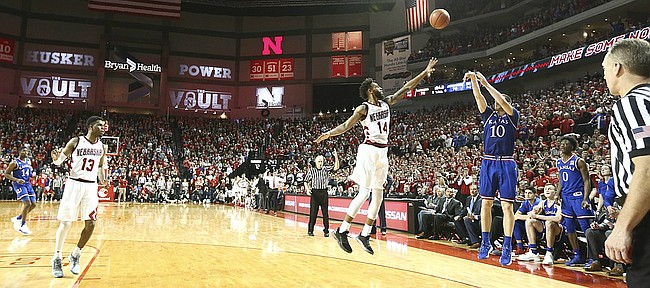 Lincoln, Neb. — The basketball was in the air for a brief eternity, a moment that makes basketball fans age a year per second. Wide-open Kansas senior Svi Mykhailiuk, mired in a mini shooting slump, had launched it from deep in the left corner, right in front of the visitors' bench at Pinnacle Bank Arena. Devonte' Graham had set him up with a well-timed pass.
These are the stressful moments in games that produce a high for one side, a low for another. The shot goes in, the fans in red turn blue. It clanks out and the fans in blue turn red with anger.
It swished through the hoop with 23.2 seconds left. Kansas stopped Nebraska from scoring at the other end and won the game, 73-72.
Afterward, Graham sounded as if the moment didn't make him nervous in the slightest. He shared what was on his mind as the shot floated.
"Cash," Graham said. "It's got to go in. He couldn't hit one all day. I could just tell. I've been around him a long time and I've seen him shoot a lot of shots. I could tell when he released it, it was going in."
Photo Gallery
Kansas basketball v. Nebraska
View a gallery of images from Saturday's game between the Jayhawks and Cornhuskers in Lincoln, Nebraska.
It made Svi 2 of 7 and the team 7 of 22 (.318) from 3-point range on the night. For the past three games, Svi has made 7 of 26 3-pointers for a .269 percentage. One shot does not a mini-slump break, but the consequences of this one were so huge that it just might do that for Svi.
The shot and Udoka Azubuike capping his career night with a blocked shot at the other end kept Kansas from encountering its first three-game losing streak since the 2012-13 season.
"I'm just thankful for the coach trusting me to shoot the shot," Mykhailiuk said.
He's too skilled a shooter to stop believing that he's going to make an open 3-pointer and it doesn't hurt to hear constant reminders.
"My teammates, they all tell me to keep shooting through the whole game when I kept missing shots," said Mykhailiuk, who made 6 of 16 shots. "They said, 'Keep shooting. Believe in yourself. We know you're going to make it.'"
On a night when Malik Newman and Marcus Garrett went scoreless in a combined 47 minutes on 0-for-10 shooting, Svi wasn't much better until awakening for 10 of his 14 points in the final 9:56. He took a charge with 10:09 left, then drove the right baseline and dunked at the other end, putting himself on the way to a strong finish.
The mini-slump from long distance hasn't crawled into Svi's head to cause him to hesitate. It hasn't even come up in conversation, according to Graham.
"We never really talk about shooting slumps like that," Graham said. "That's just what shooters go through. Shooters shoot. That's what we always say, shooters shoot, so we're going to just keep shooting. We always shoot after practice. You're going to go through little ups and downs shooting the ball. We just want to stay aggressive."
Kansas coach Bill Self never hesitates to call Mykhailiuk's number.
"That's what he's supposed to do. He and Malik are supposed to be able to shoot the ball in the basket," Self said. "That's as big a job as they have for us. That was great to see. You don't have to make shots to play well, but in this particular situation he had to make a shot for us to win and he did it."
Said Svi: "I was praying it was going to go in. It was a great execution of the play we wrote."
And he cashed in on the great execution.
---
More news and notes from Kansas vs. Nebraska
---