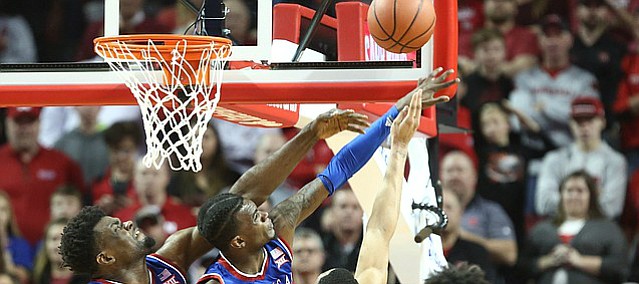 Lincoln, Neb. — After getting torched by Arizona State in its last game out for 95 points and several drives right to the basket, the Kansas men's basketball team knew it needed to get tougher defensively if it wanted to get back on the winning track.
So did the Jayhawks deliver better defense on Saturday during a 73-72 roller-coaster victory over Nebraska at Pinnacle Bank Arena?
For the most part, pretty much everyone in the KU locker room believed things did, in fact, get better.
"I think it was way better than it has been," said senior point guard Devonte' Graham. "We still always can improve. I think our energy was there, though, especially defensively. We were all focused and locked in."
Added Svi Mykhailiuk, who made the game's biggest offensive play of the season, a 3-pointer with 23 seconds to play that gave KU the lead for good: "I think we got a little bit better. Nebraska played really good today and made a lot of tough shots."
That view, from two seniors, certainly carries some weight. But no one's opinion matters nearly as much as KU coach Bill Self. But he, too, believed the Jayhawks showed improvement on the defensive end of the floor, even if the stat sheet did not show it.
"We kind of picked our spots," Self said. "... I thought our activity level was better. We only got eight steals but that's not a bad number against them. I thought Lagerald (Vick) was more active. Statistically, he didn't do a ton but he was one of the best players in the game."
Vick finished with just nine points — 10 below his season average — but added five rebounds and three key steals in 37 minutes. Freshman Marcus Garrett also swiped two steals.
Photo Gallery
Kansas basketball v. Nebraska
View a gallery of images from Saturday's game between the Jayhawks and Cornhuskers in Lincoln, Nebraska.
1-3-1 wrinkle
Heading into Saturday's victory in Lincoln, a lot of the talk was about how Kansas might look to play zone to improve its struggling defense and give the overworked regular rotation guys a bit of a rest.
But man-to-man remained the defense of choice for Self, who credited Nebraska's 1-3-1 zone as the wrinkle that nearly cost Kansas the game.
Although the Huskers did not play the active zone exclusively, they did do it at crucial times at the end of both halves.
In the second half, Kansas found a way to out-execute it after having seen it for an entire game.
But in the first half, it cost the Jayhawks potential points.
"I overcoached," Self said after the win. "I should've never called a timeout to end the first half. Never. Because they went 1-3-1 and we didn't get a good shot. So we knew they'd go 1-3-1 late."
Cunliffe debut
Arizona State transfer Sam Cunliffe made his highly anticipated debut in Saturday's victory and played 1:58 in the Kansas victory.
After checking into the game at the 6:38 mark of the first half, Cunliffe went back to the bench at the 4:40 mark after recording zeroes in every statistical category and knocking a defensive rebound away from Udoka Azubuike moments before checking out.
Still, despite the less-than-memorable debut, good buddy Mitch Lightfoot said he was happy to see Cunliffe get into the game.
"I thought that was good for him," Lightfoot said. "First day back, obviously it's a process and I told him that after the game. And he's going to be fine. He's a great player and it'll come."
Newman OK
Sophomore guard Malik Newman started and played 31 minutes in Saturday's win on the heels of suffering a concussion during the Jayhawks' most recent game.
Newman was limited this week in practice, but his teammates said they saw no ill effects of the concussion on a night when Newman finished scoreless on 0-of-6 shooting while adding six rebounds, two assists and a steal.
"I think he played really good defense and, at the end of the game, he made a really good drive," Mykhailiuk said of Newman. "He didn't make it, but (Azubuike) put it back and it tied the game. He's healthy."
Raleigh reunion
Saturday's showdown matched four Raleigh, N.C., natives who all played for the same AAU program against each other. Three Cornhuskers — Thomas Allen, Isaac Copeland and Anton Gill — against KU's Graham.
Three of the four also played at Brewster Academy prep school before heading to play major college ball.
Asked if he expected his old friends to give the Jayhawks such a tough game, Graham simply responded with, "I wasn't surprised at all."
This and that...
Kansas is now 79-11 in the Bill Self era in games following a loss... KU has won 19 consecutive games against Nebraska dating back to 2004... The Jayhawks now lead the KU-NU series 172-71, including a 64-44 mark in games played in Lincoln. Self is 23-1 all-time against the Cornhuskers... Former Lawrence High standout Dorian Green was on Nebraska's bench during Saturday's game, serving as NU's graduate manager. Green, who started every game of his career and played for NU coach Tim Miles at Colorado State, also played against KU with the Rams back in 2010.
---
More news and notes from Kansas vs. Nebraska
---