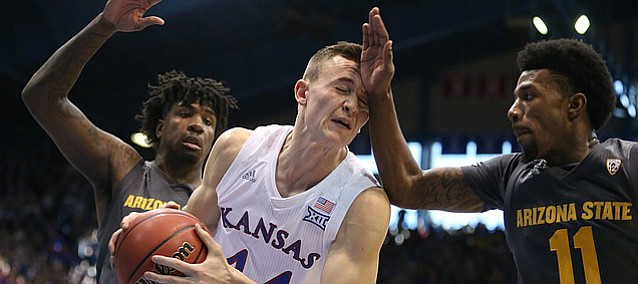 With no Josh Jackson on the scene to come to the defensive rescue of blown-by teammates and no Landen Lucas to lend timely help, Kansas has more defensive vulnerabilities than is typically the case.
But it's more than that. Fatigue brought on by high minutes for key starters makes it tougher for the starters to play consistent defense. Plus, the lack of a bench means if someone's going to get hot and carry the team back from a deficit, it's not going to be a reserve.
Arizona State defeated Kansas, 95-85, Sunday at Allen Fieldhouse in part because it has something Kansas lacks: A sixth man capable of bringing a fresh presence at both ends of the court, not just defensively.
Photo Gallery
Kansas basketball v. Arizona State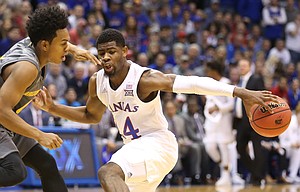 View a gallery of images from Sunday's matchup between the Jayhawks and Sun Devils in Allen Fieldhouse.
Sun Devils freshman guard Remy Martin did that loudly and in many ways was the difference in the game.
Martin outscored the Kansas bench, 21-1, and contributed a game-high five steals in 32 minutes. He applied ball pressure that played as big a part as anyone in forcing 16 KU turnovers.
"I think he's terrific," KU coach Bill Self said of Martin. "I think he's the perfect guard off the bench. He'll end up starting three years I'm sure, but he's the perfect guard off the bench to change the pace or give you a spark."
A 6-foot, 170-pound jet from Chatsworth, California ranked 128th by Rivals in the Class of 2017, Martin drove aggressively to the hoop, as did the rest of ASU's guards, and made 8 of 11 field goals. He made both of his 3-point shots on a day the Sun Devils (9-0) made 14 of 28.
Martin gave his team what nobody has been able to give Kansas off the bench.
KU freshman Marcus Garrett is a better defender than scorer at this point in his career. Garrett and backup center Mitch Lightfoot were the only reserves to get in the game for Kansas. Both players are averaging 4.7 points per game.
The five starters — Lagerald Vick (18.7 points per game), Devonte' Graham (16.9), Svi Mykhailiuk (15.8), Udoka Azubuike (13.9) and Malik Newman (11.6) — all average in double figures.
"Marcus has played decent so far, but we're playing five guys who can score at all," Self said. "You actually need them in the game when you're behind. It's hard when defenses can kind of go to Devonte' or Svi or Gerald and not have to really play a couple of guys."
Kansas can't make a trade for Martin to enliven the bench, but the Jayhawks can get a boost from a player who started 10 games for the Sun Devils a year ago.
Sam Cunliffe is on pace to join the Jayhawks in Lincoln, Nebraska, on Saturday when KU takes on the Cornhuskers.
A high-flying, 6-foot-6, 200-pound forward from Seattle, Cunliffe averaged 9.5 points and shot .405 from 3 for the Sun Devils before transferring at the semester.
How often Cunliffe will be on the court to give the Jayhawks a scoring spark will depend on how well he defends. As tough as things are going at that end for KU, Self isn't going to want to add to the defensive vulnerabilities if Cunliffe isn't ready to help there.
If Cunliffe can hold his own defensively, he's capable of giving Kansas part of what it's missing. It's not the part that either Billy Preston or Silvio De Sousa could bring, but he represents a start in fortifying a too-shallow roster.
---
More news and notes from Kansas vs. Arizona State
---