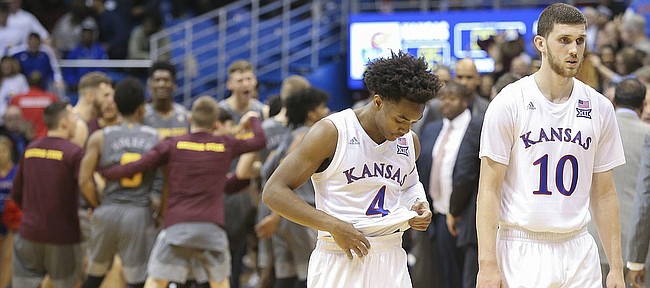 Back-to-back men's basketball losses don't happen all that often at Kansas, so when they do the aftermath often includes some harsh words and serious reality checks.
Such was the scene on Sunday afternoon at Allen Fieldhouse, where the second-ranked Jayhawks fell, 95-85, to No. 16 Arizona State in a game that featured a fantastic first four minutes for the home team and almost the polar opposite the rest of the way.
"This is the softest team that Kansas has had since I've been here," a disappointed Bill Self said after Sunday's loss, which came just four days after a Sprint Center setback to Washington. "A lot of that is experience, a lot of that is youth, a lot of it is just the way that we're physically built and the way that our skill set is. But the bottom line is, we have got to become tougher on that end.
"When I say soft, I throw that term around a lot, but I don't know how else you could describe the last four halves we've played if you don't say that."
Photo Gallery
Kansas basketball v. Arizona State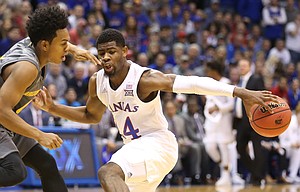 View a gallery of images from Sunday's matchup between the Jayhawks and Sun Devils in Allen Fieldhouse.
After roaring out to a 15-2 lead to open the game, Kansas saw its advantage dip to just three points by halftime, as ASU (9-0) outscored the Jayhawks 35-25 for the final 16:39 of the first half and then rode a terrific trio of lightning-quick guards to a monster second-half run that blew the game open for the visitors.
It was not so much that the Jayhawks (7-2) shot poorly or struggled to keep up with high-scoring ASU, as it was that they simply could not stop the Sun Devils.
"I thought we just played horrendous defensively the last 12 or 14 minutes of the second half," Self said.
The Jayhawks, who dropped back-to-back games for the first time since losing at Colorado and at Florida during the 2013-14 season, opened the second half with a 7-2 run that pushed their lead back to eight and seemed to put control of the game firmly back on the home sideline.
But just as it did early on, Arizona State kept coming and did not stop.
One crucial stretch that seemed to fully flip the confidence came when ASU's Romello White hit a layup to pull the Sun Devils within four at 48-44. From there, an inbounds violation on KU sophomore Mitch Lightfoot led to a 3-pointer from ASU guard Tra Holder and that sparked the massive Arizona State run that sucked the life out of the Jayhawks and the building.
From down 48-42 to up 68-54, that 26-6 ASU run included a little bit of everything that went wrong for Kansas in this one.
Red-hot shooting from Holder (29 points), Shannon Evans (22) and Remy Martin (21), who helped ASU knock in 14 of 28 3-pointers, kept the pressure on Kansas, which made shots of its own to the tune of 48 percent but also turned it over 16 times. And some of those turnovers came at the absolute worst times.
Take the full-court flier thrown by Malik Newman that immediately erased a golden opportunity for KU to climb within three or four points with nearly five minutes remaining. Instead of slicing into the ASU lead and suffocating the Sun Devils even more, Newman's pass for Devonte' Graham nearly sailed out of bounds along the base line in front of the KU bench and immediately led to an easy bucket for ASU on the other end.
Self called the pass both terrible and boneheaded and alluded to the fact that, even despite their sub-par defense, the Jayhawks had their chances on Sunday.
"It wasn't our offense," said Self, whose team lost by double digits at home for the first time since falling to Texas 74-63 in 2011. "Hey, if you score 85 at home, you're supposed to win. Giving up 58 at home in a half (as KU did in the second half on Sunday), I don't know if that's happened in the last 15 (years)."
Podcast episode
Following a 95-85 loss to Arizona State on Sunday at Allen Fieldhouse, Kansas basketball coach Bill Self talked about his team's defensive problems, the need for stronger mental toughness from players and what the Sun Devils did to cause problems for KU's guards.
It hasn't. In fact, according to the KU media relations staff, Sunday's second-half meltdown marked the most points ever surrendered in a single half by a Bill Self-coached team at Kansas.
The fact that it came at home — loss No. 11 all-time for Self at Allen Fieldhouse — merely made the moment sting a little more.
"I don't like losing, period," said senior guard Graham, who scored 19 points and dished eight assists in the loss. "And coach Self (doesn't either). Especially not here. Back-to-back losses is something we don't do here. It's all right, we just have to man up to it, look at ourselves in the mirror, each and every one of us, and just get better."
In order to do that, Self said his team both needed to improve its defense, immensely, and alter its mindset, immediately.
And, according to Self, there's not a single KU player who can escape the blame. Not the newcomers. Not the freshmen. Not veterans Graham, Svi Mykhailiuk or Lagerald Vick.
"Those are the only three players that have ever been in a war before, a fight before, a real fight," Self said of his trio of upperclassmen. "But I don't think they reacted very well (on Sunday). I think everyone is part of that issue, not being as tough and (understanding) what really wins when things aren't going well. …There's not that dog or competitive juice that guys need to have when the game's on the line. Most of it's mental toughness. I just don't feel it right now."
---
More news and notes from Kansas vs. Arizona State
---