When three Arizona State players and Sun Devils coach Bobby Hurley stepped into the Allen Fieldhouse media room to field questions about their 95-85 victory over No. 2 Kansas on Sunday afternoon, three of the four were wearing ASU warm-up shirts that simply read, "Guard U" on the front of them.
Hurley was one of them.
Even though he did not play in Sunday's Arizona State victory, the former Duke standout, whose team is now 9-0 and poised for a serious climb in the polls this week, coached a group of players who displayed the same tenacious spirit that Hurley made his signature style during his career with the other Devils.
"At the end of the day, their guards were just better than us," said KU senior Devonte' Graham.
After watching his team light up No. 2 Kansas (7-2) for 51 percent shooting, including a 14-of-28 clip from 3-point range, the magnitude of the accomplishment was not lost on Hurley or his players.
"No one really wins here," Hurley said. "You come in here, most of the time, you're not leaving real happy. It was a special win for us and our program and I didn't have to coach a whole lot tonight. These guys sitting right here deserve all the credit."
Photo Gallery
Kansas basketball v. Arizona State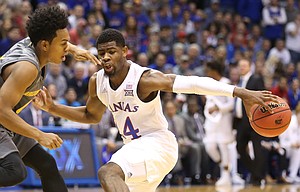 View a gallery of images from Sunday's matchup between the Jayhawks and Sun Devils in Allen Fieldhouse.
Malik update
With just a couple of minutes remaining in Sunday's loss, KU sophomore Malik Newman found himself down on the floor, holding his head with one shoe off as the action raced down to the other end.
Officials quickly stopped the game, and as trainers tended to Newman, he continued to wince in pain while grabbing his head with both hands.
"They said he's concussed," KU coach Bill Self explained after the game. "So, I'm sure he'll be out a few days. I don't know the severity or how bad it is."
Svi's struggles
It was a weird game for KU senior Svi Mykhailiuk, who was scoreless in the first half but ended up with 14 points on 3-of-14 shooting, including a 3-of-11 shooting clip from 3-point range.
The Ukrainian's struggles did not stop there, though, and were probably more evident a few columns farther to the right on the stat sheet.
After dishing six assists to go along with zero turnovers in the first half, Mykhailiuk flipped the script in the second half, recording zero assists while turning it over four times.
"They said every time Svi had the ball, 'Crowd him. Try to take his ball,'" recalled Self of the ASU game plan. "And his ball-handling was very, very weak today."
Walton in the house
NBA and UCLA legend Bill Walton called his second career KU game as a broadcaster on Sunday for ESPN during his first ever trip to Allen Fieldhouse.
Before the game, on various pregame shows, Walton gushed about his time in Lawrence.
"The people here in Kansas have just been so great," Walton said on the Jayhawk Radio Network pregame show. "Spectacular place, spectacular time, I'm the luckiest guy in the world. And to be here in the shadow of Wilt Chamberlain (is amazing)."
A week of waiting
Because of first-semester finals, Kansas will not return to the floor until Saturday, when they will travel north to take on former Big 12 foe Nebraska at 7 p.m. at Pinnacle Bank Arena.
According to Self, the time off will be good for this team, which will practice every day but Monday while working around finals schedules.
"Yeah, yeah, oh yeah," said Self when asked if the down time might come at a good time. "But finals week is a hard week to get a lot better because, obviously, that takes priority over everything else. Usually finals week is a maintenance week. Obviously, we need to get better. But beginning after finals week is over, that's when I hope we can really hunker down and do some things to improve."
Added Graham: "We've got a whole week until our next game and we're going to get better."
This and that...
KU's loss, No. 11 all-time at Allen Fieldhouse for Bill Self, was the first before Jan. 1 of any season since Oral Roberts knocked off KU on Nov. 15, 2006... Self is now 225-11 all-time at Allen Fieldhouse... Arizona State's victory tied the series with Kansas at five wins apiece... ASU became just the 25th Kansas opponent of the Self era to shoot better than 50 percent from the floor. Kansas is 6-19 in those games... KU's 38 3-point attempts set a new school record, breaking the mark of 36 set earlier this season in a win over Texas Southern.
---
More news and notes from Kansas vs. Arizona State
---